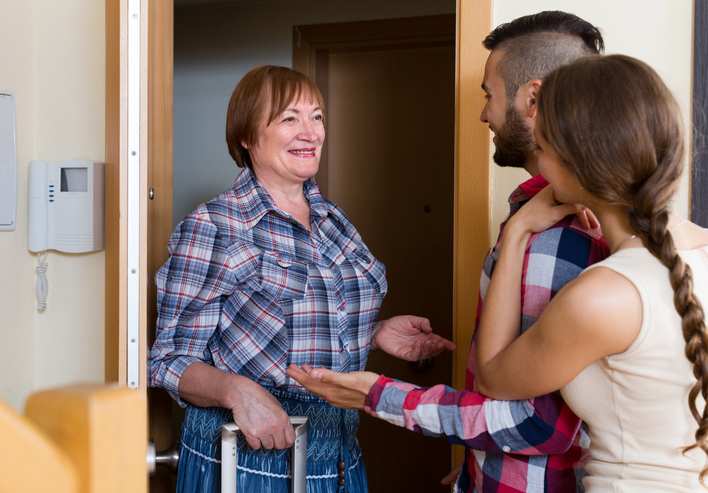 How many New Year's Resolutions did you make for 2016? Well, we're here to add another one to your list. It's time for you to get out and finally meet your neighbors!
At this point you might be asking, "Why on Earth would I need to meet my neighbors?"
There are plenty of reasons why.
In case of an emergency
This may seem like a bit of a selfish reason, but you never know when you might need your neighbor to come to your rescue. Wouldn't it be better to get to know them now instead of waiting until your moment of need? Anything can happen. It could be as simple as locking yourself out of your apartment and needing somewhere to wait until the locksmith comes. Or perhaps your elderly neighbor could use your help one of these days. Regardless, work on building a rapport now by at least introducing yourself and exchanging phone numbers. Just cross your fingers and hope that nothing too terrible happens.
Make a new friend
Your intentions for meeting your neighbors don't have to be completely selfish. You might just want to make some new friends. These days, it's so unusual to keep up with face-to-face communication because everyone is so engaged with their electronic gadgets. It can be quite refreshing to have a buddy or two down the hall to chat with every once in awhile. Building these types of friendships can make your apartment living experience even more pleasant.
Networking opportunities
You've probably heard the old saying, "It's not what you know, but who you know." Well, here's your chance to test that out. Think about what you're currently trying to accomplish. Are you trying to land a job at one of the city's well-known companies? Do you need a handyman recommendation? Your neighbors could be a goldmine of information and resources.
It's entirely possible that some people don't introduce themselves to new neighbors because they're so busy, they might not have even realized that someone new is in the neighborhood. And sometimes, newcomers feel that knocking on their neighbor's door is intrusive and pushy. But someone has to break the ice first. As long as you make your purpose known, the experience should be a positive one. Start out by walking over, telling them your name and where you live in proximity to their apartment. You could also add in other details like where you moved from. Another great way to build a relationship is to ask your neighbors what they recommend in the area–the best pizzeria, martini bar or even day care. If forcing a conversation isn't your style, write a note and leave it for your neighbor. Be sure to leave your apartment number so they know where you are. Either way, keep it short, and keep the lines of communication open. You and your neighbors will be friends in no time!
Related articles:
Top 5 Goals to Consider for This New Year
Stay Safe While Living Alone
How to Be a Good Apartment Neighbor
What to Do When You Hate Your Apartment