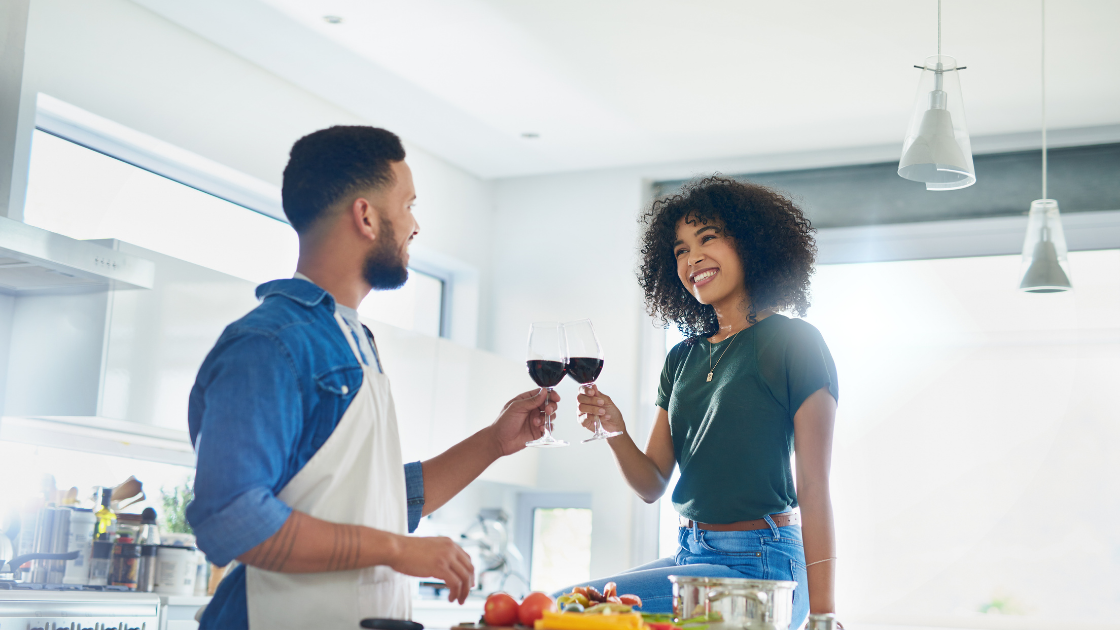 For most people, the concept of date night probably consists of a fancy dinner at a top notch restaurant, along with a movie. But let's be real for a minute. First, that idea of a date night is a little outdated. Secondly, dinner and a movie can add up to one giant bill by the end of the night.
So what's the alternative?
An affordable date night at home. Netflix and chill, anyone?
Not only can at home date nights be affordable or even free, but it can be a better way to connect with your partner. You can make a conscious effort to enjoy your time with each other without the distraction of mindlessly scrolling through apps on your phone all night long. Can you handle that? If so, step away from the phone and consider some of these cool date night ideas.
Dine in differently
It's time to retire the overdone habit of ordering typical takeout that traditionally consists of pizza or Chinese food. How about trying a new type of cuisine? Or instead of ordering, you can opt to prepare an exotic ethnic meal from scratch. From Cuban to Ethiopian and Greek to Thai, there is a never-ending list of culinary possibilities that will fall within your budget. The two of you can decide on a delicious and affordable dish, buy the ingredients and have fun doing something different for a change!
Get artsy
There is nothing wrong with going to a museum or art exhibit, holding hands and critiquing modern art and sculptures for a couple hours. But it might be even more interesting to create your own masterpieces at home! All you have to do is buy a giant canvas at your local craft store (or two if you want to do your own thing), along with some cheap paints and a couple brushes. Make a night of it. And if your work really comes out great, it could make for the perfect piece to hang up in your apartment!
Drink and be merry
Of course, this date night suggestion is only valid for those of legal drinking age. At your local grocery store, you can surely find a variety of wines for very low prices. If you go with a few bottles that cost less than $5 each, along with some grapes, artisan cheese and crackers, you could easily have a private wine tasting at home without surpassing a reasonable $25 budget. Just pick a few bottles you have been dying to try and see what happens. Have fun, and drink responsibly.
Solve a puzzle
Literally! Puzzles are an old school activity that can still be loads of fun in this high-tech day and age. Together, you and your partner can choose a great puzzle that would look perfect hanging above your sofa, bed or anywhere else inside your apartment. A standard puzzle will only set you back a couple bucks. For hanging, expect to also need puzzle glue (to hold the pieces together when hanging), and an appropriately sized frame. Dump all the pieces out on the table and get to work! This is an activity that could last a while, so expect to get a few date nights out of it.
People watch
Does your apartment community experience a lot of foot traffic? If so, grab a couple lawn chairs along with some cold drinks and take a seat outside. Much like the mall, your own neighborhood is great for just watching interesting people come and go. Can you tell what someone's job is just by what they are wearing? How about guessing the names of people who walk by? You know how someone just looks like a Linda or a Bob? Have fun making up imaginary lives for everyone who crosses your path.
Plan a vacation
So maybe you don't have the funds to go on a dream vacation any time soon. That's OK. Who says you can't at least plan that vacation? Take turns sharing with your significant other what your dream vacation would consist of. Where would you go? How would you get there? How long would you stay? Would it be a budget-friendly trip, or no expense spared? Are you looking for a once in a lifetime adventure, or a quiet and peaceful getaway? However you choose to spend your dream vacation style will reveal a lot to your partner about your personality, what's important to you and what makes you happy.