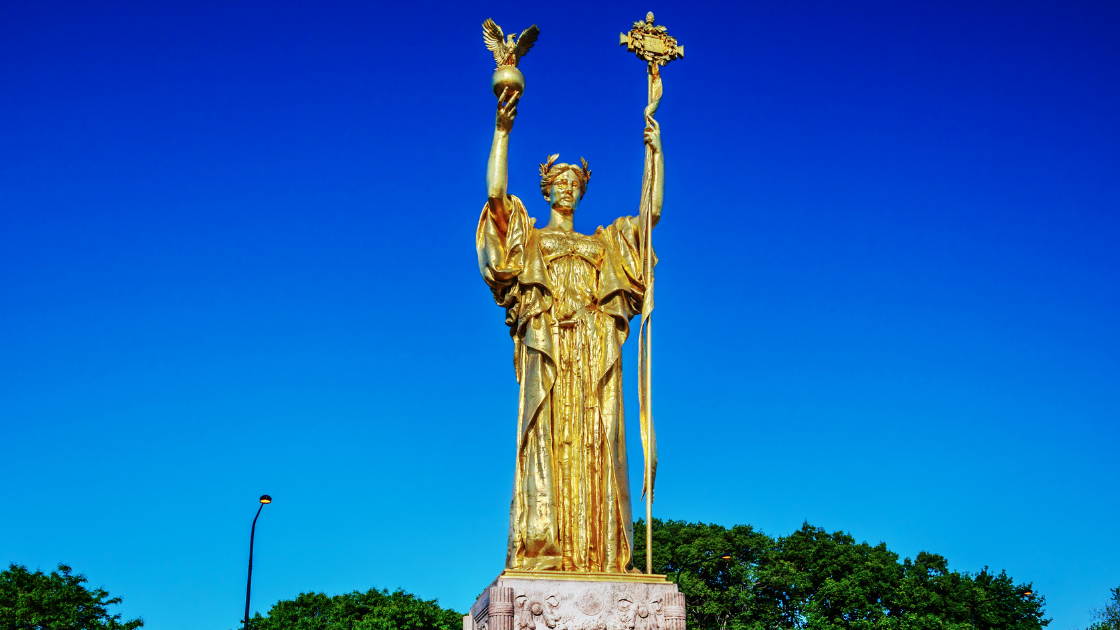 Have you ever been driving down Lake Shore Drive or down Hayes Street and seen this huge gold statue? Oddly enough the statue seems to rotate, which is still debatable, or just my imagination. Anyhow, if you're a Chicago native, you've most definitely seen this oddly placed statue before. Well it's not just there because it's pretty, this thing means something to the South Side community. Known as "The Republic," the 24-foot-high, gilded bronze statue stands imposingly at the intersection of Hayes and Richards Drive, in Jackson Park.
You're still probably wondering "what's the significance? Why is it there and who put it there?" Well, wonder no more! It's a souvenir from the Columbian Exposition of 1893, also known as the "World's Fair of 1893." The fair took place here in Chicago, from May 1, 1893 through October 31, 1893. Its purpose was to celebrate the 400th anniversary of Christopher Columbus' landing in North America. 20 countries and 39 States were represented by large pavilions devoted to various technologies like electricity, mines, machinery, agriculture, manufacturing and transportation. With various forms of entertainment, including a huge Ferris Wheel, the Exposition was a true art gallery! The most stunning achievement of the Exposition was the "Court of Honor" and basin, which was filled with dramatic fountains and sculptures. However, "The Republic," sculpted by Daniel Chester French, was easily the most impressive sculpture at the Exposition. Dwarfing all other sculptures at 65 feet tall, it was placed at the eastern end of the basin, facing the Exposition's Administration Building, today known as the Museum of Science and Industry.
Surprisingly, when the fair was over, like most buildings and sculptures, "The Republic" was scrapped and later was completely destroyed in the fire of 1896. In 1918, during the 25th anniversary of the Exposition, Daniel French was commissioned to make a smaller model of "The Republic." Collaborating with an architect by the name of Henry Bacon, the 24-foot gold-plated version of the bronze statue was created. To this day its stands tall in Jackson Park, located on the South Side of Chicago.
Now when you're passing that huge beautiful gold statue, you'll know the meaning behind its 24-foot presence on the South Side. You can explain to all your friends how it was a souvenir from the World's Fair of 1893 – not the little sister of the Statue of Liberty like some believe it to be!