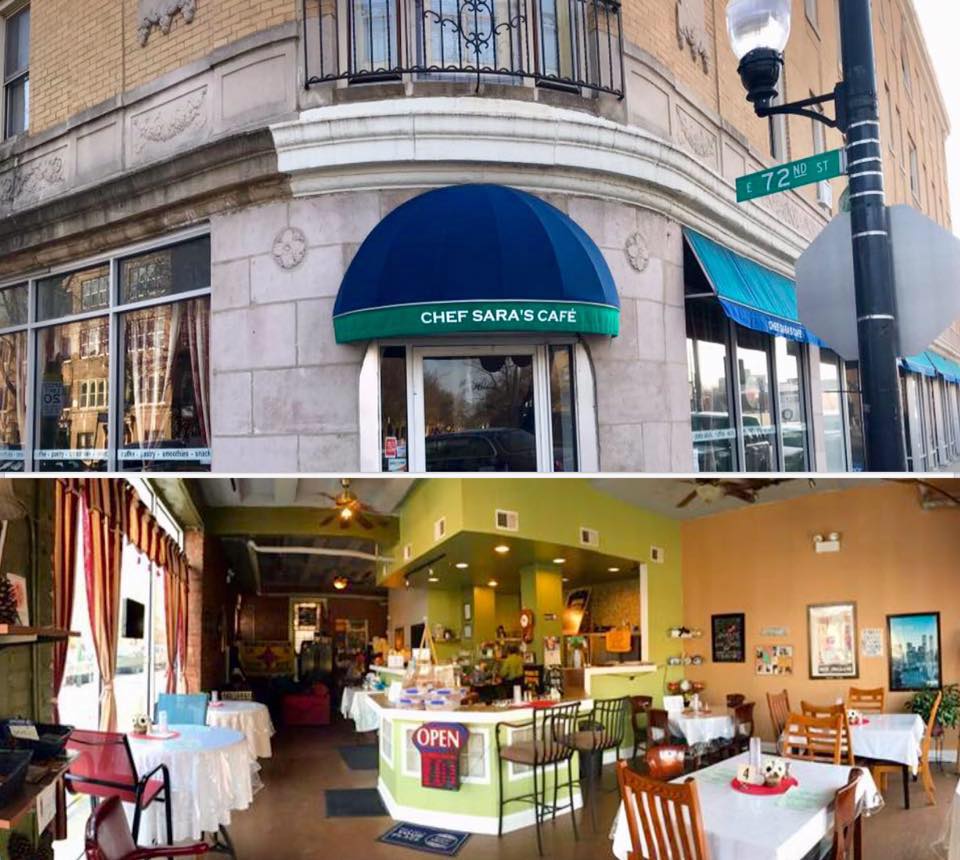 (Picture Courtesy of Chef Sara's Cafe Facebook Page)
It's no secret that Chicago has a thriving food scene. No matter what type of cuisine you're looking for, or what neighborhood you're in, you're guaranteed to find something to satisfy your taste buds and fill your stomach. The South Shore neighborhood is no different, with delicious options practically every block south of 67th and north of 79th just west of Lake Michigan.
One such gem is Chef Sara's Café, located at 7201 South Exchange Avenue. If you're nearby you can order delivery via UberEats, Doordash, or GrubHub, but as soon as you walk into the café you'll never want to miss an opportunity to dine in the eclectic space. Choose from a variety of tables with an eclectic array of chairs that add to the homey feel of the spot. Thanks to the plastic-covered tablecloths, slight New Orleans feel in the décor, and the smiles behind the counter that greet you as you walk in, you know from the start that you're in for some good food at Chef Sara's Café.
With over 30 years as a flight attendant in her background, Chef Sara Phillips knows a thing or two about first class quality. She also knows from first-hand experience how a diet of greasy food can drag you down, since oftentimes burgers were her only option as a quick meal between flights. After she graduated from the Art Institute Culinary School when her flight attendant days were over, opening a restaurant wasn't on her radar. Instead for the first six years she sold deli items from a truck outside beauty shops and offices, supplementing with the occasional personal chef job. She then realized that the South Shore neighborhood was in need of something other than greasy fast food and fried chicken.
We thank Chef Sara for filling that need, as anyone who walks into the homey restaurants will note right away. Ms. Phillips is dedicated to bringing fresh, healthy food to the area, and to this day the closest item you'll find to a burger are her salmon, turkey, or veggie burgers, topped with a delicious homemade sauce made with chipotle peppers. In fact, you can (and should!) upgrade any sandwich with that house spread, especially the BLT (made with either pork or turkey bacon and locally-sourced produce).
If you're like me and could eat breakfast food any time of the day, you're in for a treat. Enjoy fresh-made pancakes, French toast, waffles, and omelettes all day, every day with sides of breakfast meats, oatmeal, and grits. Chef Sara puts her own twist on the classic chicken and waffles by chopping up her breaded chicken tenders and baking them into the waffle batter itself. Artesian coffee, a variety of teas, and fruit or veggie smoothies round out the breakfast feel, and her lox and bagel, shrimp and grits, and breakfast panini solidify the spot as a go-to brunch destination.
Open Tuesday through Friday until 4 PM and Saturdays until 3 PM, Chef Sara also offers some wonderful lunch options that won't weigh you down for the rest of the day. Made with fresh produce, you can rest assured any salad or side you order will be peak flavor. You can't go wrong with any of the paninis, and even the pasta dishes are packed full of veggies to keep everything light and nutritious. While anything you order will be delicious, the turkey chili is a fan favorite, guaranteed to "make your tongue slap your brain," as local Otis Owens puts it. Make sure to leave room for dessert in the form of a slice of caramel or lemon cake, or a variety of homemade cookies.
You can see the full menu of Chef Sara's Café here, and follow them on Facebook or Instagram. Read more reviews and purchase a Groupon if you still need motivation to check Chef Sara and her food out. No matter where you are in the city, take my word for it, Chef Sara's Café is a must for any breakfast and lunch lover.
What's your favorite local restaurant? Find us on Facebook, Instagram, and Twitter to let us know!