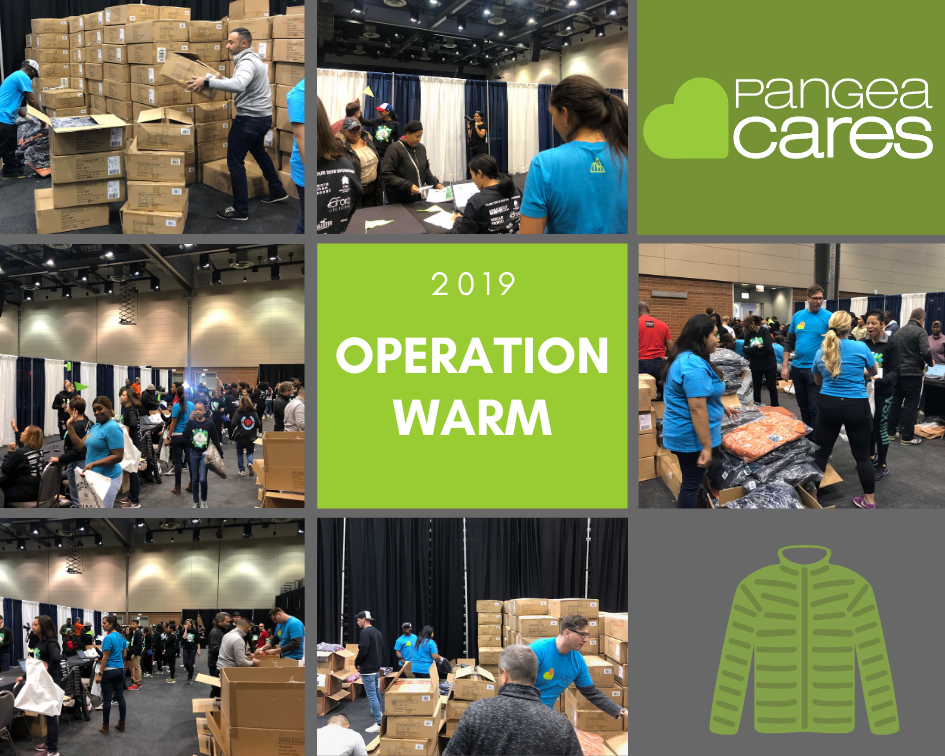 At Pangea, we care about the communities we manage and want to do our part to give back to our residents and neighbors. Since 2007, the Chicago Housing Authority (CHA) has partnered with the nonprofit Operation Warm to provide thousands of winter coats to children in public housing. This year Operation Warm donated 7,500 coats distributed at the UIC Forum this past Saturday, October 26.
The organization Operation Warm itself traces its beginnings to 1998 in Kennett Square Pennsylvania when Dick Sanford witnessed a group of children huddled coatless at a bus stop one cold December morning. That year he, with the help of his local rotary club, gave out 58 coats to kids in need. Over the next 21 years, Operation Warm has partnered with local groups like Pangea Cares and CHA across North America to deliver coats to nearly 3 million children, being "committed to providing warmth, confidence, and hope to children in need across the country [link]".
Since 2017, Pangea has been proud to partner with both Operation Warm and CHA each year to provide warmth to Chicago youth. In addition to receiving a coat, families had the chance to visit with dozens of organizations providing information and assistance for cost-saving benefits for education, health, and utilities to support the entire family. This year Pangea had about 20 volunteers assist in coat distribution as well as helping with the resource fair. We at Pangea plan on continuing our support and partnership for this worthy cause for years to come.
For Kelsey Lake, an Operations Associate at Pangea, Operation Warm was a fantastic way to give back to the community. "Operation Warm was a great event to be a part of," she said. "It was so fun to help distribute the coats and see what a crazy number of people were positively impacted by the event – just in time before the snow!"
Pangea Cares also hosted a booth at the resource fair, handing out gloves, pens, and reusable shopping bags. The nonprofit Pangea Cares grew out of a desire of its parent company, Pangea Properties, to give back to the communities we live and work in. Through the Pangea Cares initiative, Pangea creates meaningful social impact by tackling three pillars of community service: health and wellness, education and technology, and community beautification. The health and wellness of Chicago youth and families is important to Pangea, and we are proud to help support initiatives like Operation Warm.
You can learn more about Operation Warm on their website, or follow them on Facebook and Twitter. Stay up-to-date on the Chicago Housing Authority as well as future events and partnerships on their website, or by following them on Facebook, Instagram, and Twitter. For Pangea news and events across Chicago, Indianapolis, and Baltimore, follow us on Facebook, Instagram, and Twitter.