This article was contributed by Mariah Cowan.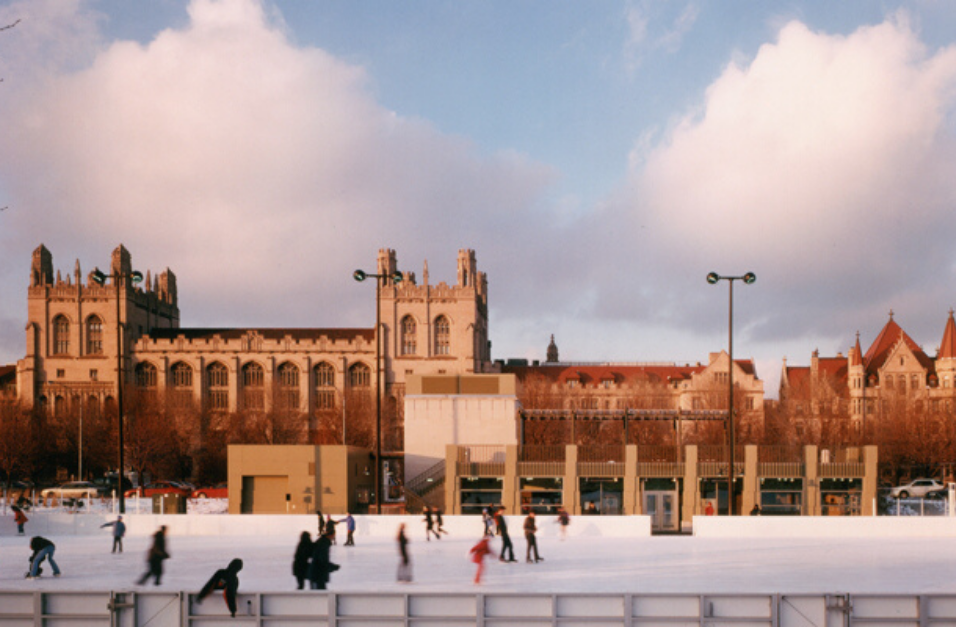 Fall has left us early and though it isn't officially winter, I think we can all agree that it certainly feels like it! Snowy mornings and cold winds make it hard to want to step foot outdoors but the wonderland that is winter awaits and you shouldn't let the weather stop you from enjoying the cheer that the holidays bring. Here are some fun, family-friendly activities that will help you forget how cold it is and get into the holiday spirit!
Enjoy Ice Skating at Midway Plaisance Ice Rink
What's winter fun without ice skating! Head over to Midway Plaisance Ice Rink located in the Hyde Park neighborhood and spend the day gliding around on the rink. Not good at ice skating, no worries, the park offers ice skating lessons! The ice rink is scheduled to open Friday, November 29, 2019 and will be open through February 2020. Admission is free, skate rental is $7 for all ages.
Attend a Tree Lighting Ceremony
There are multiple tree lighting ceremonies in Chicago. It is a beautiful tradition that brings everyone together to mark the start of the holidays. If you're looking for one to attend, check out the very first MLK Kickoff Event and Tree Lighting Ceremony hosted by My Block, My Hood, My City. During the event, enjoy hot chocolate, food, a live performance, and of course the tree lighting! You can also participate in helping families hang lights in the community. It will be held on Sunday, December 1, 2019 from 1pm-6pm at Cole Park, 8504 S. King Drive. To RSVP and learn more, visit formyblock.org/events.
Go Sledding at Barrie Park
There are many things to do at Barrie Park. In the warmer months, park-goers can enjoy the basketball court, baseball and soccer fields, the playground, and can also take a walk on the path that circles the park. During winter, visitors rave about sled hill which was recently redesigned for better flow making it perfect for all ages! According to one google review, "In the winter the sledding hill is the best attraction!" I say count me in, sounds like fun!
Check pdop.org for updated information on when sled hill opens!
Grab Hot Chocolate from the Bridge Cafe
Located within the Breakthrough FamilyPlex in East Garfield Park, The Bridge Café "aims to foster true and lasting connections for those engaged in the community." They have a great selection of food. Their menu features breakfast items and sandwiches. In addition, they have a snacks section of the menu that includes chips with cheese and hot peppers (a Chicago favorite). They also have an extensive beverage menu that is perfect for these chilly months. Grab a hot chocolate and relax in the cozy café to get away from the cold.
Ride the Holiday Train
It happens every year but my face still lights up each time I see the brightly lit CTA holiday train! The trains are decorated with holiday lights, bows, candy-cane stripes and also features Santa and his elves handing out candy and offering holiday cheer to passengers. Check with the CTA for updates and plan your trips accordingly!
Visit the Museum of Science and Industry
Did you know that every year the Museum of Science and Industry features 30,000 beautiful lights in their main hall during Christmas Around the World and Holidays of Light!? Yes, 30,000! This tradition started back in 1942 and is still going strong. The exhibit is a great way for family and friends to learn about global holiday traditions. Some countries featured this year include Armenia, Australia, and Belize. In addition to the display, the museum has live holiday performances on the weekend and an occasional shower of indoor "snow!" You can visit from November 14 – January 5, 2020!
What are some other fun activities that you're planning to do this winter?