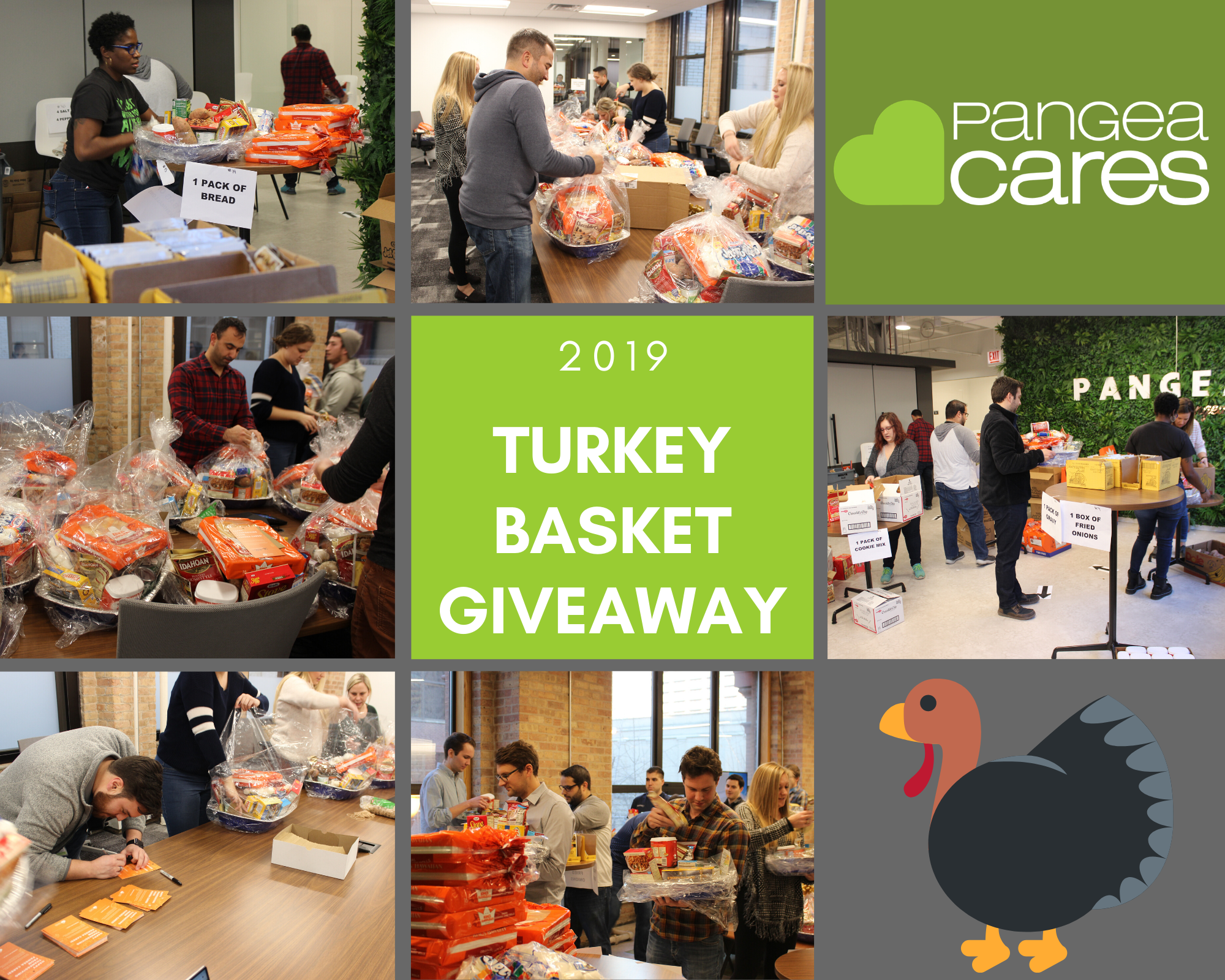 For the second year in a row, the nonprofit arm of Pangea Real Estate, Pangea Cares, gave back to our communities during the holiday season with our annual Turkey Basket Giveaway. In October we asked our Regional and Property Managers to nominate deserving families to receive baskets with a variety of traditional Thanksgiving items and ingredients, such as a 10-pound turkey, green beans, stuffing, cornbread, corn, mashed potatoes, collard greens, macaroni and cheese, cookies, cranberry sauce, and more. The baskets also included a personalized guide with a list of ingredients, suggested recipes, and cooking tips to prepare the perfect Thanksgiving family dinner.
"Knowing how hectic things can get around the holidays, not to mention the financial strain that can come with providing for families, we're happy to take some stress off of residents by making sure a good Thanksgiving meal isn't an expense they have to incur this year. At Pangea Cares, we want to give back to the communities we serve and to say thanks for being a part of the Pangea family," said Chanelle Cromwell, Programs Director for Pangea Cares.
The day before delivery, the team at our downtown Chicago headquarters worked to fill and wrap the baskets, preparing them for volunteers to hand deliver. Megan Davidson, Marketing Analyst at Pangea, was glad to help with the initiative as part of her first year at Pangea. "Events like the Turkey Basket Giveaway are a big part of what made me decide to come to Pangea. It shows we are taking steps to give back to the communities we serve, and it allows those of us at headquarters to be a part of that as well."
Volunteers then gathered that Saturday to load up their cars and get a list of addresses to deliver the baskets. Maintenance Manager Jose Guzman volunteered last year and was happy to do so again this year. "Delivering meals to residents that live in the zone I work for was awesome," he said, thinking about last year's event. "Residents were able to see that Pangea really does care about them and that helps us stand out from some of the other property management companies out there. Last year was exciting since it was my first time volunteering for the event, and the faces of appreciation that the residents showed made it all worth it."
Pangea Cares was founded as a way for Pangea Properties to give back to the communities we live in and serve using the three pillars of health and wellness, neighborhood beautification, and education. Events like the Turkey Basket Giveaway is one way we're able observe our health and wellness pillar, by giving back to some of our residents who need a little extra support around the holiday season. Last year was the first year for Pangea Cares' Turkey Basket Giveaway, delivering 119 baskets to Pangea Properties residents, and this year we increased it to 135 baskets. We plan to continue this event and increase our efforts in the years to come.