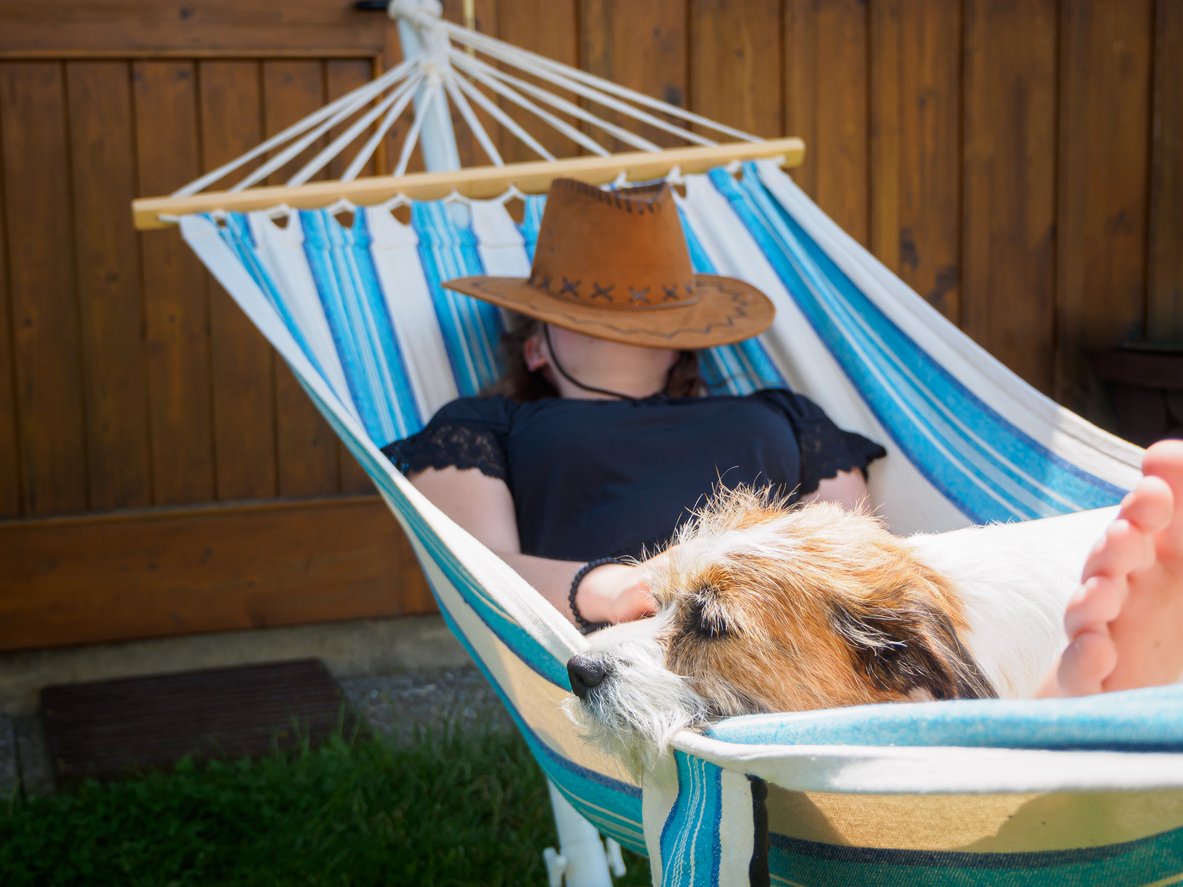 This summer will challenge your creativity. You can't go to the movies when you're bored, you can't go to concerts on the weekend, and you might not even be able to go out to eat. But that doesn't mean you can't be productive and have fun.
This list details fun, at-home, summer DIY projects to keep you occupied. These activities will add a little sweetness to your life, keep your hands working, and even save you from a potential heatwave.
Make a Hammock
Hammocks are the definition of hanging out. There's nothing else to do but gently swing back and forth as the minutes tick off, maybe sipping a spiked Arnold Palmer while you're at it. But hammock companies can charge hefty prices. So, why not get the job done yourself?
Drop Cloth Hammock
Drop cloths seem like the standard for durable, useful fabrics. And what other characteristics do you want in a hammock? After all, the best hammock is the one that never snaps off the tree.
Grab a 6' x 9' canvas sheet, a few grommets, some rope, and you have a place to appreciate the beauty of a moment's peace.
Using Rope Cords for Your Hammock
If you're going to the beach sometime this summer, use some rope cords to make your hammock. The classic rope hammock will remind you of simpler times, and whisk you away to a Caribbean island where nothing matters.
Parachute Hammocks
Using ripstop nylon for your hammock will make you feel like you're mid-air in the right way…not jumping out of an airplane. The best aspect of this material is its lightweight fabric and durable composition. I mean, think about it, parachute material has to be light and durable. If you want a hammock that's reliable for a long time, consider using ripstop nylon.
Make a Summer Beverage
Summer is all about basking in the sun and sipping on iced tea, lemonade, or an Arnold Palmer; heck, maybe even a few alcoholic beverages if you're in the mood. You know you earned it.
Regardless of your proclivities, there are plenty of options out there. But in the spirit of the bars potentially closing down this summer, here's a fun, boozy summer drink to quench your thirst.
Spiked Arnold Palmer
The beauty of the spiked Arnold Palmer is its simplicity- two ingredients on the way to summer relaxation; lemonade and sweet tea vodka. You heard that right, sweet tea vodka. I wouldn't recommend it for any other uses besides the spiked Arnold Palmer.
To make the spiked Arnold Palmer, simply fill a rocks glass with ice, pour one shot of sweet tea vodka, and three ounces lemonade. Boom, you'll be ready to put your feet up and hang out for the rest of the day.
Build a DIY Air Conditioner
It's already shaping up to be a hot summer, and not everyone has the funds to install an air conditioning system. So, are you just going to bake all summer? You don't have to.
It doesn't matter whether it's money or logistics that prevents you from having an air conditioner; there are creative ways to solve it. Making an at-home air conditioner can cost you as little as $8. All you need is a styrofoam cooler, one or two dryer vents, and a fan.
Procedure:
The first step to installing your DIY air conditioner is placing the dryer vents on top of the cooler. Next, trace a tight circle around the dryer vents and puncture holes in the styrofoam cooler head.
After cutting holes for the dryer heads, place the fan on top of the cooler in the center. Trace around the fan and cut a slot. After vacuuming the stray foam, put the fan face down in the fan slot.
To make sure the fan blows cold air, freeze a few bottles of water in the freezer overnight. Then place the containers at the bottom of the styrofoam cooler. Plug your fan in, and you'll be in a cheap, chilled paradise.
DIY Heat Curtains
Keeping your energy consumption down isn't just about you; it's also good for the environment. Even if you have an air conditioner, you can cut down on energy costs by leaving it off. "But it's too hot," you might say. That's understandable. But what if there was a way to keep cool without needing an air conditioner? Well, there is!
Heat absorbing curtains can cool your living space on days when it's not blazing, but still uncomfortable. These curtains act like windshield screens for cars. The best part- they cost next to nothing and keep you relaxed on those 85-degree afternoons.
Materials Needed:
2 or 3 Emergency blankets depending on the number of windows you need to cover
Aluminum tape
Grommet bag and crimper
Bag of curtain hangers
Construction:
Fold the top ends of the emergency blanket and staple them together to add thickness. Folding and stapling the edges adds to the curtain's thickness and creates a firmer grip for the grommet.
Crimp the grommet to each of the sides you're planning to hang. Once you insert the grommet, punch a hole if the grommet did not already.
Insert the curtain hanger hooks and hang the curtains on your window. You can also use tape since emergency blankets are light.
Once you hang your curtains, you can enjoy the savings because the total for all the materials is $6.
Emergency blankets don't just block the sun; they also prevent hot air from entering your home. If you combine the DIY air conditioner with the curtains, your home could be a regular ice-box for $14.
Do What Makes Your Summer Feel Right
Whether it's saving an extra buck or two, mixing an easy-to-make beverage, or constructing an outdoor piece of furniture, you can decide how enjoyable your summer turns out.
Use these ideas to stay chilled, stay busy, and stay relaxed. And as always, stay safe.