Caribbean cuisine has taken Chicago by storm in the best way possible. Throughout the city and surrounding areas you can find many restaurants that serve authentic, delicious, carribean foods that make you feel like you're right on an island. Caribbean food is unique and has influences from countries around the globe. One restaurant in particular has already built a solid foundation here in Chicago since it's opening in 2008 – Garifuna Flava. Garifuna Flava has two locations, one in Marquette Park on Chicago's South Side and one in the West Loop at the Chicago French Market. The restaurant offers a taste of Belize and it is certainly one to visit. The name Garifuna Flava comes from the Garifuna which according to Hussein Castillo, managing partner of the Restaurant, is "a rare ethnic group of only 500,000 people originally from St. Vincent that now reside in the Central American countries of Belize, Guatemala, Honduras, and Nicaragua." I've had the opportunity to enjoy some of Garifuna Flava's dishes a few times and I'm always satisfied at the end of each meal.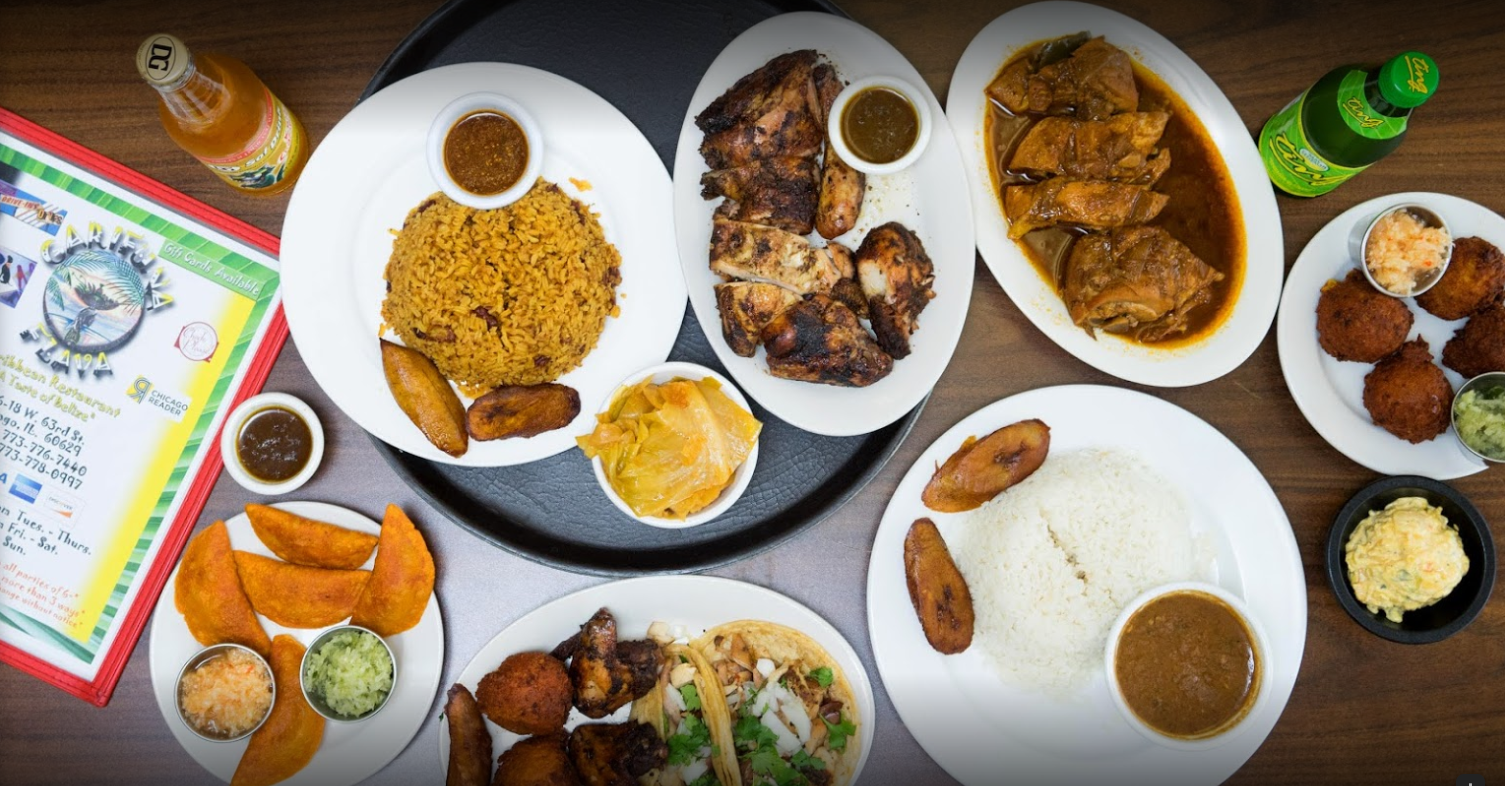 Picture from Garifuna Flava
My first visit to Garifuna Flava, I decided to try one of my favorite dishes, jerk chicken. I also added a side of rice and beans to the meal, another favorite of mine. You have the option to choose from rice & beans, plantains, cabbage, mac & cheese, or potato salad. Prior to trying, I'll admit that I hadn't heard of the restaurant before but if you know me personally, you know I LOVE jerk chicken, so based off that alone I was excited. I was also hoping that it would be extra spicy – I prefer everything spicy. When ordering, you have the option of getting extra gravy which was enticing so of course I added it. I had never heard of gravy being included with jerk chicken and after trying it, I wish I had sooner because it was so delicious and made everything even more flavorful than it already was. And yes, it was seasoned to perfection. There is nothing bland about Garifuna Flava. The jerk chicken reminded me of the jerk that I had while in Jamaica which speaks to its authenticity.

Picture from Garifuna Flava
Another thing to note is that Garifuna Flava also gives a good portion of food which leaves you feeling full. This is always a plus! As I mentioned above, I enjoy spicy food. I have a very high tolerance for spicy food so take my opinion with a grain of salt. The food wasn't very spicy to me but I have read some reviews that say otherwise. (Just for reference and to get a sense of my spice tolerance, there's a spicy noodle challenge on Youtube. I eat the noodles involved in this challenge often. Not a challenge to me at all. haha) But would that deter me from going again, absolutely not! I still very much enjoyed my food from Garifuna Flava and continue to be a loyal customer. Another dish I've tried on my second visit was Oxtail. This was my first time ever having them so I was a bit nervous. All I can say is, I have found a new love for Oxtail. YUM!
Unfortunately, my visit to the south side location was during COVID so I was only able to get take out but from what I've read in reviews, the atmosphere while dining in is great and worth the visit.
Overall, if you're looking for flavor, authenticity, great portions, be sure to visit Garifuna Flava.
Website
Menu
Address: 2518 W 63rd St, Chicago, IL 60629
Phone Number: (773) 917-0879