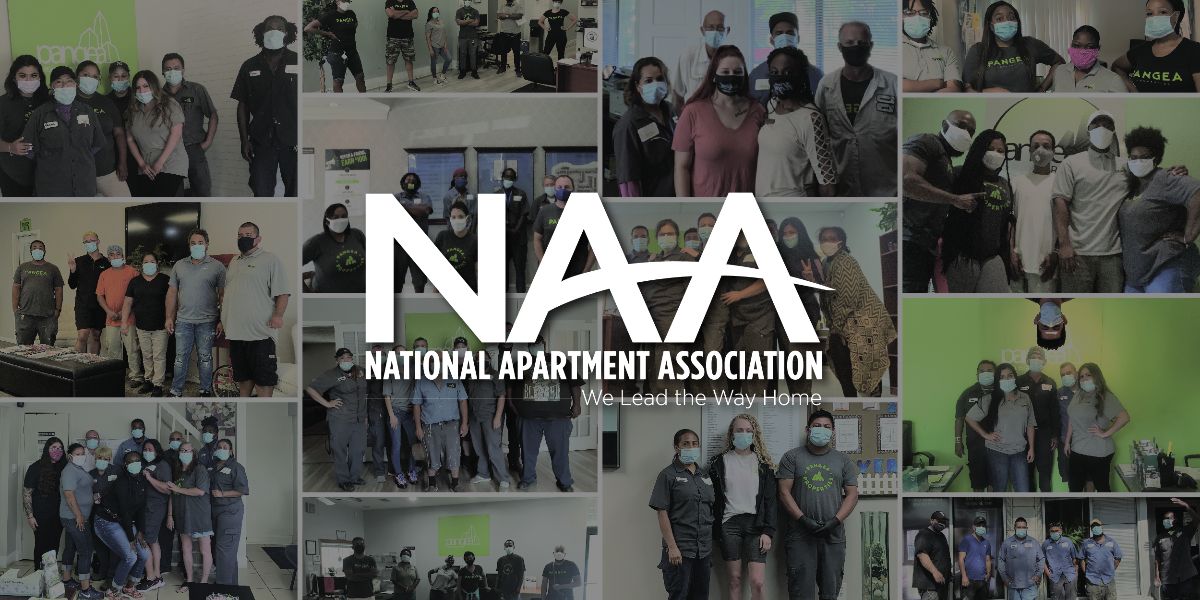 When the National Apartment Association (NAA) announced August 12, 2020 as the first annual Apartments Onsite Teams Day, we at Pangea knew right away that we wanted to participate. The idea came about to celebrate and promote the hard-working onsite teams who have gone above and beyond to make sure their residents are taken care of. In 2020, the focus is obviously on the COVID-19 pandemic, however the NAA hopes to continue the Apartments Onsite Teams Day for years to come.
"Our industry does not stop in a crisis," said NAA President and CEO Bob Pinnegar in an email to NAA members. "Providing safe homes, keeping them maintained properly, working with residents who have financial issues due to COVID-19-induced layoffs or pay reductions, keeping spirits up among residents who must socially distance while working from home and in many cases, educating children from home – these are just a few of the day-to-day responsibilities of rental housing professionals." You can read more about the day on the NAA blog.
Pangea's Indianapolis Regional Manager, Susan F., gave an even fuller picture of what life has been like for onsite teams during COVID-19. "The Property Managers and Leasing Agents had to adapt to the many changes in our policies and procedures that were necessary in order for us to try to continue business as usual," she said. "We became stars in the virtual tours that became the norm replacing in-person tours. The smell of hand sanitizer became the new perfumes/colognes for our employees. Face masks and gloves were quickly incorporated into the daily uniforms of our Maintenance Teams who continued to complete the emergency work orders and work on our vacant units to get them ready to rent."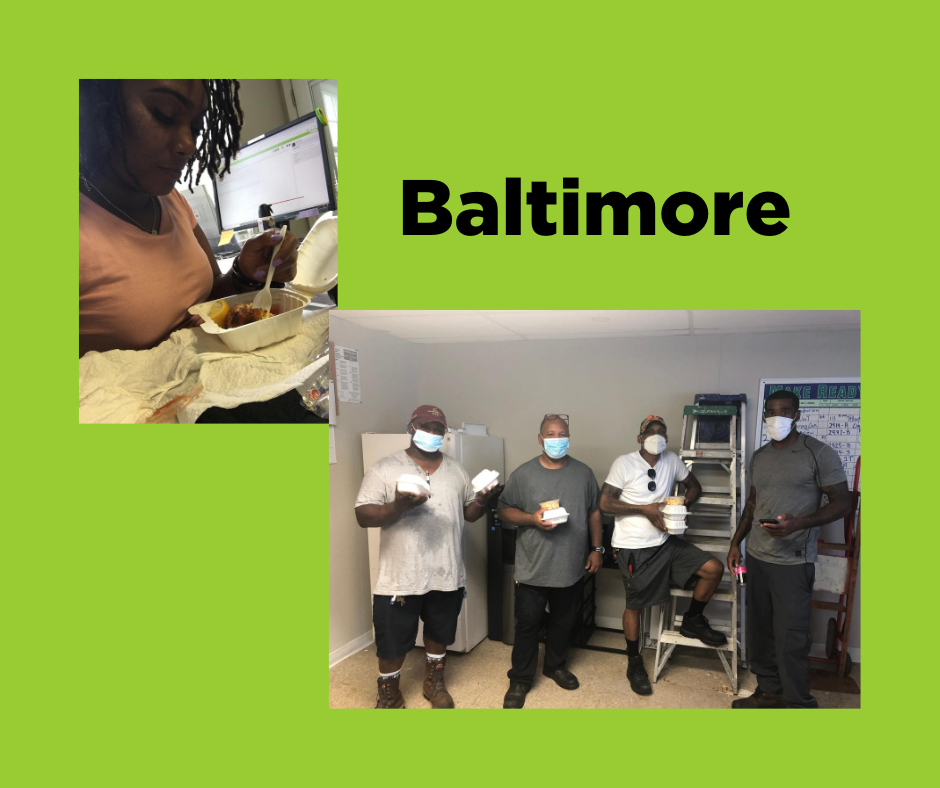 Baltimore Teams during the NAA Apartment Onsite Teams Day
At Pangea we have approximately 355 field employees across our Chicago, Indianapolis, and Baltimore properties. These teams of property managers, maintenance, custodial, and office workers are the backbone of Pangea, and without them we wouldn't be able to offer the quality of service our residents deserve. They all have done a fantastic job keeping up with everything 2020 has thrown at us, and completely deserve a day dedicated to them.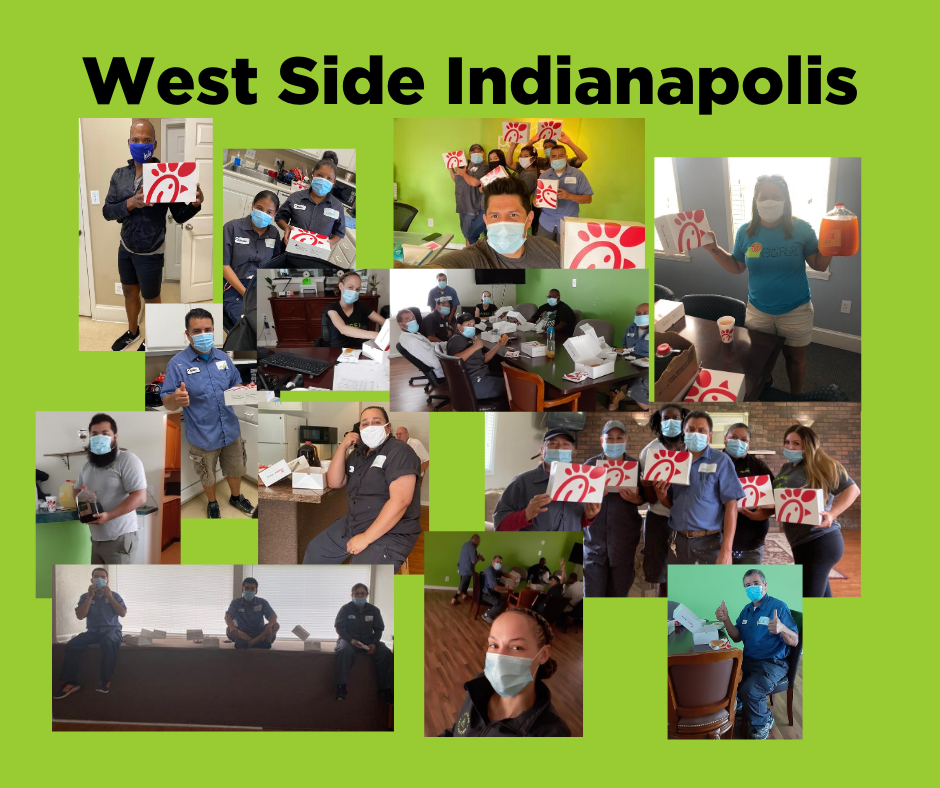 West Side Indianapolis Teams during the NAA Apartment Onsite Teams Day
To start the day off, we posted pictures of the teams on social media to encourage residents to give a shout out to their teams. Each team also received a catered lunch, or in the case of our Austin, Hyde Park and Washington Park teams in Chicagoland, a barbeque, and everyone was automatically entered into a drawing to win gift cards.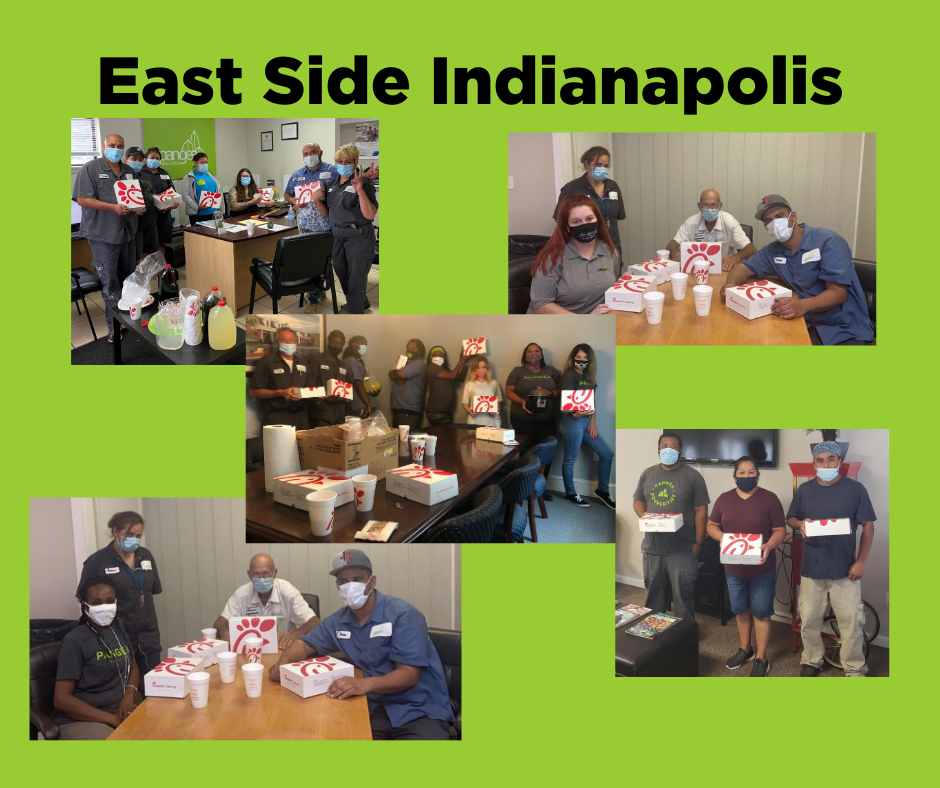 East Side Indianapolis Teams during the NAA Apartment Onsite Teams Day
In Baltimore, Leasing Agent Sharina R. was the lucky winner of the regional grand prize of $250. Runners up, each receiving a $50 gift card, were Atarsha Y., Myoisha J., Anthony P., Ramadan Y., and Cevontae M. Regional Manager, Monique D., said "It was great providing lunch to my team. Hard work from all team members put Baltimore on the map with Pangea. The best is yet to come." We couldn't agree more!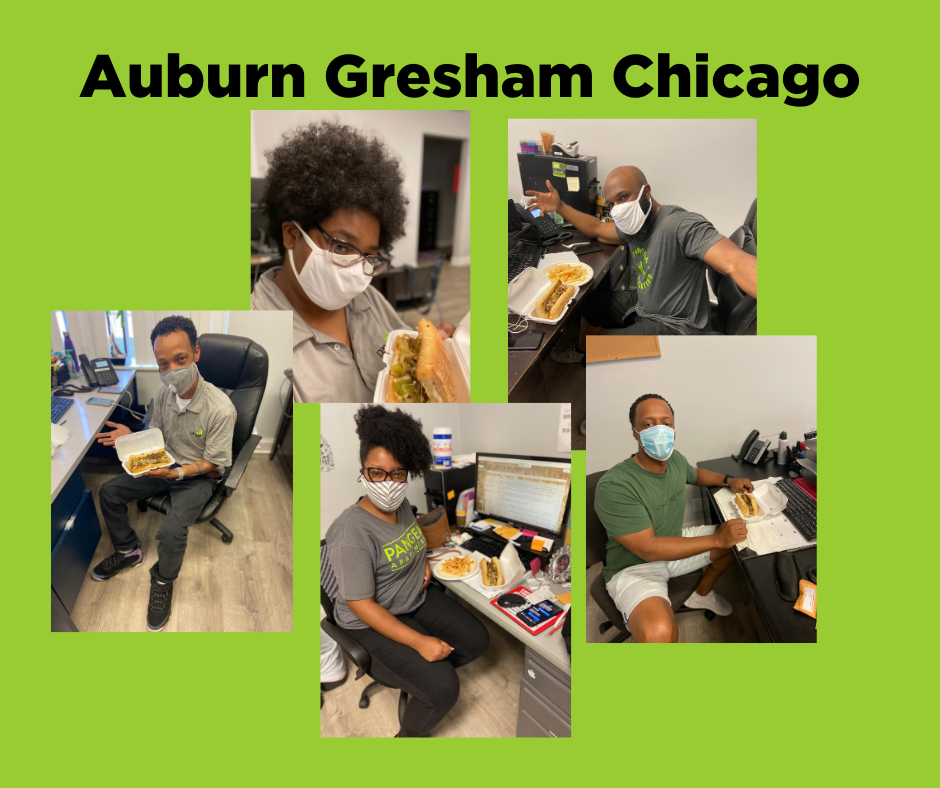 Auburn Gresham Teams during the NAA Apartment Onsite Teams Day
Our Indianapolis teams enjoyed Chick-fil-A for lunch, hand-delivered by Regional Manager Susan F. "The Indy team worked hard to overcome the many changes due to the pandemic," she said. "I personally thanked each person who I came into contact with (mask on!) while handing out the Chick-fil-A boxed lunch for their hard work and dedication to Pangea and their fellow co-workers. Thanks again to the unsung heros — our Pangea Staff!" Congratulations to runners up Paris R., Sarah E., Donna W., Devin W., and Francisco M. who each received a $50 gift card, and Leasing Agent Violeta S. was the Indy region grand prize winner of $250.
​​​​​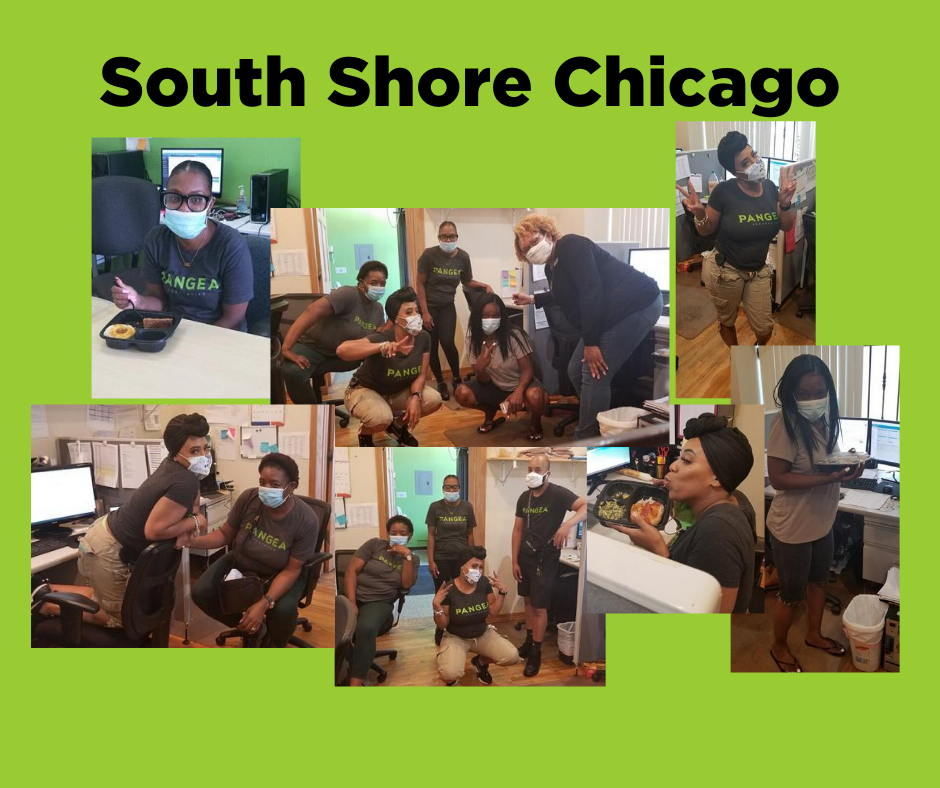 South Shore Teams during the NAA Apartment Onsite Teams Day
We also wanted to celebrate the hard-working staff of Pangea's third-party management brand, Lumen Property Management. The Lumen teams may be smaller than Chicago, Indianapolis, or Baltimore, but they are just as deserving of recognition. "Huge shoutout to the Lumen field staff. Their dedication to excellence continues to inspire me and because of them the Lumen brand is stronger than ever," said Corey D. of Lumen. Paul R. won a $50 gift card and the lucky grand prize $250 winner was Senior Property Manager Delisa E.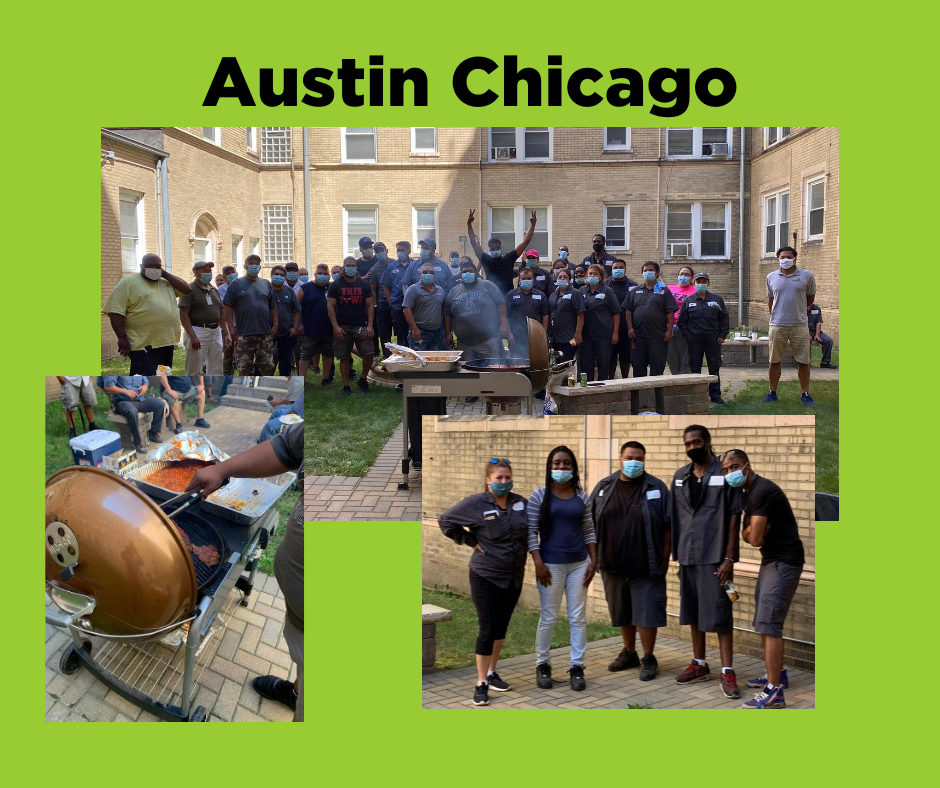 Austin Teams during the NAA Apartment Onsite Teams Day
Pangea has proudly been serving the Chicagoland area since 2009, and we wouldn't have been able to expand to Indianapolis or Baltimore without the support of our Chicago teams. In Chicago we had two grand prize winners: Giovanni C., Pest Control Technician, and Elohin R., Maintenance Technician, each receiving $250. We also had 10 runners up: Lanqyea P., Saul R., Raul G., Amber G., Daniel C., Steve T., Roverto T., Felicia B., Miguel D., and Bernardo T., who all received a $50 gift card. Our Chicago Regional Manager, Bryan C. was glad to celebrate the teams. "It isn't often that our teams get the chance to relax and decompress from the stress of the COVID-19 crisis," he said. "Onsite Teams Day was a great opportunity to take a moment and reflect on the road we've traveled and to appreciate the hard work that we all put in to be successful."​​​​​​​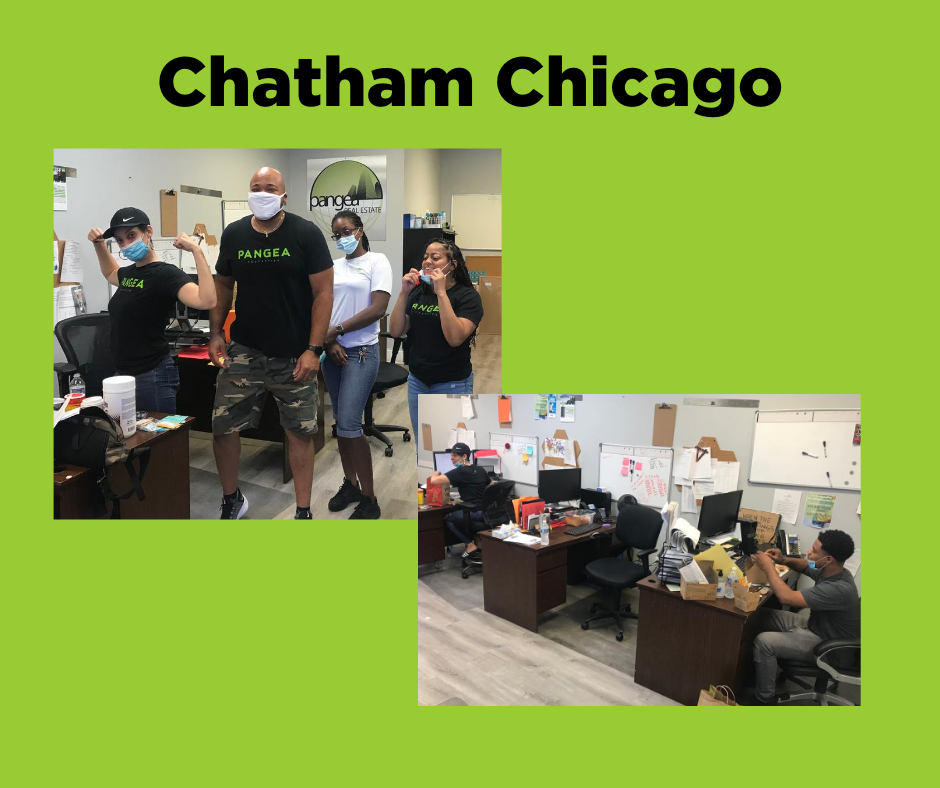 Chatham Teams during the NAA Apartment Onsite Teams Day
Overall, the first annual NAA Apartments Onsite Teams Day was a success! We already can't wait to celebrate our field teams again next year!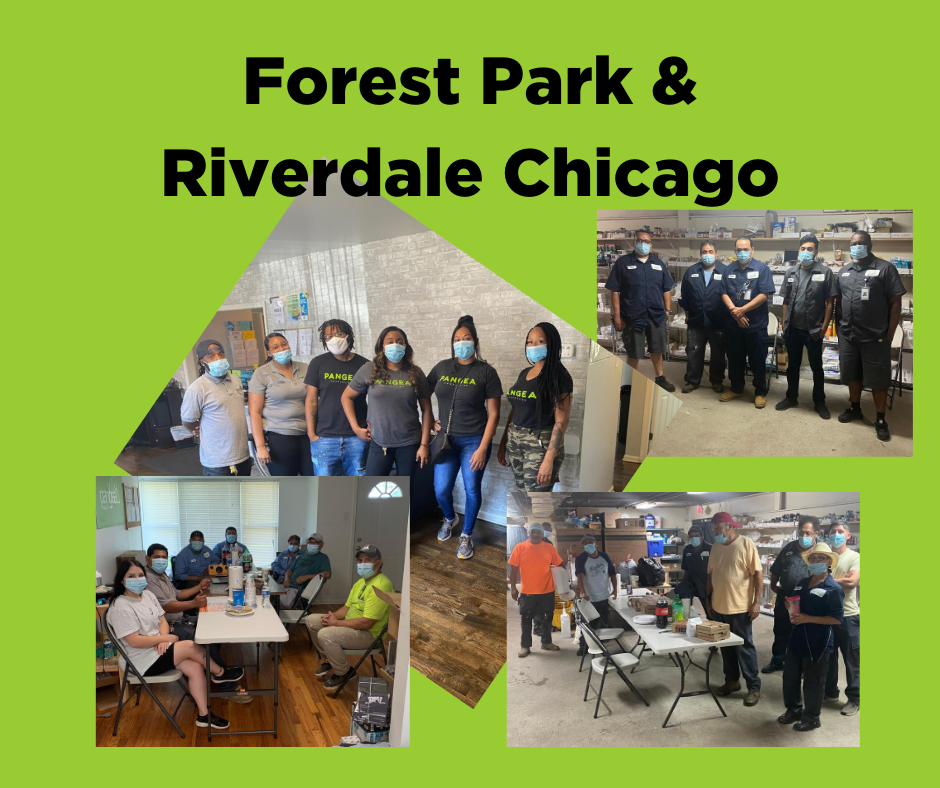 Forest Park and Riverdale Teams during the NAA Apartment Onsite Teams Day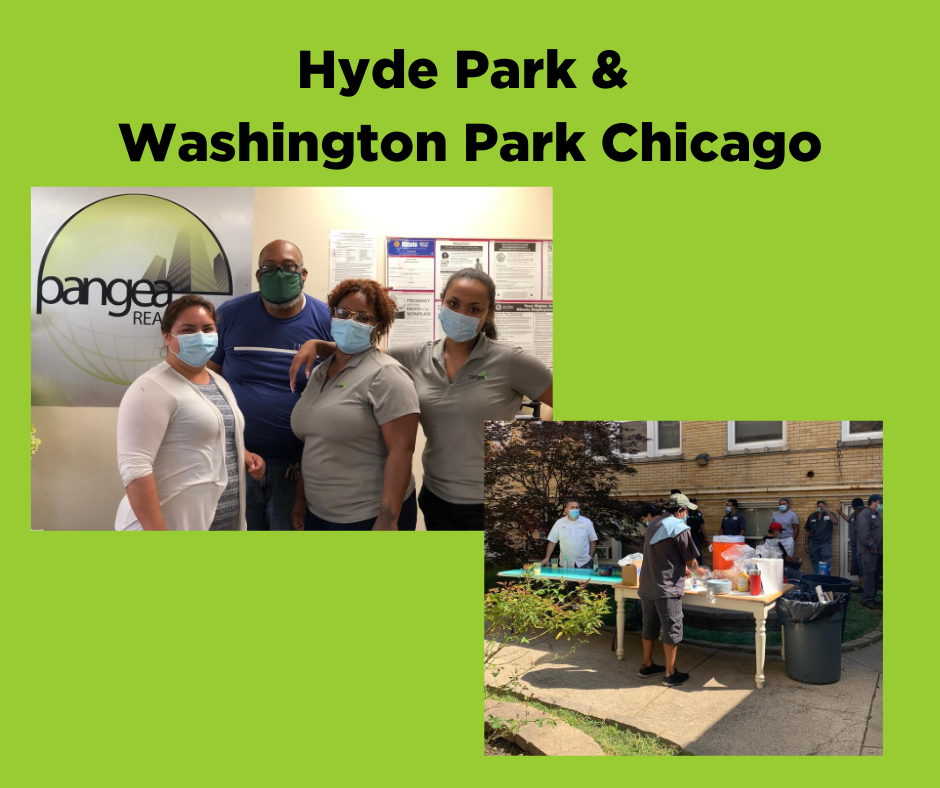 Hyde Park and Washington Park Teams during the NAA Apartment Onsite Teams Day