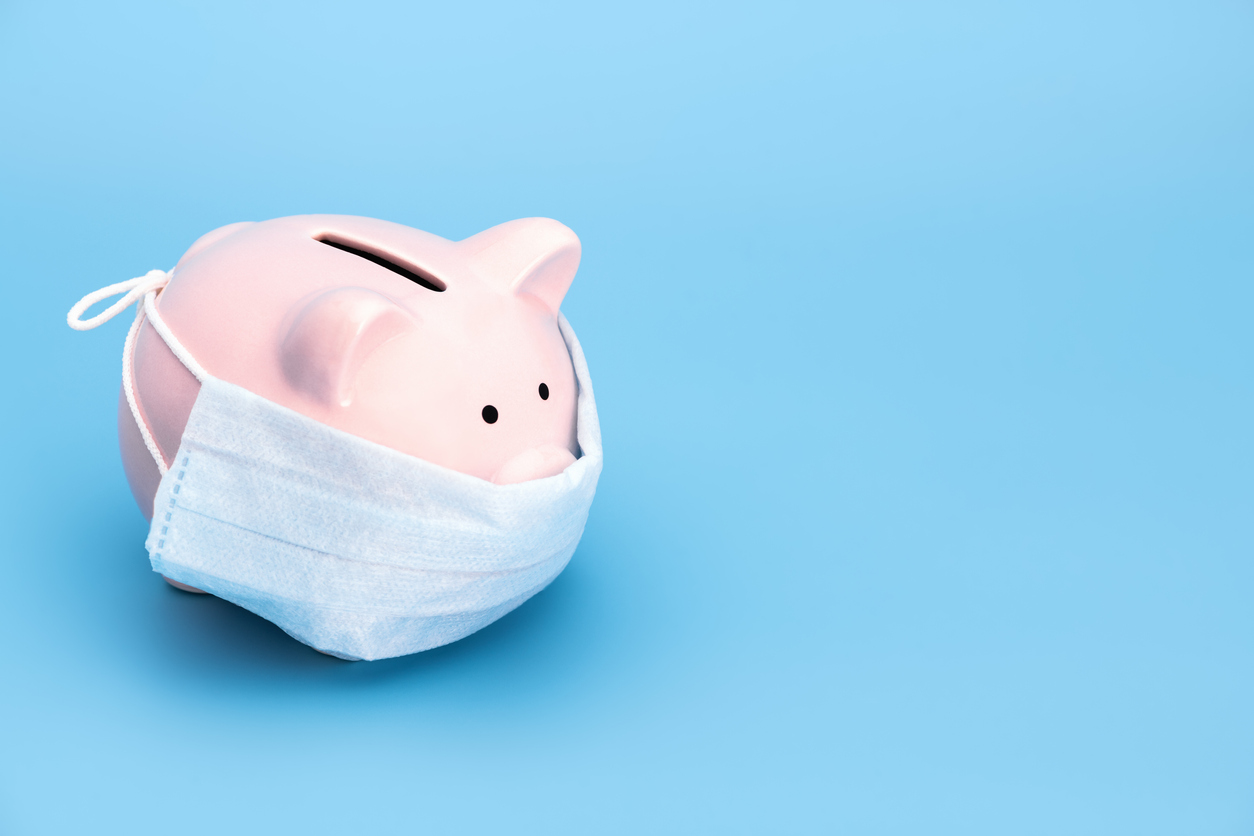 Life comes at you quickly, and so does the first of the month. Amid an unpredictable, chaotic year, it's understandable why people might have some difficulty saving money. An estimated 40 million people have lost their jobs during COVID-19, and the number will probably increase.
The good news is, organizations and tools can help you pay save money even when you're down on your luck or struggling to find income.
Life sucks when you feel like you can barely keep your head above water. And when you don't know whether or not you'll be able to make ends meet, buying a McDonald's cheeseburger can seem like you're committing a mortal sin.
So stop fretting over how you'll have to go into lockdown mode to surive. Here are 10 ways to help save money while staying safe.

Apply for Grants
Many grant organizations specialize in helping people who can't pay rent due to unforeseen circumstances. For example, Modest Needs Grants helps workers struggling to maintain there position above the poverty line.
Modest Needs Grants' mission is to help people who struggle to make payments due to things that are out of their control. During the pandemic, many people who could typically pay their rent fell on unfortunate circumstances.
They are especially inclined to offer assistance to those who live alone, public school teachers, and first responders.

Make Money Watching Cooking Videos
If you've ever sat down to watch the Food Network, you know how mouth-watering and enjoyable it can be. Well, you're in luck because a website called Inbox Dollars pays people to watch short film clips, many of which are cooking related.
You don't only get paid for watching cooking videos, either. Other videos pay just as much.
You'll be drooling over a delicious hot fudge sundae one minute and catching up on pop culture the next. But no matter which video you watch, the money comes with it.
The process is simple; all you have to do is decide which videos suit your tastes, and answer a series of questions after you finish viewing. All sorts of brands pay Inbox Dollars to get their video content in front of larger audiences, and you take a cut of that payment.
Unlike other websites, Inbox Dollars pays you cash for your reviews. And even though it won't pay big bucks, it could give you a little extra cash in your pocket. You can earn up to $225 per month using Inbox Dollars.

Manage Your Credit Card Debt
Having an overload of expenses can make your financial situation seem direr than it is. Managing payments one at a time and taking care of credit card debt can take a substantial portion of your financial burden off your shoulders.
There are plenty of tools and tips for managing your credit card debt, but one new internet tool explicitly designed to help you pay your debt is AmOne.
AmOne works to lower the interest rates on your credit card debt. You sign up for a loan from them to pay off your credit card debt, and they give you a more favorable interest rate so you can take more time to pay off their loan.
AmOne is advisable when you have credit card interest rates piling up on top of not being able to pay your rent. Use it to eliminate your debt so you can focus your financial resources on paying rent.

Get Paid For Buying Groceries
Grocery shopping is an often overlooked monthly expense that adds up. Saving on groceriesusing a rewards program is an easy way to make a difference in your bank account. When it's time to pay monthly bills; if you're constantly fretting about a few dollars here and there, grocery rewards programs can make the difference.
Apps like Ibotta and Fetch Rewards will give you give cards and catch for sharing your grocery receipts. You won't be cashing in the big bucks, but it's not as though these programs require a ton of effort.
When it comes to recurring costs, every little thing counts. Mitigating costs such as groceries can be a difference-maker

Make Money From Your Purchases
Again, options such as this next one aren't going to make you rich, and if you're spending all of your money on frivolous items, they won't save you from financial woes.
But making financial-savvy choices like using a debit card that gives you up to 10% rewards on all your purchases adds up and can lead to significant financial gains over time.
Companies such as Aspiration keep your money federally insured, and there's no catch. Whether you're planning on buying groceries or buying plants for your in-home garden, you get much-needed rent payment assistance.
What's more, when you sign up for Aspiration, you get to feel good about helping the environment. Every time you swipe your Aspiration debit card, the company plants a tree.

Find Better Rates For Your Car Insurance
If you're feeling especially frugal, you can sell your car and use a bike instead. But for most, that's not feasible. People who need their vehicle to get to work or visit family don't have the option to sell their car.
But if you have a car, you know how expensive car insurance can get. Luckily, companies like Savvy can provide the best quotes for you. They can get you the most affordable quotes in just 30 seconds and save customers an average of $826 a year.
If you're worried about the hassle of canceling your current policy, Savvy helps you throughout the process, finding the cheapest insurers, helping you cancel your policy, and even get refunds. Don't let the 30 extra dollars you're paying per month put a damper on your financial security.
Use Savvy and start saving money every month.
Cut Your Cell Phone Bill
Deciding which bills have to go is an integral aspect of creating a budget and saving money. Reducing your cell phone bill is one of the easiest ways to cut down overpayments. If you've been with your cell phone provider for a long time, chances are, they've increased your monthly premiums.
But how badly do you need unlimited data? We all know it sucks not having internet at your fingertips every moment of the day, but sometimes saving money requires sacrifices. One of the best options for cutting your cell phone bill is signing up for one of Tello's plans.
Tello is a subsidiary of Sprint, so you get the same coverage area. The big difference is that you choose how many minutes and how much data you want on your plan. Tello offers programs for as low as five dollars. Think about how much of your income you could keep.

Craigslist "Gigs" List
They might not be the most glamorous jobs, but they come in handy when you're in a bind for cash. They're the Craigslist gigs jobs, and they can save you from late payments.
It doesn't matter whether it involves cleaning someone's junk out of their garage or mowing someone's lawn; it pays the bills.
If you're leery of Craigslist, you can try using Fiverr or Taskrabbit. You can also ask friends, family, or even someone else in your building if they have any odd jobs they need to complete for a fee. When it comes to saving money, manual labor shouldn't be out of the question.

Babysitting
Families in our generation need babysitters more than ever because both parents work more often than in the past. Most parents are also looking for adults to watch their kids rather than teenagers. In 2018 alone, childcare workers in the US.
Companies such as Urban Sitter, Care.com, SitterCity, and SittingAround.com offer online marketplaces for babysitters to post their service offerings. If you enjoy kids and you have free time on the weekends, babysitters can make up to $20/hour depending on the city. Logging just two Friday nights a month could lead to robust savings.

Sell Whatever You Don't Use
There's no need for DVDs, CDs, and old stereo systems you haven't used in ten years. You don't need that shirt you wore to clubs in college, either. Don't value nostalgia over saving money. Those miscellaneous items don't add anything to your life anymore. You'll be surprised by how much relief you'll feel once you rid yourself of them.
You might also be surprised by how much money you can make off selling things you no longer use. You might have enough money left over to start saving for an updated version of electronics or fashion.
Sites like Decluttr make it easy for customers to sell stuff like DVDs, and you can make up to $50 extra dollars in cash.
Little Things Add Up
When you're struggling to save money, the little things add up and make the difference. This list should not be thought of as a fix-all solution to financial trouble.
Instead, you should consider each item and try to find three or four of them that suit your particular needs, and use them for your financial planning. You will be surprised how much pain and suffering a few financial tools can save you.
Check out Pangea's residents' resources for more useful tips. Our blog is another excellent place to find information for saving money on your home costs. If you're looking for an affordable place to live, check our local apartment listings for Chicago, Baltimore, and Indianapolis.