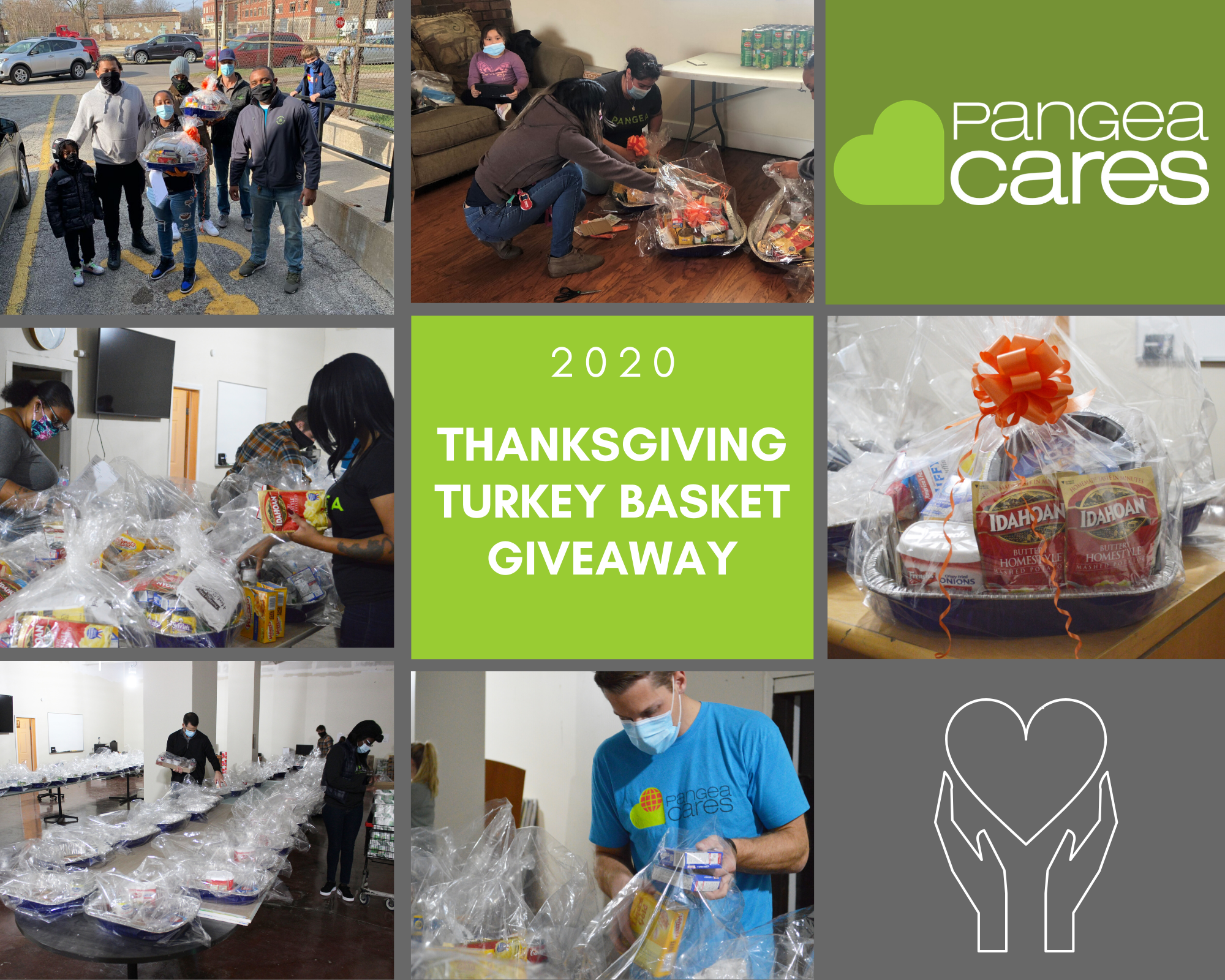 At Pangea, we strive to be more than just a real estate company, and in 2018 we decided to give back to our residents and communities during a particularly hectic time of the year. We know that the holidays can be a stressful time for many reasons, and 2020 has added additional challenges, so Pangea's 501c3 nonprofit arm, Pangea Cares, decided to carry on the tradition of Pangea's Annual Turkey Basket Giveaway for the third year in a row.
Because of the ongoing COVID-19 pandemic, Pangea Cares had to rethink and readjust the event's logistics to ensure the safety of everyone involved. Indianapolis Regional Manager Susan Flinchem was more than happy to donate her time and effort. "We may not think much about volunteering an hour or so of our time to put together these baskets for our residents," she said, "but once you see the smiles on their faces you realize how much a simple act of kindness means to our residents – especially this year. I am thankful to Pangea Cares for giving me the opportunity to give back to our residents."
The Friday before Thanksgiving, a few volunteers masked up and gathered to pack 175 baskets with over 15 food items and recipe cards. For many of the volunteers, the day was somewhat bittersweet, as Operations Senior Analyst Vanessa Lech mentioned, "I wasn't able to travel or see my family for the holiday due to the pandemic so this was a nice way to still get into the holiday spirit. I know how big of an undertaking the Turkey Giveaway is every year, so I wanted to make sure my coworkers orchestrating it had enough resources."
Assistant Property Manager Rosa Cortez echoed that sentiment by saying, "I volunteered because 2020 hasn't been the year for many. Especially those residents who received their baskets, the joy they showed while they received their baskets, shows me Pangea leaves tracks and is a one-of-a-kind company." Basket items included food items such as packets of instant mashed potatoes, stuffing, lemonade mix, ingredients for an Oreo pudding pie, and an entire turkey.
The next day more volunteers gathered to pick up and hand deliver the baskets to the well-deserving residents. Thinking back about her experience, Property Manager Crystal Ball said, "Giving out those gift baskets gave me a warm feeling inside knowing that I was a part of a company that cares so much. And after delivering those baskets and seeing the look on my residents' faces was priceless!"
While Pangea strives to give back to our communities, many of this year's volunteers also got quite a bit out of the event themselves. Senior Marketing Support Amanda Harris said there are three significant quotes she tries to live by. "You don't need a reason to help people; one kind word can change someone's entire day; and be somebody who makes everybody feel like a somebody." She went on to say, "I believe the smallest kindnesses can save someone's life. I am blessed to work for a company doing what I love in terms of my career and fulfilling my life's purpose to change the world one act of kindness at a time."
Maintenance Generalist Vasile Marita said it even more simply: "Serving others makes you feel good.' I feel this summarizes my feelings on the matter very well."
Pangea Cares plans on continuing the Annual Turkey Basket Giveaway for many more years and increasing the number of baskets we're able to deliver. The first year we started with 119 baskets, which was increased to 135 last year, and 175 this year. Pangea CEO Peter Martay said, "This is always one of my favorite days of the year at Pangea. We are fortunate to be able to give back to the residents and communities where we operate. It is my goal for us to continue to grow this event in the years to come."
Though we don't know what the rest of 2020 will hold and no one can say when we'll be through this pandemic, Pangea wants to do its part to offer support during these trying times. As Pangea Mortgage Capital Associate Jack Laughlin put it, "Caring for our residents doesn't end with housing – it's just the beginning."
You can see pictures of both the assembly and delivery day on our Facebook page.