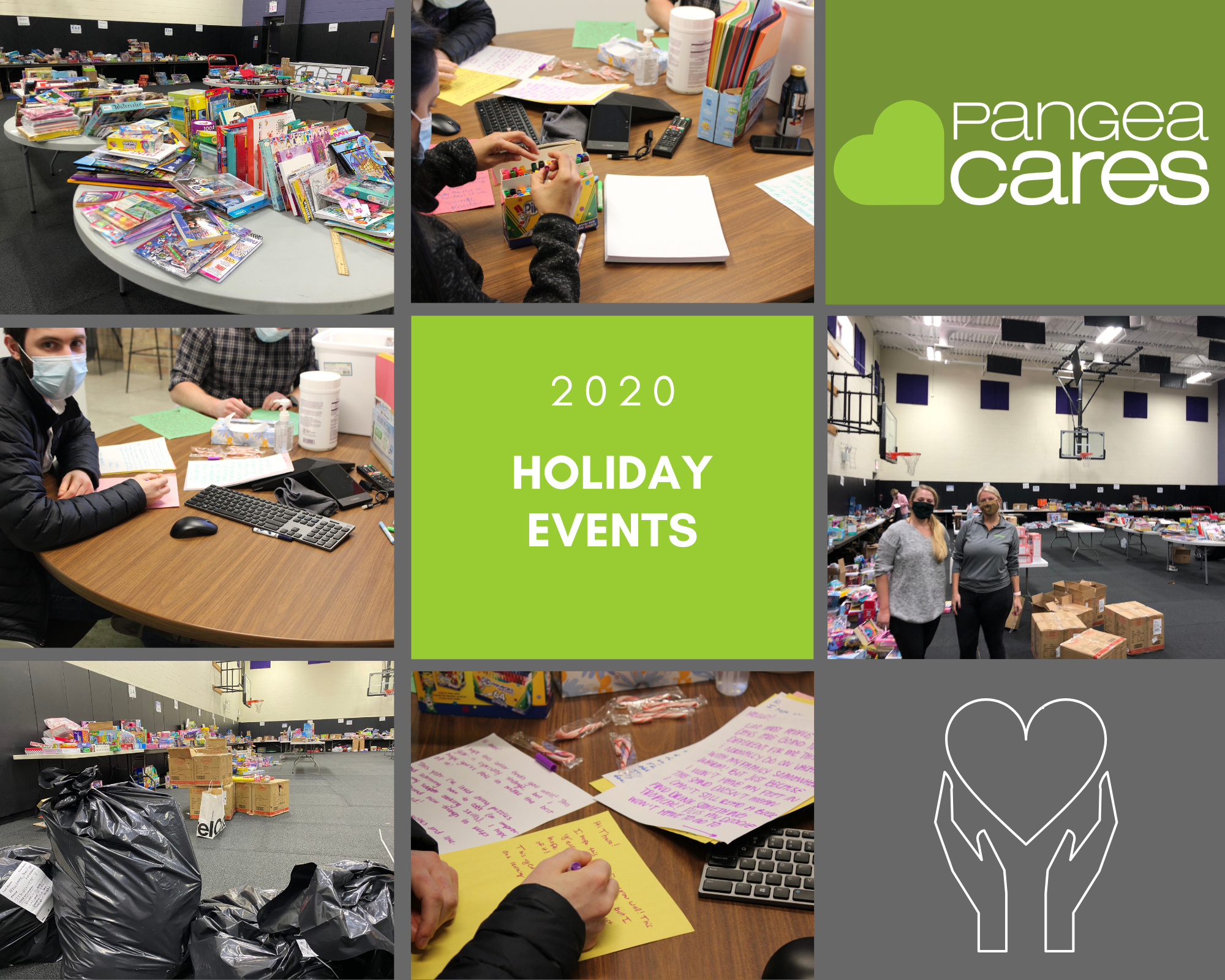 This year has been difficult, to say the least. Typically the holiday season is a time to relax with loved ones and enjoy family to close out the year, but this year we've had to make difficult choices in order to keep ourselves and those we love safe and healthy. Many have also had to make difficult decisions to prepare for the worst as no one knows how long the COVID-19 pandemic will last.
We at Pangea know this holiday season feels different this year, so we wanted to do more to give back to the communities we serve. Pangea's 501c3 arm, Pangea Cares, partnered with Marillac St. Vincent Family Services (MSVFS) to source and donate over 175 toys, books, and other gifts to their Christmas Store. The Marillac St. Vincent Christmas Store has been a holiday tradition for Chicago families in need for over 60 years, and we are so proud to support such a worthy cause in 2020.
Marillac St. Vincent Family Services operates two centers in Chicago for early childhood education, youth services, and community outreach services. One of those centers is on Chicago's west side, right in the heart of the communities Pangea serves.
MSVFS is even closer to Pangea's Marketing Manager Maggie Druffel, who serves on the Associate Board for MSVFS and has volunteered at the Christmas Store for the past three years. "It is so heartwarming to see two organizations that are important to me come together to help those in need in Chicago over the holidays," she said. "I am thrilled to be able to share the mission of Marillac St. Vincent Family Services with my Pangea family, and that Pangea Cares was welcoming to the idea to partner with an organization that is so close to my heart.
Over the past six decades, the Marillac St. Vincent Christmas Store has helped make holiday wishes come true for thousands of children thanks to friends' and neighbors' generosity by donating time and toys for the event. Each year parents, grandparents, and child guardians are invited to sign up for the Christmas Store, and in the past registered families could "shop" for toys, stocking stuffers, books, games, clothes, and stuffed animals for their children that would then be wrapped and ready for opening. Families also left with a full back of food — including a whole turkey! — to make the perfect family holiday meal. This year, families received the same gifts and food like past years, with an added contact-free drive-through service to keep everyone safe.
Pangea Cares donated toys for the event and Druffel and Pangea Operations Manager Kelsey Lake volunteered the morning of Friday, December 18 to fill bags for each family registered for the Christmas Store. Since families weren't able to "shop" for themselves this year, volunteers carefully curated each bag for the children in the family. Families were also sent home with the traditional turkey and bag of food for Christmas dinner. The next day, 234 families with 678 children received big bags full of toys and groceries for the holiday season.
Pangea Cares also recently participated in Love For Our Elders' holiday card push. Pangea employees at the Chicago headquarters location gathered (at a safe distance!) during the week of December 14 to write letters to seniors that were then sent out by the organization to elders who are in need of a kind word, especially this year.
In addition to the Christmas Store and letter writing, Pangea Cares promoted Progressive Community Church's food drive and donated to Another Chance Church's toy drive. The former event was brought to us by Property Manager Natalie Prater who asked Pangea to share about the event on our social media channels the day before the drive to get the word out. For the latter event, Pangea donated $1,000 to Operation Cover Chicago, helping give toys to 20,000 Chicagoland families with children 3-15 years old.
Pangea is so glad to have been able to be a part of these events, and also encouraged our employees to donate and volunteer to other organizations as well. Most of the Pangea Cares annual events and volunteer activities were canceled, postponed, or moved to virtual in 2020, and it's great to be able to give back to the community during this especially trying holiday season.
You can see an album of pictures from the Christmas Store event on our Facebook page, and learn more about Pangea Cares on the website.