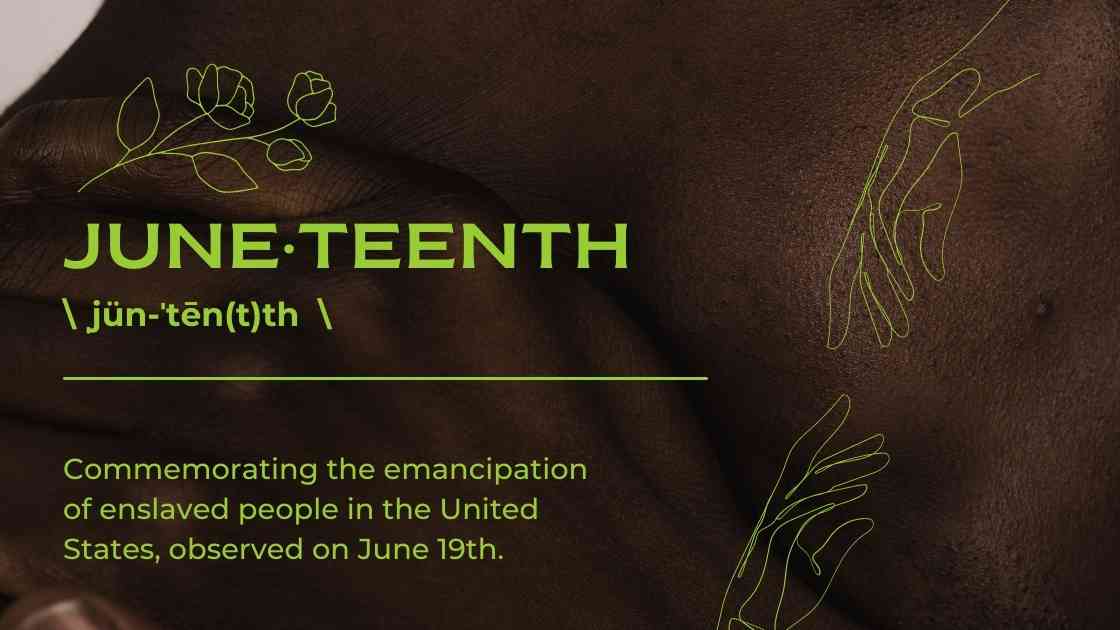 Once an overlooked holiday, Juneteenth, also known as Freedom Day, is now receiving the recognition it deserves – in Chicago, that is, the south has always heavily celebrated Juneteenth. In fact, Juneteenth is the oldest nationally celebrated commemorating the ending of slavery in the United States. On a personal note, I had not heard about Juneteenth until my adult years, and my first celebration of the holiday was in 2020. I'm sure some share the same experience. Juneteenth is also being observed more often in the workplace and schools. Better late than never!
What exactly is Juneteenth, and why is it celebrated? As you all know, Independence day commemorates July 4, 1776, the Declaration of Independence of the United States. Still, it wasn't until June 19, 1865, that the Union soldiers went to Galveston, Texas, with news that the war had ended and that the enslaved were free. This was two years after President Lincoln's Emancipation Proclamation.
How to celebrate?
There are many ways to celebrate, such as spending time with family and friends, having a cookout, and more. Here are ten things that will be taking place in Chicagoland:

Juneteenth Ball Chicago 2021
Sat, June 19, 2021, 7:00 PM – 10:00 PM CDT
Location: Chicago Hope Cafe – 2431 West Roosevelt Road
Juneteenth Paint & Sip
Sat, June 19, 2021, 4:00 PM – 7:00 PM CDT
Location: RMH Design 1806 West 103rd Street, Chicago, IL 60643
Juneteenth Culture Bash – Comedy, Dinner, After-party
Sat, Jun 19, 2021, 8:00 PM – Sun, Jun 20, 2021, 1:00 AM CDT
Location: 9316 S Baltimore Ave, Chicago, IL 60617
JUNETEENTH Pop Up Party – UJAMAA – Shopping and Networking
Sat, June 19, 2021, 7:00 PM – 11:00 PM CDT
Location: Luxe B Studio, 358 East 47th Street, Chicago, IL 60653
Roll N Peace 7: A Juneteenth Celebration – Cycling
Sat, June 19, 2021 4:00 PM – 10:00 PM CDT
Location: Ogden Park, 6500 South Racine Avenue, Chicago, IL 60621
Black Excellence Awards: All Black Gala
Fri, June 18, 2021, 7:00 PM – 11:00 PM CDT
Location: Row 24 Chicago, 2411 South Michigan Avenue, Chicago, IL 60616
Black-Owned Business Outdoor Flea Market & Fundraiser
Sun, June 20, 2021, 10:00 AM – 4:00 PM CDT
Location: The Promontory, 5311 South Lake Park Avenue West, Chicago, IL 60615
March For US 2021 – Million Man March, Chicago
Sat, June 19, 2021, 11:00 AM – 2:00 PM CDT
Location: 701 S State St, Chicago, IL 60605-2108, United States
Juneteenth Citywide Caravan/ Parade
Friday, June 18, 2021, 2:00 PM 5:00 PM
Chicago, IL United States
Line up starts at New Mount Pilgrim Missionary Baptist Church at 4301 W Washington Blvd, Chicago, IL 60624 in West Garfield Park, and concludes at A. Phillip Randolph Porter Museum at 10406 S Maryland Ave, Chicago, IL 60628 in Pullman. The event will be streamed live.
Black Market Vendor Expo – Juneteenth Edition
Sat, June 19, 2021, 1:00 PM – 5:00 PM CDT
Location: 9701 S Kedzie Ave, Evergreen Park, IL 60805-3124
Events are still being added up until Freedom Day, so be sure to check out eventbrite, instagram, and other social media platforms to stay in the loop.