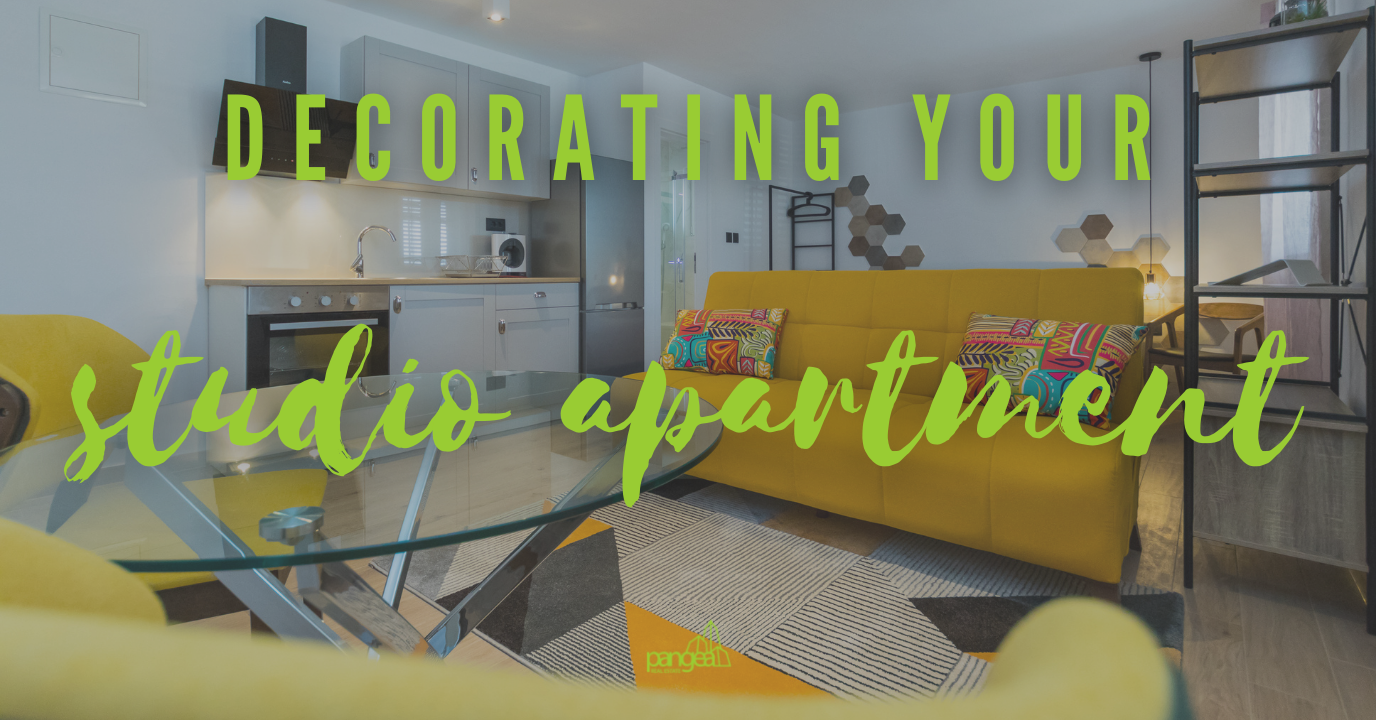 You might feel destined to be cramped in a studio apartment, but it doesn't have to be that way. What's more, you don't have to spend tons of money on your decorations and furniture.
This blog discusses some of the best budget studio apartment decoration and furnishing ideas. Many of these ideas are highly innovative and affordable. Some are simple hacks that require little to no effort. Finally, there is an added section for ways to add more space to your studio apartment.
Pangea wants you to make the most out of your living space. Continue reading to learn how to turn your studio into the apartment you brag about to your friends and family.
Affordable Art Online or at Thrift Stores
Online art is affordable and can make your place unique. Enjoy the convenience of getting art delivered to your door.
You can also scour the many thrift stores and make a weekend activity out of your art shopping. When it comes to decorations in your studio apartment, the more unique and representative your decorations are, the better. You don't have to spend a lot of money on fancy art pieces.
Curtains as Dividers
Using curtains or a bookshelf as a room divider can help solve the need for space in your studio. Only having one room can seem cramped. Dividing your living area from your bedroom will add a sense of flow to your apartment.
It doesn't have to be anything crazy. Anything that acts as a divider will suffice. Something as simple as sheer white curtains can add a flowy yet tranquil vibe to your studio.
Vertical Gardening
You don't have much space for plant life if you live in a studio, which is why you need to get creative with how you display your plants. Vertically adding plants ensures you can enjoy the green thumb in you without taking up too much space. Keep your apartment vibrant by sectioning off a portion of your apartment solely for plants.
Wraparound Floating Shelves
Shelves that wrap around your ceiling can be both decorative and functional. You can use them to store all of your books or add decorative pieces to your apartment.
Bold Rug Choices
Your rugs can be the focal point of your studio. Not only can they separate sections. They can also add flair to your space without making it look gaudy. Rugs that compliment the room's color palette will make your studio more eye-catching and exciting while keeping your decorations simple.
Multi-Purpose Seating
Adding seating that can be used for both storage and a place to sit is an excellent win when decorating your studio. With limited space, the more functionality you can add to your seating, the more freedom you will feel.
Peg Boards Are Your Best Friend
Pegboards don't take up as much room as shelves, and you can store just as many items on them. These popular, adjustable boards create space for cheap and allow you to rearrange them in whatever way you deem fit.
Mirrors that Add Space
Mirrors are critical in studio apartments. You have little space to work with, so adding mirrors can open up your room. They also aren't too expensive, so adding a few strategic mirrors is an affordable solution to opening up your living space.
Avoid Clutter
Clutter kills in the studio apartment. Clothes lying on the ground can make your apartment feel small and unkempt, while clutter on your work desk can disrupt the whole day's workflow. Cleanliness is godliness in the studio apartment environment.
You will also be surprised with how easy keeping your studio clean is compared to a one or two-bedroom apartment. With a studio, everything is laid out in front of you- you can check the boxes off as you clean, which is always a rewarding experience.
Keep Your Kitchen Counter Clear
Keeping your kitchen counter clear is another necessity. If you have clutter in the kitchen, rest assured, you will start to notice an effect in the living space. Everything is connected in a studio, so if one area starts to compile items, the whole feeling of the place can get thrown off.
Buy a Murphy Bed
Murphy beds were made for the studio apartment dweller. These innovative beds fold into themselves during the day, creating ample space for whatever you want- guests, a larger workspace, you name it.
Murphy beds used to be expensive, but they have become more affordable in recent years. They come in a wide array of colors and sizes but typically don't come with the mattress.
Sleeping Lofts
If you have high ceilings, you can take advantage of them by putting your bed in a loft-style position. There are a few ways to approach installing a sleeping loft in your studio apartment. The first is a fully customized ceiling loft. You can also consider a free-standing mezzanine, which requires slightly less construction.
Platform Beds
Platform beds slide underneath a platform to open up space throughout the day and whenever you're not sleeping. You might be concerned with the logistics of how to install these innovative workarounds, but the following picture shows you just how easy they can be.

And the final product:
Sofa Bed or Futon Bed
Sofa beds are on the more expensive side of things. However, you can easily craft an affordable futon bed with limited spending. These options are also some of the most convenient as they allow you to kill two birds with one stone by having a couch and a bed at the same time.
Collapsible Kitchen Tables
There are a ton of collapsible tables on the market. Some of these designs act like console tables during the day and fold into dining tables when you're ready to feast. Others mount into the wall and fold under the window sill when not in use.
Other Ways to Make Tiny Spaces Bigger
Bright Colors
Intense or dark colors will make studio apartments feel cramped. Think whites and bright blues, with vibrant colors, such as yellow or pink splashed in.
More Windows
You might not have the chance to think about this if you've already committed to a place, but if you're in the market, try to opt for studio apartments with plenty of windows to create an open sense. Windows will always make space feel larger.
Lighting
You don't want to get crazy bright with your lighting, but you do want plenty of lighting for your studio. Choose bright bulbs with multiple settings for the best results. There are also lighting options that let you create several different moods depending on the vibe you want to go for.
Conclusion- Budget Studio Apartment Decoration Ideas
Decorating your studio apartment can be challenging. Luckily, there are plenty of hacks for you to use throughout the process. Studio apartments don't have to be restrictive. In today's world, minimalist living accommodations can be rewarding, gratifying, and satisfy all of your needs.
At Pangea, we believe everyone deserves to have access to affordable housing. That's why we are active in Baltimore, Indianapolis, and Chicago. Visit our resident resources page to find out how we help our residents and contact us today if you're apartment searching.