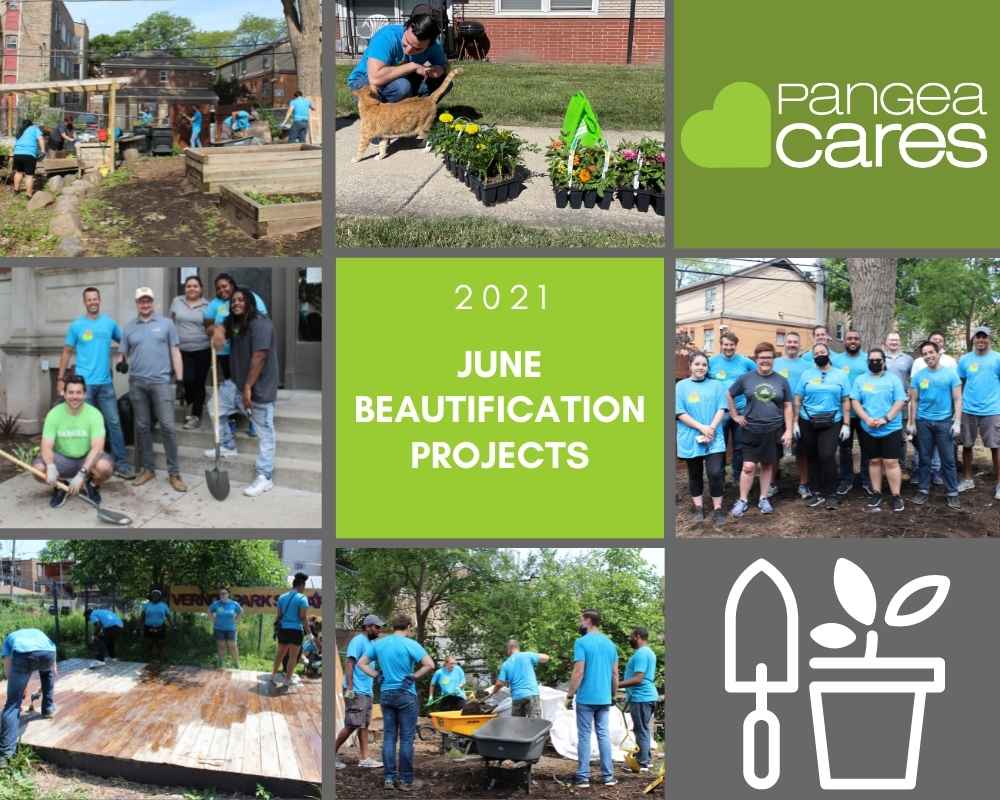 Pangea Cares teams were busy in June! The first four Wednesdays of the month, volunteers gathered in Chicago to tidy up and beautify some of the neighborhoods we serve.
South Merrill Community Gardens
The morning of June 2, a group of 15 got together on the 7000 block of South Merrill, the location of a Community Garden in the Jackson Park Highlands neighborhood. The volunteers spent a few hours tidying up the garden and getting it ready for use. They weeded and added new mulch to the garden beds where fresh herbs would be planted. They also built a new edge and fence around the front walkway between the sidewalk and the street, adding mulch to the area too. Check it out next time you're in the area!
Vernon Park Gardens
The second Wednesday in June, Pangea Cares joined Eco House—a nonprofit we've partnered with in the past—to help beautify Vernon Park Gardens on the 6000 block of South Vernon. Another 15 volunteers braved the heat and spent the morning on a few projects. Some did extensive weeding on the garden while others sanded and varnished a stage at the front of the garden that Pangea Cares volunteers built a few years ago. Our maintenance team also built an archway in the entry to be a welcoming opening to the garden.
Pangea Community Beautification
Finally, the next two Wednesdays–the 16th and 23rd–we spent some time adding to the curb appeal of some of the buildings Pangea manages across the south and west sides of Chicago. We had over 20 volunteers show up over the two days, and some Pangea residents even joined us to plant flowers and clean up the front walks and entryways. Thank you to everyone who helped out!
We are so glad to be able to gather again and get back to volunteering with Pangea Cares events. Not only did we get to add some beauty to the neighborhoods, we also got to mingle with coworkers and residents we haven't seen in a while.
Find us on Facebook, Instagram, or Twitter to let us know if you get to enjoy any of the areas Pangea Cares volunteers spruced up!