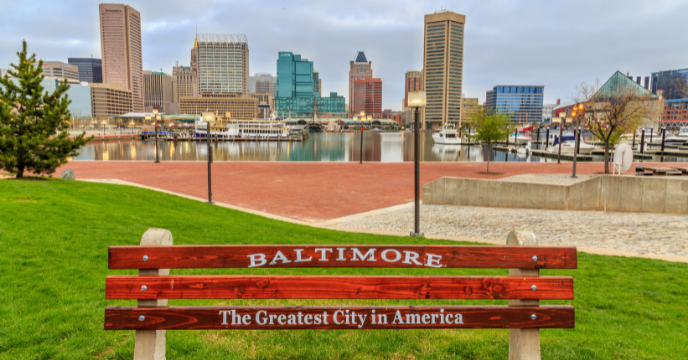 By Matthew Green
Access to quality healthcare services, proximity to major cities, security, education centers, and other amenities are some of the things you'd look out for when choosing a place to live or retire. You may not find all these things in one place, so it's up to you to decide what tops your priority list.
This article highlights Baltimore's best parts and why you should consider living there.
Overview of Baltimore, MD
Baltimore prides itself in its rich culture and heritage, based on the city's history. You'll find a display of culture in their elegant architecture, signature blue crab summer dish, symphony orchestra, and the art museums. The residents here enjoy cultural activities like Artscape, which bring them together.
Baltimore is home to various communities. Most of these communities live in the city's neighborhood and only come into the city for work. As you walk around, you'll notice the distinct culture of every community, especially in their restaurants and eateries.
The whole city hosts about 2.8 million people, but you can feel how small it is. There aren't many tourist attraction sites, but the residents of Baltimore love their city like that and remain friendly to each other.
According to U.S. News and World Report, Baltimore ranks at #100 as the best place to live but #12 in the list of cities with a high crime rate. However, the high employment rate in the city is contributing largely to pushing down instances of crime.
Best Parts about Living in Baltimore, MD
Baltimore is beautiful, with breathtaking sceneries and beautiful beaches. Here are some reasons to consider living there.
You can easily find a job, especially in STEM subjects
Baltimore is a place for math and science professionals, as well as engineering and technology. If you're just from college and have majored in math, science, engineering, or technology, Baltimore can be a great place to launch and progress your career.
The city ranks top 10 at #8 in a list of cities where STEM professionals are concentrated. This is because the city is growing rapidly and subject to a lot of developments. It has been known for a long time as a steel processing and shipping center.
However, this could be changing quickly as the city's working-class focus more on innovation and technology. As home to 17+ colleges and universities, Baltimore is experiencing these changes rapidly as more people access education.
The best hospitals are in Baltimore.
The globally recognized Johns Hopkins Hospital is in Baltimore. The doctors here are trained within the facility at Johns Hopkins University to offer the best medical help to the patients. If your major consideration for a place to live in is access to quality medical care, Baltimore has it all.
The Johns Hopkins Hospital and Johns Hopkins University are ranked as the best for teaching and research. That means, if you want to pursue medicine and learn from the best, you can find that in Baltimore.
Another significant health and education institution is the University of Maryland Medical Center, which is located in the west of Maryland. As those in the east get service from the Johns Hopkins Hospital, the ones in the west have a place to go.
Baltimore is centrally located and in close proximity to major cities and airports.
Having businesses in New York, Washington D.C., or Philadelphia? It'll take you only a short drive to get to any of these major cities. You'll conveniently attend to your business without too much hassle.
Better still, you can access major airports like Baltimore-Washington International Airport in a short 15 minutes drives from Baltimore's downtown and fly to wherever you want. This is a big plus because you'll not be limited to the city.
It's also easy to move around the city, whether by rail or road. For example, you can explore the city and visit historical neighborhoods through free transportation services like the Charm City Circulator hybrid buses. So, if you're new to the city, you don't have to worry about where to start exploring.
Experience the city's culture and heritage
Baltimore is rich in culture, and therefore they organize festivals every year to display the beauty of their culture and have everyone participating in it. The most common one is the Artscape, where residents display all manner of art.
The communities also have a unique way of preparing their steamed blue crab delicacy, popular during summer. This food's popularity makes it the city's staple food, and many people love it that way. Try the local favorites and enjoy the best if you want to do a traditional crab feast for your family.
Enjoy the beauty of the city.
Baltimore has so much to see. It doesn't compare to what you find in Washington D.C. or any other major city, but you can enjoy the beauty of Baltimore. For example, Baltimore is home to the Inner Harbor, where you find the largest aquarium in the country with over 70,000 fish. You'd definitely want to stroll around and the Inner Harbor.
Better still, you can visit the country's third oldest zoo located in Druid Hill Park. It extensively covers over 135 acres of land to harbor different kinds of wild animals. The Maryland zoo is a must-go place if you're living in Baltimore.
Is Life in Baltimore Expensive?
So far, we've discussed the beauty of Baltimore, the excellent neighborhoods, and the friendly people living in the city. A combination of these attributes slightly raises the cost of living in the city, especially in the housing sector.
Real estate agents in Baltimore offer housing at a rate higher than the national government by 47%. However, this is not something to put you off because there are some who offer reasonable rates. You can check out Pangea Real Estate, as well as their rates.
Conclusion
Whether you're looking for a place that offers you many job opportunities, or a place to retire after years of hard work, Baltimore is an excellent place for both. The beauty of the "Charm City," as it's commonly called, will make it worth a try.