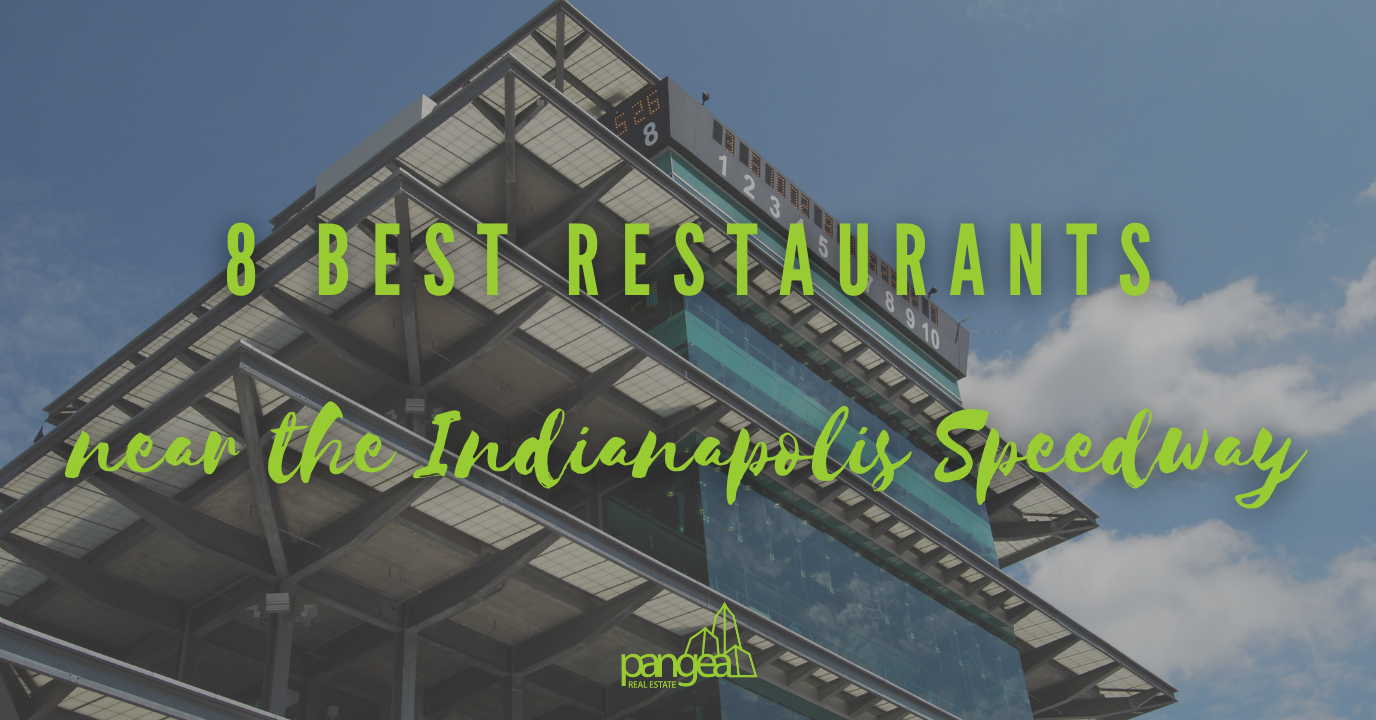 If you're planning a trip to the track this summer, don't go unprepared. You should know the best watering holes and eateries around town so you can grab a bite and let loose. After all, who doesn't get hungry watching cars motoring around a race track?
This article discusses the 8 best restaurants near Indianapolis Speedway. Remember this article if you find yourself walking down Main Street and your stomach starts grumbling. There's plenty of juicy morsels to gobble up and drinks to lap down. Continue reading to see for yourself.
If you're looking for an apartment, look no further. Pangea has plenty of options near some of the most lively parts of Indianapolis. Visit our Indianapolis apartments page and become a part of the Pangea family today.
The AVG Pub
3520 W. 16th St.
317-916-2814
Avgpub.com
There's nothing average about this pub. With fat sammies, smashed burgers, cheesy pizza, and a juicy tenderloin to boot, this dive is full of surprises and perfect after a summer day at the Speedway.
Try the homemade mustard sauce on breaded tenderloins or the pulled pork crostini covered in parmesan cheese. If you're feeling lively, stop in for karaoke on Friday night and specials that include baby lamb chops. The AVG goes above and beyond.
King Ribs
3145 W. 16th St.
317-488-0223
Kingribsbarbq.com
Nothing hits quite like barbeque slathered on ribs. Your eyes will be bigger than your stomach in this barbeque shack. Rib dinners with two sides, including mac and cheese, get as low as $8.98 on Sundays. King Ribs sure knows how to keep the Lord's day sacred.
Go ahead, grab a free piece of cornbread with greens all weekend, as well. If you fancy yourself a bonafide barbeque lover, then you'll have no problem gobbling down the barbequed pig's feet. We dare you.
Dawson's on Main
1464 Main St.
317-247-7000
Dawsonsonmain.com
This Hoosier staple is trendy without being pretentious. Nice without being hoity-toity. Steaks and seafood are popular, but you can keep it more casual with some Hoosier-style breaded tenderloin. If you aren't looking to stuff yourself, you should try the onion soup.
Heck, if you are looking to stuff yourself, you should try it too. Melt-in-your-mouth provolone, mozzarella, and parmesan- you may have to poke another belt loop, but it's worth it.
Tacos and Tequila on Main
1502 Main St.
317-672-4619
Tacosandtequilaonmain.com
If you're looking for a quick bite and a shot on Main Street, grab some authentic chorizo, lengua, or al pastor tacos at Tacos and Tequila. If you're looking to play the typical American, opt for the ground beef "gringo" taco.
Tacos aren't Tacos and Tequila's only specialty. As the name suggests, they have plenty of house cocktails to choose from and a wide selection of tequila, including Blanco, Anejo, and reposados.
Barbeque and Bourbon
1414 Main St.
317-241-6940
barbecueandbourbon.com
The southern equivalent to Tacos and Tequila under the same ownership, Barbeque and Bourbon, is straight wood fire barbeque only. The aroma of hickory, oak, and cherry forever fills the backyard of this Indianapolis BBQ fav.
Ribs, wings, pulled pork, sausage, pulled beef- you name it, Barbeque and Bourbon has it. If you've ever been to a Texas BBQ, this is as close as you can get in Indianapolis. The only difference? Barbeque and Bourbon cook its meat Memphis-style, meaning it has no sauce. And they put that meat on everything, from nachos to sandwiches.
Don't worry. The main dishes come with two sides, and the sauces range from mild to pow. So, if you have a penchant for spiciness, punch yourself right in the kisser.
Bosphorous Istanbul Cafe
935 S East St.
(317) 974-1770
Thebosphoruscafe.com
Bosphorous is one of Indianapolis's hidden gems, a truly unique cafe you won't find anywhere else in the Hoosier state. It has Turkish appetizers, soups, entrees, and desserts that are to die for. Turkish food isn't spicy, but it does have flavors you won't find anywhere else.
Go ahead, have a Turkish coffee or hot tea on the cafe porch. It's not just the food and beverages that make Bosphorous unique. It's also the music and decor that transport you to another land. If you're looking for a break from the stereotypical Speedway move, go to Bosphorous.
Rick's Boatyard Cafe
4050 Dandy Trail
(317) 290-9300
ricksboatyard.com
Though it's not necessarily in the Speedway region, we would be remiss if we failed to mention this top 25 Indianapolis restaurant. Situated near the Eagle Creek Reservoir waterfront, Rick's has the best seafood in Indianapolis and hosts events and parties. While it's not cheap, Rick's truly is an Indianapolis must, hosting events of all kinds such as weddings and anniversaries.
If you're not looking to splurge, that's okay. You can enjoy Rick's delicious brunch for a relatively affordable price that will give you access to the serene landscape and the delicious food. You shouldn't miss out on this Indy staple.
Magoo's California Pizza
4919 W. 38th St.
317-293-4411
magooscalpizza.com
The chicken tikka pizza is the oddball here and it's also the most popular item on the menu. The chapli kabab pie is another wild card that you wouldn't expect—a Pakistani recipe of pan-fried beef seasoned with authentic Asian spices. You wouldn't expect to find that in Indy, would you?
That's why they call it Magoo's. Goofy and gooey pizza that winds up being irresistible. If you're not feeling as adventurous as we hope you are, you can always opt for the standard meat lover's pie. Regardless of what you choose at Magoo's, it won't let you down.
Conclusion- The Best Restaurants Near the Indianapolis Speedway
The Speedway neighborhood is obviously known for its proximity to the Indianapolis Speedway, home to the Indianapolis 500. However, it's also a bustling mixture of cuisines that can turn a day at the track into an exciting night out.
With all the different choices on this list (plus some not mentioned, such as Ethiopian food), you have no excuse for boredom. So, what are you waiting for? Get out there and start exploring the many restaurants in Indianapolis. And if you're looking for an apartment, don't forget to visit our listing page.