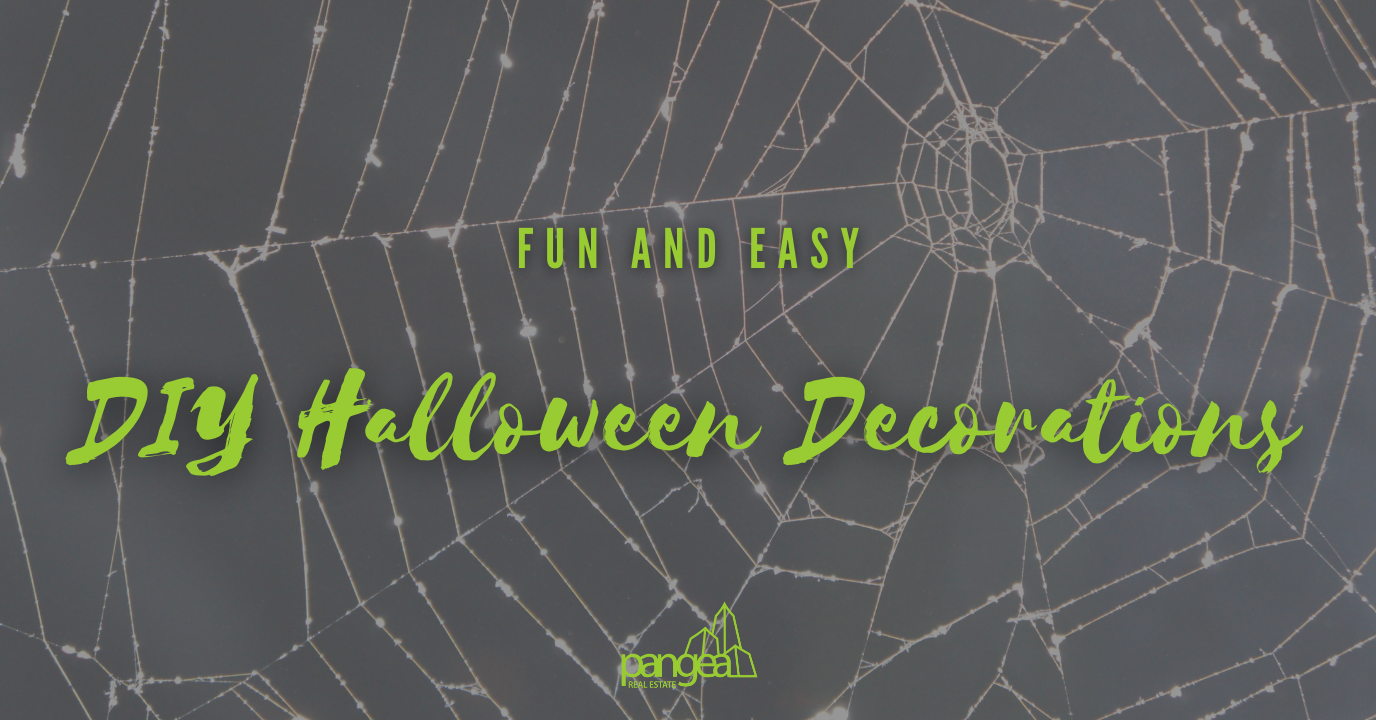 Halloween is this week and it's time to make the most of your apartment with Halloween decorations. Whether you're looking for something fun to do with your significant other, having a blow-out party, or just want to get into the spooky mood a little bit, this blog has you covered.
Pumpkin art, hanging bat decorations, LED cobwebs, there's something for everyone. Continue reading to learn more about how to get your "boo" on this Halloween.
Pumpkin Art
It's simple. Halloween wouldn't be complete without pumpkins. When decorating for your party, fake pumpkins will be the easiest option. However, if you're planning on a date night or you want to take your party to the next level, you can go for real pumpkins instead.
Real
Real pumpkins give you a few options to work with for your Halloween decorations. Whether you're planning a blow-out party for Halloween, you want to use pumpkins for your date night with a significant other, or you simply want a few pumpkins lining the entrance to your place, pumpkins are the cornerstone of any Halloween decoration assortment. Real pumpkins add the extra layer of authenticity, but they also require more upkeep and you have to dispose of them.
Fake
Fake pumpkins can serve as quick solutions to your Halloween decoration setup. You shouldn't have to spend a ton of money on your Halloween setup to impress your guests and get into the holiday spirit. If you're busy during the Halloween festivities, you can still get into the spooky mood with fake pumpkins. They're quick, versatile, and cheap.
LED Cobwebs
Cobwebs offer an interactive and affordable Halloween decoration option. You can make cobwebs from cotton balls or yarn and you can either place them all over your house for your party or regulate them to one area to enjoy on your own. To spice up cobwebs, consider placing them in front of LED lights. The different colors will work especially well for parties.
Bat Decorations
Bat decorations offer a few options for placement. You can either hang them up or stick them to your wall. Bat decorations, like pumpkins also offer an arts and crafts opportunity for either your party or a date night. You can even pair them with your pumpkin carving. Consider using the following procedure for your bat decorations.
Materials
Bat templates (these are easy to find on the internet and you can choose from a ton of different options).

Black construction paper (materials can vary depending on the procedure).

Scissors

Painter's tape or removable hooks
Procedure
Print out your bat template and fold the piece of black paper at the middle, then place the template on the fold and trace. Cut out the piece of paper and crease the wings.

Poke holes in the bat cut-out if you're going to hang the bats. Place the tape on the back of the bat if you're planning on sticking them to the wall.

Hang the batts on the removable hooks or stick them to your desired wall.
Halloween Banners
Halloween banners are some of the most easily customizable Halloween decorations available. You can get as cliche or creative as you want and there are plenty of options for different materials that will make your banner uniquely your own.
Potential Materials
Black yarn

White yarn

Orange yarn

Pom pom maker

Black pipe cleaners

Green pipe cleaners

Twine

Glue gun

Wiggly eyes
Equipment Needed
Happy Halloween
Boo
Colorful Graphics Halloween Banner
Wicked Banner
Spooky
Perhaps the best aspect of Halloween banners is their customizable nature. With simple materials and an easy construction process, you can customize your banner for any occasion, making it look as goofy or professional as you like. There are plenty of ideas and instructions on the internet so there's no reason for you to feel strapped for inspiration.
Dollar Tree Halloween Decorations
While pumpkins, bats, cobwebs, and banners can form the foundation of your Halloween decorations, Dollar Tree can take your set across the finish line. They have affordable, unique decorations that can add that extra flair you need for your Halloween setup. The best part? You can get what you need without batting an eye at the price.
Whether you need skeletons, DIY lawn ghosts, skull vases, or even something as kitsch as DIY window silhouettes, you can find whatever you need at the Dollar Store. You can even make it a fun outing with friends or kiddos. There's no telling what you'll find at the Dollar Store and every time you go, you wind up finding something new to include in your decoration repertoire.
Fake Melting Candles
Melting candles are one of the staples of any good Halloween decoration setup. They immediately set the mood for Halloween parties. Real candles are almost too elaborate and fancy for Halloween parties (besides, they're fire hazards anyway). When it comes to fake candles, the Dollar Store takes the cake again.
Halloween Decoration Ideas for Your Apartment
Halloween decorations shouldn't be a stress on your bank account or your schedule. The decorations on this list include something for everyone. Whether you're looking for a date night idea, you want to go all out for a Halloween party, or you just want a few odds and ends to dabble in the spirit, there's something on this list for everyone.
At Pangea, we believe you should enjoy Halloween just as much as the rest of your holidays. That's why we deliver frequent blogs about how to make the most out of your space for holiday decorations and occasions. If you're a resident and need more tips on events in your area and other resident news, visit our residents' page.
If you're looking for an apartment in the Chicago, Baltimore, or Indianapolis area, search our Pangea listings. When you join Pangea, you don't just find your next home, you become a part of a tight-knit community that takes care of its members.