For Black History Month our weekly blogs are highlighting Black-owned businesses in the neighborhoods we serve. This week's blog is extra special because it's owned and operated by the family of a long-standing Pangea employee!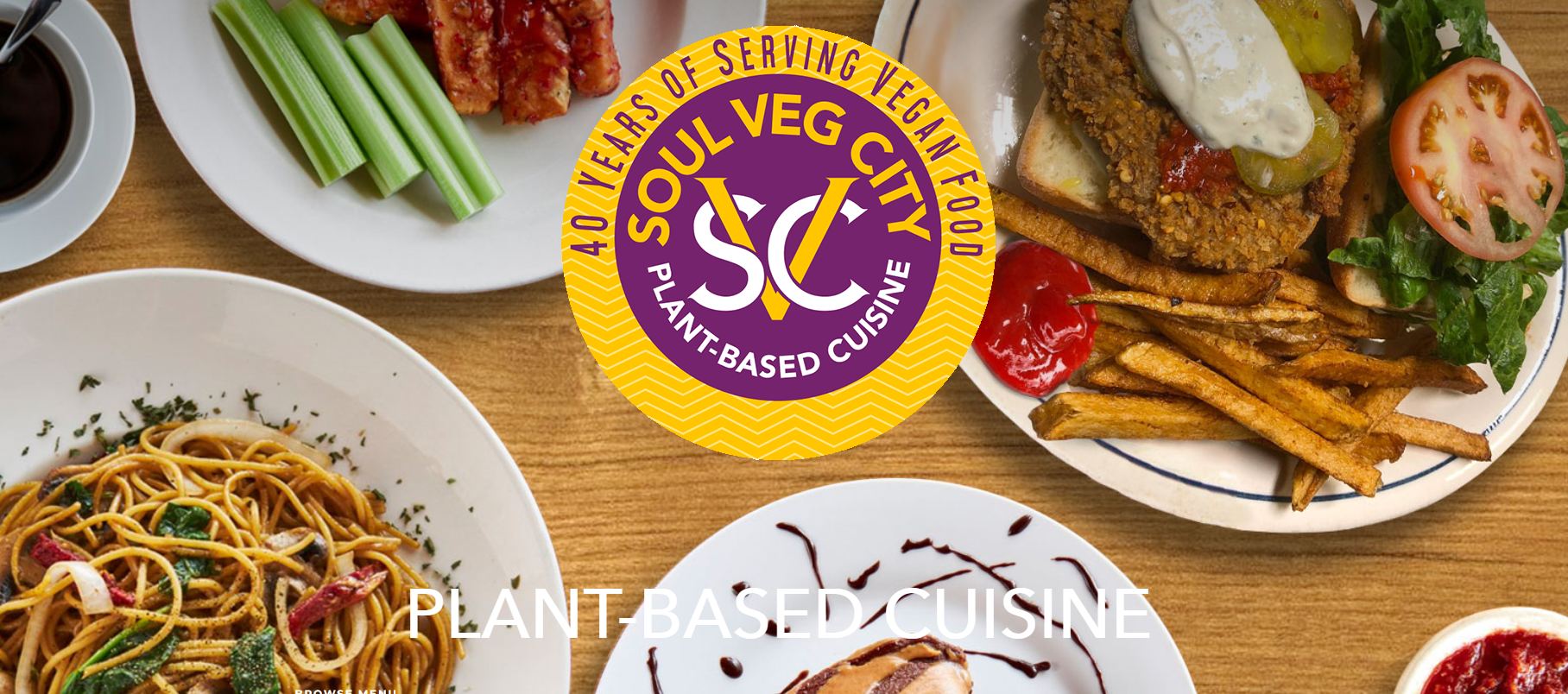 By Desiree Campbell
In 1981, a new concept in dining opened on Chicago's South Side. Soul Vegetarian introduced thousands of people to vegan plant-based foods, years before anyone knew what those words meant. Over the years, Soul Veg, as it was affectionately called, became a popular local hangout as well as a destination for people from across the city and around the world.
Now that plant-based cuisine is being sought after by more and more people, we have expanded our deli, we've added pizza and new soups, and we remodeled our building to be a shining oasis of Chicago dining.
In 2020 we re-invented ourselves as Soul Veg City. Soul Veg City is here with an even wider variety of delicious plant-based foods, that are healthy for your heart and your soul, and the planet.
Located in Chicago's historic Chatham neighborhood, at 203 E. 75th Street (Corner of 75th & Indiana Ave.) offers a one-of-a-kind culinary experience in innovative vegan cuisine. For over 40 years, our offerings have been enjoyed by both vegetarians and non-vegetarians alike, who rave about our unique take on vegetarian fare that is big on taste without compromising health. We promote regeneration of the environment from the inside out, producing foods that are 100% plant-based, animal- and chemical-free, using no refined sugars, flours, or rice. The inspiration for our creations stems from our vision and knowing that food is the foundation and the essential ingredient upon which we co-create our world, we make our foods fresh daily and with the goal of delivering optimum health benefits.
Browse the menu and learn more on our website, and follow us on Facebook, Instagram, and Twitter to stay up-to-date. If you stop by, tell them Desiree sent you!