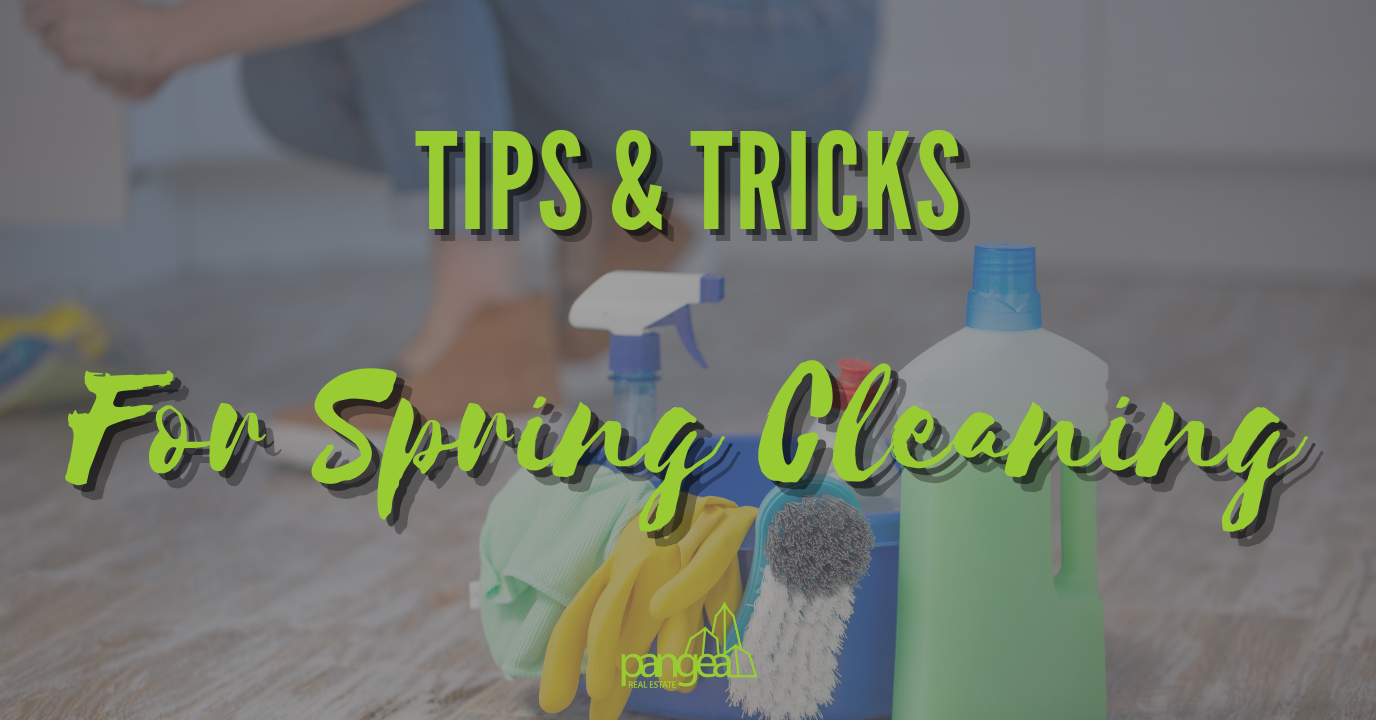 It has been a long winter and we need to make sure our home is staying in peak condition so we can enjoy the summer. Our complete guide to spring cleaning will help you feel the rejuvenation of spring so you can come out of hibernation and feel vibrant again.
This complete guide to your spring cleaning will leave your house shining as the sun peers through your windows. As the thaw continues in Baltimore, Indianapolis, and Chicago, it's time to give your home a refresh. Whether you're cleaning a studio apartment, a townhouse, or a four-bedroom home, this checklist ensures you cover all your bases and keep your home clean.
At Pangea, we care about turning your apartment into a home and becoming part of a community. That's why we provide all our residents with the resources they need to take full advantage of their new home, turning it into something uniquely theirs. Whether it's providing you with spring cleaning checklists or updates on seasonal events, Pangea can answer all of your apartment questions.
The Entryway
A Five-Step Process:
Remove your rugs and mats so you can easily clear the dust and dirt from them.
Dust and wipe down your furniture. After you are finished with this, move them out of the area temporarily. You can consolidate any miscellaneous items, such as shoes or clothes, into a basket. Run a duster over your light fixtures, art, and shelves.
Windex the windows both inside out and remove the screens so you can hose them down in the front yard.
Remove scuffs and stains from the walls. Clean the floors with a vacuum and then mop, depending on whether your entryway is carpeted or hardwood.
Return all of your items to their respective places.
Checklist
Sweep floors
Mop floors
Wipe walls
Wipe baseboards
Clean door
Clean doormat
Organize shoes
Hang jackets
Kitchen
Process
You will likely need to wash a few things while cleaning your kitchen, so having an empty sink is the first step. Clean any dirty dishes you have before attempting anything else. You can either put them in the dishwasher or hand wash them. Either way, they need to be out of the sink. After you're finished washing them, put them away in their respective places.
The most efficient way to clean a room is from top to bottom. You can move dirt down and then out using this method. When you clean this way, you ensure you don't track dirt where you've already cleaned.
After cleaning top to bottom, ensure all of your cabinets and drawers are clean. Begin by removing the contents from each cabinet and drawer and cleaning the interior. Then clean the interior and place the contents back into their respective drawers.
Clean your countertops and small appliances.
Clean major appliances.
Finish the remaining elements.
Checklist
Clean stovetop
Clean oven
Clean microwave
Clean dishwasher
Clean refrigerator
Wipe drawers and shelves in refrigerator and freezer
Defrost freezer
Discard old or expired food in pantry, fridge and freezer
Clear countertops (try these tricks)
Degrease cabinet doors and backsplash
Remove items from cabinets and thoroughly clean inside
Clean fridge/freezer seal
Dust top of high surfaces including fridge, microwave/range hood, cabinets
Deodorize and degrease the kitchen drain (here's our favorite disposal cleaner)
Wash dish rags and clean sponges
Wipe walls
Wipe baseboards
Mop floors
Shake out dust or dirt from floor mats
Bathroom
Process
Declutter the space by placing any miscellaneous items lying on the floor in their respective place. You can place them in a declutter box if necessary. Don't be afraid to throw trash away.
Remove everything from the tub, shelves, back of the toilet, and take any rugs to the laundry pile.
Remove everything from the cupboards and drawers one at a time. Place your trash into the bag and any items that belong elsewhere. After you empty each space, you can wipe it clean with a cloth before returning the contents.
Make sure you clean the tops of your cabinets and mirrors, as well as your vent covers.
Wipe away any dust or grime from the faucets, tub, toilet tank, and toilet pedestal.
Remove your shower curtain liner.
Spray your tub and shower thoroughly with a scum remover. Let this sit for the instructed period of time.
Spray the sink and toilet with a homemade disinfecting cleaner. Let this sit.
Wipe the areas you sprayed using a rag with hot soapy water. Clean the doors, window sills, cabinet doors, drawer fronts, and baseboards.
Rinse the areas you wiped with soap using a fresh microfiber cloth.
Rinse the soap scum remover from the shower or tub area.
Turn the water off at the back of the toilet. Flush it and sprinkle baking soda in the bowl. Scrub the bowl, including under the rim and add disinfectant. Then let it sit.
Sweep using a broom and then vacuum.
Mop the floor using a floor cleaner and let it dry.
Deodorize your bathroom and clean your bathroom trash can. Clean your mirror, shine your faucets and towel racks, and clean your toilet paper holder.
Finish the bathroom by flushing the toilet, hanging fresh towels, returning the clean laundry, and rehanging the clean shower curtain.
Checklist
Discard expired personal care products and makeup, and bring old medications to a drop-off site
Clean makeup brushes
Clean vanity
Wipe mirror
Clean tub and shower
Clean showerhead
Replace shower curtain liner
Scrub tile grout
Clean toilet
Clean hardware
Sweep floors
Mop floors
Wipe walls
Wipe baseboards
Bedrooms
Open your windows to air out your bedroom.
Remove all clutter and place it in the correct room.
Dust, vacuum, and clean your furniture.
Empty each drawer.
Wash each drawer and reinsert them into their respective place. You can donate or dispose of any items you no longer wish to use.
Empty your wardrobe. Was it inside out. Wash clothes and replace them in their drawers neatly.
Mover the bed to one side of the room and dust, and mop underneath where your bed once was positioned.
Freshen the mattress by sprinkling a dash of baking soda on it before vacuuming.
Wash your bedding and curtains.
Wash your pillows and duvet in hot water. Air out the mattress.
Dust your lights and lampshades.
Wash the window sills.
Wash and disinfect your light switches.
Wash your walls.
Dust and clean all of your mirrors, art, and any decorations.
Clean the doors and the door knobs.
Sweep and wash your boards.
Checklist
Wipe baseboards
Dust/polish furniture
Donate unused clothing
Organize closets
Wash bedding including sheets, pillows, duvets and bed skirts
Vacuum carpets
Flip mattress
Dust blinds
Dust curtain rods
Clean window sills
Wash windows
Clean or vacuum curtains
Mop or vacuum floors
Shampoo rugs or carpets
Living Room
Process
Dust your ceiling and overhead furnishings. The key to ridding a room of dirt is to start at the top and work your way down to the floors. Starting to clean at the ceiling collects all of the dust on the floor. This ensures that you don't have to scrub surfaces twice.
Remove your curtains and swipe a duster or a dry cloth over the curtain rods and ceiling fans. Don't forget the cobwebs that accumulate in the corners of the room. You should also make sure you get all of the tops of the entertainment centers.
Dust down your windows and wall decor. The windows are usually in the midsection of your living space. However, before taking Windex to your windows, you need to dust, sweep over the glass, blinds, and around the frame.
After applying a generous dose of window spray to your window, wipe the towel in a Z-shaped motion to dry. If dirt or streaks are still on the window, repeat the process.
After the windows are thoroughly clean, you can continue to your wall decor. Dusters should be able to remove all of the dirt.
On the more ornate decorations, you will likely have to scratch the ornaments to get all of the debris off the surface. Temporarily removing things from the walls as you clean them makes this process easier.
Clean all soft surfaces, such as sofas or chairs. It's more difficult to clean soft surfaces as they receive less attention throughout the year. Make sure to include the following surfaces in your spring cleaning routine.

Curtains
Throw blankets
Decorative pillows
Furniture upholstery

The CDC highly recommends cleaning high-frequency touch areas. This includes light switches, lamps, tables, doorknobs, handles, desks, and electronics. Cleaning these surfaces should be simple. You simply need a pair of disposable gloves, and a soapy cloth. For glass tables and wood furniture, you should follow specialized instructions.
Vacuum or steam your rugs. Before cleaning your rugs, ensure your vacuum filter is clean to avoid churning up dust onto the surfaces you have just finished cleaning. A once-over on your rugs and carpets might not be enough for your carpets. For tough stains and dirt, you can utilize a leave-in carpet cleaner. For this solution, you will need to let your carpet dry anywhere between 4-12 hours.
Checklist
Dust/polish furniture
Wash slipcovers
Wash blankets and pillows
Vacuum sofa and chairs
Dust blinds
Dust curtain rods
Clean window sills
Wash windows
Clean or vacuum curtains
Clean ceiling fans
Dust and clean lamp shades
Dust electronics
Dust and clean decor
Sanitize remote controls
Mop or vacuum floors
Shampoo rugs or carpets
Conclusion- Spring Cleaning Checklist
The spring is an excellent time for rejuvenation and there's no better time to restore your living area to its original beauty. Though spring cleaning can seem daunting, having a thorough checklist for all of your living areas ensures you stay on track throughout the process. Having a complete checklist for all of your rooms helps you avoid procrastination and keeps you celebrating the completed tasks from your list.
At Pangea, we want you to make the most of your living areas because we believe in building a community with our residents. No matter the size of your apartment or home, this spring cleaning checklist is sure to keep you focused and feeling fresh for the summer. If you're looking for an apartment in Chicago, Indianapolis, or Baltimore, you can visit our apartment listings page.
For other helpful tips and guides regarding home upkeep, you can check out one of these blog pages:
Decorating Your Apartment for Autumn
Budget Studio Apartment Decoration and Furnishing Ideas
Contact Pangea today and help us build a community we all can enjoy.