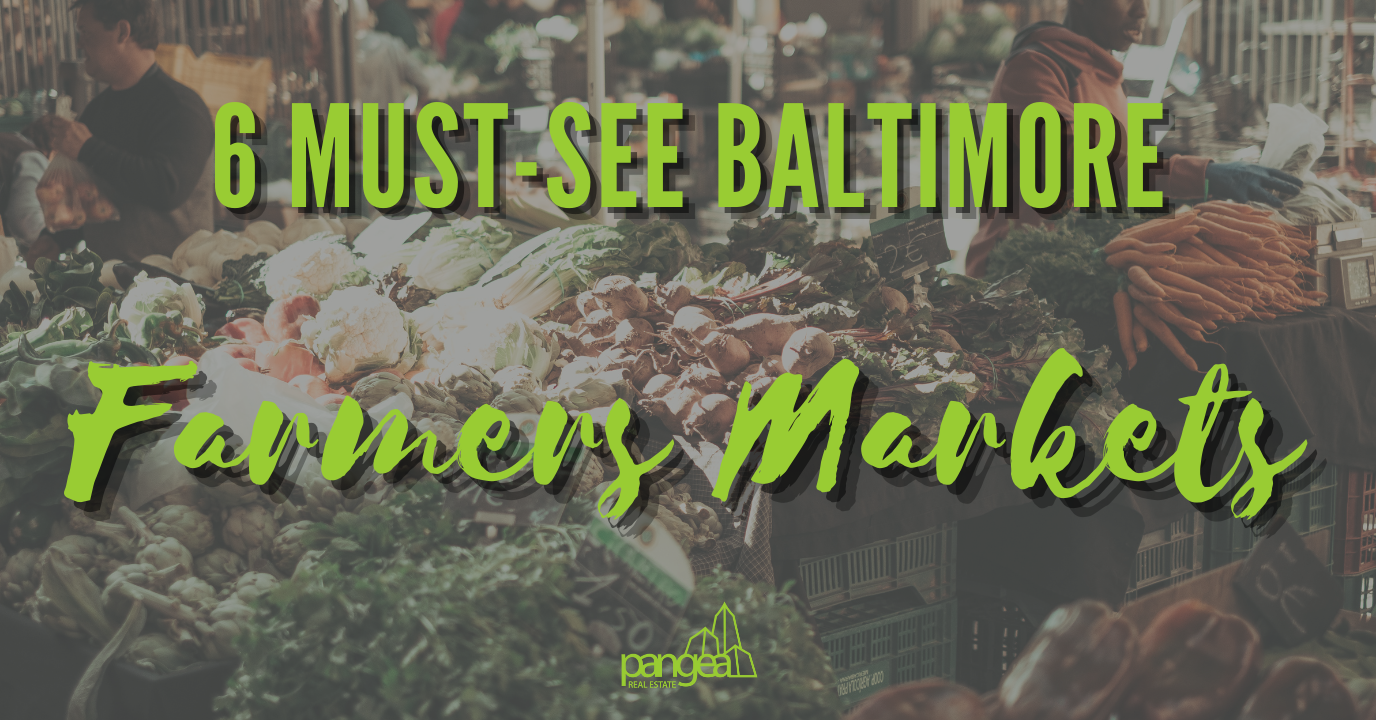 by Chris Lopez
Spring is finally here, and it's time to visit farmers' markets and do grocery shopping in style. Whether you are new in town living or a local, here is a guide on Baltimore's best farmers' markets that you don't want to miss in 2022.
Predating back the Declaration of Independence by more than a dozen years, Baltimore's public market system is the country's oldest and still-functioning public market network. As a reminder of a period when public markets served as the primary food source for city households, the marketplaces have been preserved. It is said that the historic Lexington Market in West Baltimore is the world's biggest continuously operating Market, attracting both locals and visitors alike.
Weekends in Baltimore begin with a trip to a farmers market as soon as spring arrives. Events like this one, which bring together people from all walks of life, always celebrate local cuisine. In addition, they're a terrific place to meet local artists, listen to live music, buy locally sourced groceries, or buy unique souvenirs. To take advantage of these Baltimore farmers' markets, be sure to get up early, carry a reusable bag, and be prepared with a hunger for new culinary experiences.
Best Farmers' Markets In Baltimore
Baltimore's local farm markets are a massive part of its culture. They serve people living within baltimore city, providing them access to healthy food. Whether you are new in town or a local, here is a list of the best farmers' markets in town that you have to visit.
1. Lexington Market
In addition to being the oldest Market in America, Baltimore's Lexington Market is also the most visited. Located on Lexington Street, Lexington has been a part of the Baltimore and neighboring towns for more than nine generations, having been established in 1782 at the location where it now sits. The Market is close to various multifamily apartments making it easily accessible to locals.
To get a flavor of Baltimore, always visit Lexington Market. Here, groceries are fresh and locally sourced. Additionally, the food sold is made by locals who utilize ingredients from all around the globe, offering a unique culinary experience. Lexington hosts many diverse cultures and people from all over the country. The Market is always open from Monday to Saturday, 8 am to 5 Pm.
2. Cross street farmers market
Federal Hill's Cross Street Market is also one of Baltimore's oldest public marketplaces. Cross Street market is home to 22 independent local shops as well as a weekly farmer's Market. Since reopening in 2019 after undergoing a thorough makeover, its mission remains the same: supporting the community, providing locals with high-quality foods, and enhancing commercial growth for local businesses and farmers.
Cross street market is always open from May up to October. It runs from 9 am to 12 pm every Saturday, giving locals a chance to buy fresh products grown by local farmers. The Market occupies an entire street between Light Street and Charles Street.
3. Waverly Farmers Market
More than just a place to buy fresh produce, the Waverly Farmers Market in Charles Village is also a weekly social gathering. The Market is open year-round, rain or shine, and offers a wide variety of fresh produce, meat, baked products, and a wide variety of other culinary pleasures.
Located on the East 32nd and Barclay Streets, the Market is a must-visit for city dwellers. While here, you also get to enjoy live music performances from local artists as you shop. The Market is open every Saturday from 7 am to 12 pm.
4. Govans Farmers Market
The main goal of the Govans market is to deliver farm-fresh vegetables to an area where healthy food alternatives are scarce. Being one of the first markets in Baltimore, Govans guarantees that all sellers take supplementary nutrition dollars. The Market offers a rich selection of products like children's meals, including summer meals, and Family Fun Fest programs filled with crafts and health activities. This makes it a suitable place to shop if you have young children.
This Market is open to shoppers every Wednesday from 3 to 6 pm, and it runs from June through to September. Govans serve shoppers who can't visit markets that operate only on weekends for one reason or another and those who want to replenish their supplies midweek.
5. Harbor Market
To avoid dreary office lunches, you can visit Harbor Market located in downtown Harborplace Pavilions. On any given week, there is a wide variety of cuisines found at the square's food trucks ranging from tacos to seafood. Corn hole can jam, chess, and big connect four are among the many activities for guests to enjoy as they dine.
Harbor market is open every Wednesday from 11 am to 2 pm from June through to July. The Market gives white-collar job workers a chance to break from the monotonous office atmosphere, enjoy some delicious meals, and have fun.
6. Market at Montebello
Once a month, food sellers, local manufacturers, and wellness groups flock to Lake Montebello to promote a better and greener community. Here, shoppers enjoy free fitness courses, healthy cooking workshops, and composting demos. Since this Market happens once every month, you have to visit its website to keep up with the dates if you want to attend.
This Market at Montebello runs from May through to September. The Market operates from 9 Am to 2 pm, and it's located behind Montebello Elementary School. It serves Pangea tenants living around Northeastern Baltimore.
Takeaways
Baltimore city is blessed with a lot of great farmers' markets that help locals source fresh and healthy food from local farmers. The markets also offer a chance to artists to showcase their talent and the rich performance culture of Baltimore city. These farmers' markets located around the city serve the many who work and live in apartments and townhouses. Are you new in town or planning an apartment hunting soon? Contact us today.
Saturdays are the most prolific market days in Baltimore. This is when people get a chance to enjoy the authentic experience of Baltimore City.