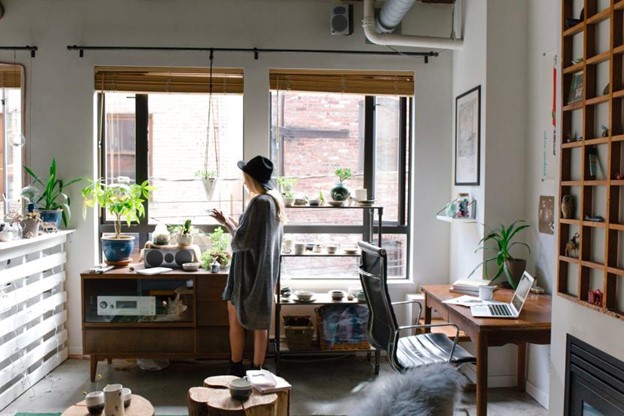 By Stacy McBee
You can't change the square footage of your apartment, but you can change the feel and the look. Perception is everything, so let's take a look at some simple ways to make your apartment look bigger.
Rightsize Your Furniture
Too much furniture, or furniture that's too big for your space, can eat up the room both visually and physically. Take on a less-is-more aesthetic and donate or sell any furniture you don't need.
Replace your couch with a smaller, simpler model with a modern look. Do away with overstuffed furniture and instead go for a sleek look. The current mid-century vibe with its clean lines and rounded shapes is perfect for apartments. You don't have to sacrifice comfort for a pared-down look.
Go Green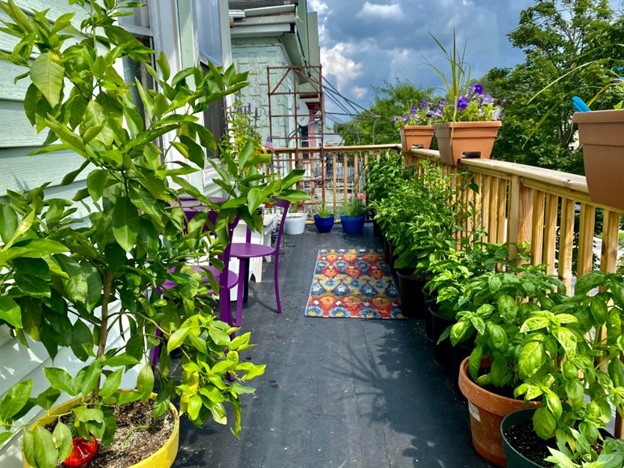 A green space – whether indoors in a container garden or outdoors on a balcony – is a surefire way to bring a breath of fresh air to your place. A balcony is the perfect place to indulge a green thumb and expand your living space. Whether you create a kitchen herb garden or you have your heart set on growing gerbera daisies, a dedicated green space will bring the great outdoors in and make your apartment seem larger.
Create Order
No matter how much of a neat freak you are or aren't, everyone can use a little extra organization in their lives. Clutter can collect easily, but instead of battling back the extra stuff, create a place for each thing to go.
Start with the kitchen. Take everything off the counters and slowly put things back. Do you really need your blender on the counter? How about that air fryer that you rarely use? Get rid of what you don't need and store the things that aren't essential. Not only will it make cleanup easier, but there will be less stuff out in the open.
The more you put away, the less that stuff will eat up your space. You'll find plenty of organizing hacks and tips on the internet. Put that free advice to work for you, and next thing you know, your pad will look bigger.
Shine On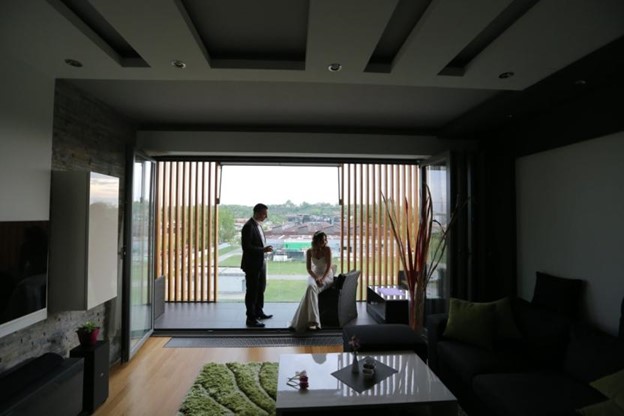 Let the light shine in your apartment, and it will make it look a lot bigger. First, maximize the natural light that comes in by opening blinds. A gauzy curtain or vertical blinds can soften the light in the peak of the afternoon, and provide some privacy.
Strategically placed mirrors can optimize that natural light – and in some cases, it can be good feng shui, like on a dining room wall. Table and floor lamps can go a long way in opening up the visual appeal of your apartment.
Look for lightbulbs that offer a daylight frequency, maybe 5000K or less, but don't go overboard with a bright daylight bulb. You'll probably find lightbulbs in the 6500K range a little overwhelming in your home.
Ultimately, it's not the size of the apartment, but the way you have it arranged that makes all the difference. A few simple tweaks can take your place from dark and cramped to light and airy and give your heart a comfortable place to call home.
Stacy McBee has been gardening since she was 3 years old, thanks to her parents who owned a produce stand. She is now retired, but continues gardening on her apartment balcony and often trades plants and clippings with her neighbors.