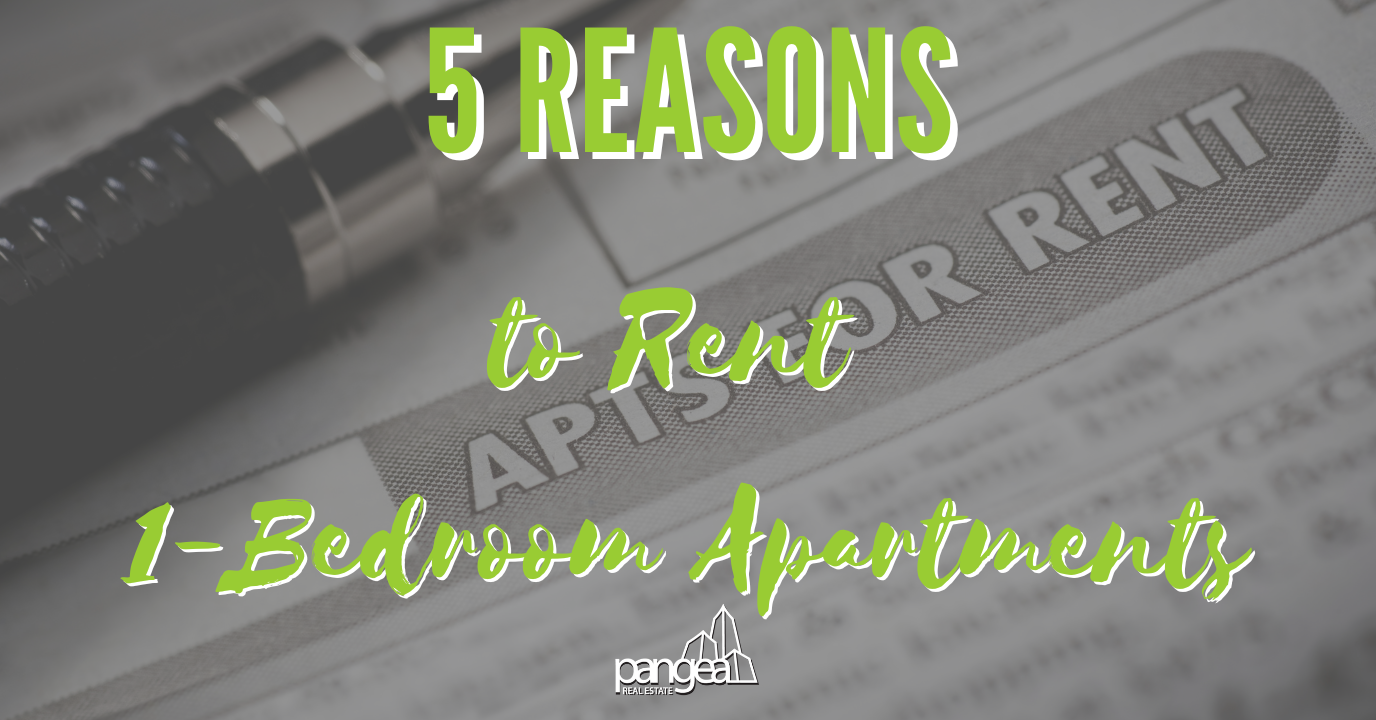 Pangea Real Estate provides modern and affordable rental housing from studio to 5-bedroom apartments and townhomes in Baltimore, Chicago and Indianapolis.
The housing market is brimming with house rental options –from the pricy types like condominiums in the heart of megacities and suburban penthouses to the more simplistic choices like one-bedroom and studio apartments in decent neighborhoods.
There's so much that goes into the weighing scale before deciding what you want. Money is one of them, followed by the space size, location, and a host of superficial features that make a house attractive or not.
But deep down, every apartment seeker is looking for comfort, privacy, and a space they can tweak to suit their personal styles.
So, what makes a one-bedroom apartment an ideal option?
Privacy
Sure, sharing an apartment with a roommate helps you save up on rent, but what if I told you that most times, you'd rather pay the rent alone than deal with roommate issues?
Think about it. Living with another person isn't always a walk in the park. Your preferences will differ, and so will your patterns and social habits.
Living alone eliminates these issues and the ultimate quarrels that accompany sharing a house. Plus, you don't have to worry about your roommate delaying their share of the bills.
Simplicity
One-bedroom apartments beat most housing options for having enough space and privacy without being grand. They're an excellent opportunity, too, for single folks looking to downsize and declutter their space.
Less space also means less decorating and fewer items to deal with. You can literally look up a few magazines for decor ideas and pull off the look without anyone's help.
You'll also spend less when it's time to move. Movers charge by the number of things they have to carry, additional factors like wrapping paper and boxes, and the size of the house.
More Flexibility
Competing décor styles don't end well. Having a one-bedroom apartment means you're the judge and jury in a good sense.
For example, you can choose any wall art you want, color themes, and furniture styles and change everything as often as you'd like.
You can even set up a meditation corner inside the bedroom. Alternatively, if you want to create more space to sit and introspect, the patio makes an excellent area for you to carve out a nook. Just find an outdoor couch, pair it up with a small table, and you'll create an outdoor sanctuary without spending a fortune on renting a townhome.
Less Cleaning
The cleaning process gets much more manageable in a one-bedroom apartment. You don't even need a schedule unless it works better for you.
You only need to consider the material of what needs to be cleaned –for example, floor material, wallpaper versus painted wood walls, etc. –and the best cleaning methods and products for them.
You also save up on cleaning time. General cleaning can be as quick as sparing two hours after work.
Perfect for Singles and Couples
One-bedroom apartments are ideal for individuals or couples on a tight budget. You get to choose a location you love, have enough privacy, and still stick to your budget.
You'll also cut down on the energy bill because you need less energy to heat up and cool the space depending on the season. As for spruce-ups, you'll spend less than you would in a two-bedroomed or bigger apartment.
What to Look for When Searching For a One-Bedroom Apartment
One-bedroom apartments are a step up from a tight studio apartment, providing extra room and privacy. How do you choose the ideal one for your needs?
Reasonable Pricing
Picture this: You find a one-bedroom apartment you love. Three months in, you start falling behind on bills. That would be an unfortunate start.
To avoid it, match your rent costs to your budget. Budget for how much you'll spend on moving, utilities, and other living expenses that come with rental apartments. The rule of thumb is to ensure your rent and utilities don't exceed 30% of your income.
Location
Your location determines your access to the amenities you need. A lovely apartment that takes an hour in traffic to get home is not so ideal. And if you're in school, you need a location that allows you to dash in and out of class without worrying about getting late.
Location concerns also come with security concerns. Is the area safe? And does the unit's management ensure your property is safe from vandals?
Parking
Parking problems can make your stay a nightmare. It would be best to find an apartment with a garage with enough space. If not, the landlord should provide off-street parking or arrange for parking spots nearby. A designated parking space is especially vital in urban areas where disagreements over parking spaces are common.
Noise Level
A Noisy environment is a major downer to your quality of life. Basically, any space where the noise from the street is right outside your window or a distance where it's audible enough to interfere with your rest is a wrong choice. If lady luck is on your side, your landlord may agree to soundproof it for you. Still, don't sign the lease before they do it.
Size
The truth is finding affordable and spacious one-bedroom apartments in big cities like Indy, Chicago, or Baltimore, can be quite a task. But you also need ample space, so every extra square inch you can find is essential.
Plus, more space isn't always about piling up more furniture. Sometimes, you just need a free-flowing space that invites more light, making it more homely.
One Last Thing
The ambiance of any location is made up of its sights, sounds, and feel. These things, coupled with how homely you make it work together to create your home.
It's no different for a one-bedroom apartment. Beyond the ambiance, the space shouldn't be too tight or awkwardly built to hamper how you position the essentials. The best thing you can do is to write down what you want before you start hunting.
Do some legwork, too, after finding a house online. Ensure the electrical outlets work, the shower is working properly, and there are no rodent droppings in the cabinets and closets.
Pangea Real Estate is all about providing a place to call home in thriving communities and neighborhoods in Indianapolis, Chicago, and Baltimore. Choose between studios all the way to five-bedroom apartments or townhomes by browsing our search listing.