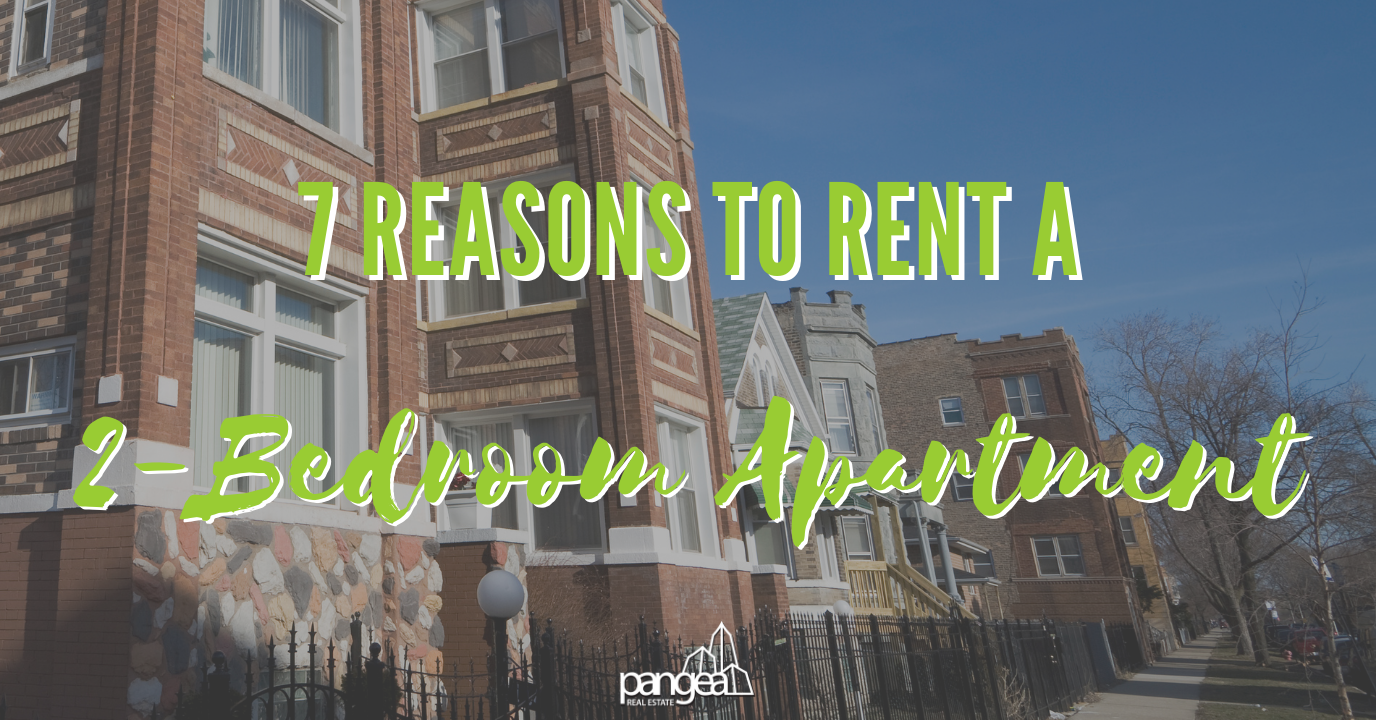 By Matt Mitchum
Looking for a new apartment in Chicago, Indianapolis, or Baltimore, there are many situations where a two-bedroom is just the right size.
Two-bedroom apartments are incredibly versatile with a wide range of floorplans. Some are designed for small families, some for two adults living nearly separate lives. Two-bedroom apartments can be cozy or spacious. They can be designed to be enjoyed by just one person, a close couple, a separate pair, or up to four people willing to share.
A two-bedroom apartment can be the perfect comfortable space to fly solo, to share with a loving partner, or to build a growing family. Why is a two-bedroom apartment right for you? Let's explore some of the possible lifestyles that are suited to two-bedroom floorplans.
1) Small Families Sharing a Home
Small families often share a two-bedroom apartment or townhouse. One parent and one child will feel that at a two-bedroom apartment is spacious and private, while two parents and two children will live a cozy life together.
A two-bedroom apartment is the perfect size for new parents with a baby on the way, turning one room into a nursery, or families where your older child is about to become the loving big brother or sister to a new baby on the way. Young children often happily share a single bedroom in a two-bedroom home, while parents enjoy the privacy of the master suite.
2) Best Friends and Roommates
Split two-bedroom floorplans make the perfect place for best friends to become roommates. Two people who enjoy each other's company can enjoy sharing a household together by splitting the cost of rent, groceries, and entertainment while, at the same time, maintaining your separate enjoyment of privacy. Many two-bedroom apartments have two separate suites so that adults can share as roommates without either person getting the better deal.
This allows you to split the rent evenly and settle the fair share of chores based on the lifestyle you prefer to build with your bestie as your roommate.
3) Couples Getting a New Place Together
When a relationship is going well, eventually the next step is to get a new place together. A two-bedroom apartment is often considered perfect because there's enough space for you to get to know each other more deeply without the tight quarters of a one-bedroom floorplan. The extra bedroom might become a guest room, a home office, gym, or hobby room, but it will ultimately create the breathing room that a budding couple needs to become more intimate as you learn to become a single household.
Explore two-bedroom floorplans and bond over talking about how you will use the extra room. Maybe it will become a private den, the video game emporium, or an indoor garden. But in all likelihood, it will be a home office.
4) Flying Solo with Room for a Home Office
Home offices have become a must-have for many professionals, and a two-bedroom apartment gives you the perfect amount of space for you and your work-from-home workplace. If you are flying solo and stretching your wings as a single person, having a two-bedroom apartment can allow you to fully explore your professional opportunities.
You can build your own streaming studio to look sharp during meetings and isolate your work-life from your home-life with a simple bedroom door. And if you're sharing your two-bedroom with a romantic partner, you have the freedom to choose to share a home office, create space with one person working away from the house, or set up home offices in different rooms during the day.
5) Setting Up a Guest Room for Friends and Family
Those who enjoy hosting often value having an extra bedroom as a guest room. You get the opportunity to create an extra bed decorated with lovely sheets, fluffy pillows, and cozy blankets to show your guests how much you care when they come to visit. Whether you are often hosting traveling friends or like to have family over for weekends of togetherness, a two-bedroom apartment is a great way to create space for your guests when you live alone or cozily with a partner.
You can also set up your guest room as a versatile space. A fold-away bed can quickly transform the room into an elegant home office or even a home gym with plenty of floorspace to do your daily workouts when guests aren't visiting.
6) Set Up a Den vs Living Room
Some people or couples enjoy having two rooms for entertainment – the public living room and a more private den. The living room which combines with the kitchen is where you entertain guests and maintain reasonable social decorum. There might be coasters on the coffee table and little throw pillows on the couch so that your shared space always looks nice. But the den is where you can unwind and be yourself.
Throw an old, comfy couch into the second bedroom with your game consoles and movie collection, and turn it into a private space where entertainment doesn't have to be prim and proper.
7) Dive Into Your Hobbies with a Craft Room
Or you can dedicate a room to your favorite hobbies, if you are crafty. Instead of guests, your second bedroom could house tropical fish or cabinets of beading and yarn equipment. You can lay out tables for jigsaw puzzles or set up the easel and create your very own private painting studio. Your hobbies deserve exploration and, with an extra room, you can explore them while also enjoying a more spacious floorplan compared to single-bedroom layouts.
Make a Two-Bedroom Apartment Your Own with Pangea
Pangea is proud to share our network of apartments and townhouses throughout the communities of Chicago, Indianapolis, and Baltimore. If you are currently looking for a two-bedroom to enjoy with your family, your partner, or to rock flying solo, we're here to help. Among our many multi-family properties, you're sure to find a two-bedroom floorplan that works perfectly for the lifestyle you have in mind. Contact us today to explore your options and we'd be delighted to show you video tours and live tours until you discover the apartment destined to be your future home.