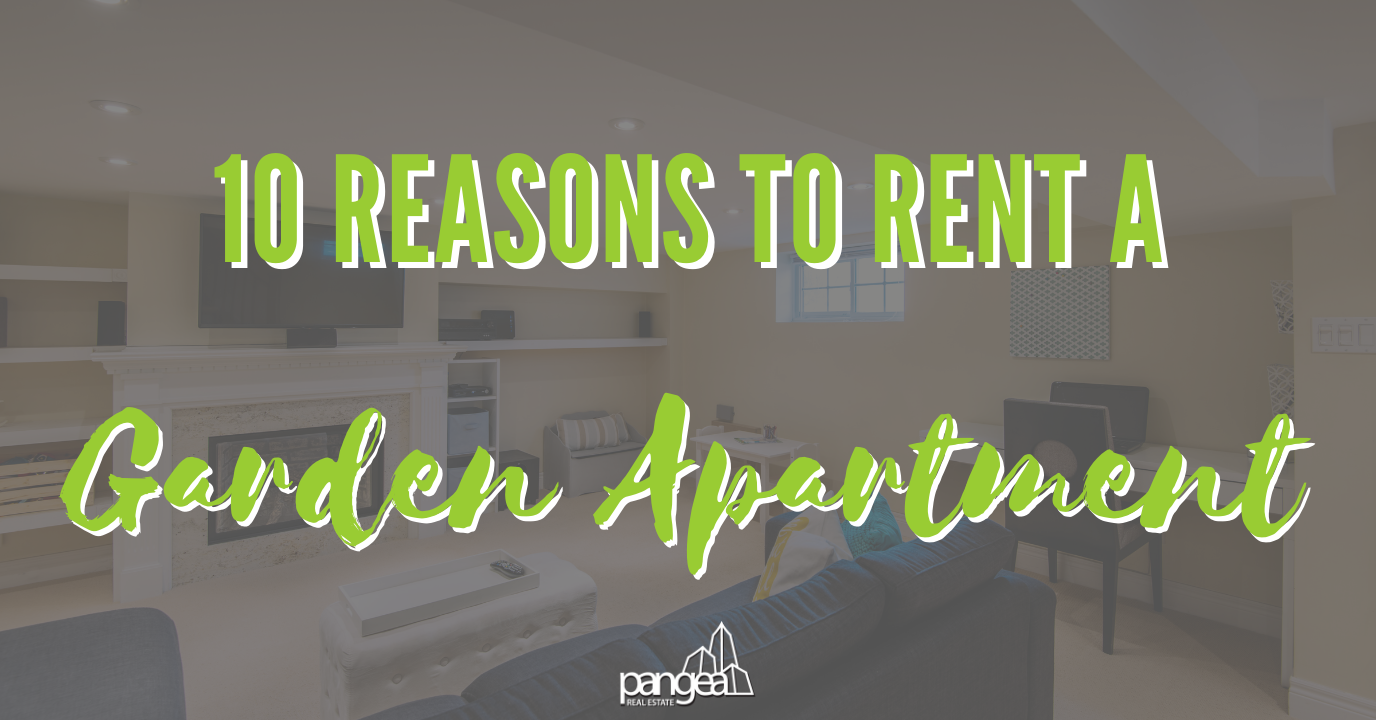 By Matt Mitchum
Every apartment design has something unique to offer. Some people love to seek the highest possible floor for the view and the feeling of being near the clouds. Some people love an apartment at the end of the hallway, or right in the center near the elevators. However, one of the best apartment finds is a garden or basement apartment nestled into the half-sunken lower regions of an apartment building.
Why? Every basement apartment is unique. They tend to stand out from other apartments, have a different heating, cooling, or insulation profile, and often have better access than the apartments above. If you're the kind of person who is charmed by basement and sunken garden architecture or you have a few unique needs of your own, there are some pretty great reasons to rent a garden or basement apartment.
Let's dive into the benefits of basement apartments for anyone seeking a unique and affordable apartment experience.
1) Handicap Accessibility of a Garden Apartment
Garden-level apartments are often level or slightly below ground level outside. This allows for separate access and often can provide greater handicap accessibility. Ground-floor apartments and half-basements may require fewer stairs or can be designed with a wheelchair-accessible entrance that does not affect the design or access of the other apartments.
You may find a garden apartment with a patio door that is more accessible than the front step, and some even have direct access to the parking garage or area. Whether you are not comfortable with a great many stairs or need wheel-accessible spaces, a garden apartment could be the best answer.
2) Convenient Garden Access for Pet Owners
Pet owners often also appreciate a garden-level apartment. Garden and basement apartments typically are a much shorter walk from the access door of the apartment to the green spaces where pets go for walks outside. A garden unit may provide more convenient access to the apartment's dog park area or simply a quick exit to the sidewalk outside for walks to begin.
Those with larger dogs often have a difficult time finding a good apartment, but a basement apartment eliminates the risk that your dog's activities will bother neighbors below. Landlords who sometimes have trouble renting a basement apartment may be more willing to accept a dog owner because your apartment is both closer to the street and sound-isolated from other residents.
3) Often Lower Priced for the Location
While most residents clamor for apartments on higher floors, garden apartments and basement-level apartments are often more affordable. Property managers often price their units based on demand, and the demand for these in-ground apartment units tends to be lower. This is great news for anyone who is charmed by the basement apartment design or who is not personally choosy about which floor you live on.
For those seeking interesting and spacious apartments at a lower price point, the basement apartment is a great option. Especially as the housing market shifts and many people are looking for more affordable homes.
4) Secret Extra Space or Hidden Cubbies
Most people don't realize that basement apartments often come with extra space. Basements typically have utility areas that can be used for storage that are not officially listed or priced as part of the unit. There may be an extra entryway that is just for your use, unused nooks that you can decorate or space for a few extra boxes in an oversized utility closet.
5) Greater Sound Insulation in a Basement Apartment
Basement apartments are the least likely to have noise problems with other neighbors. This is because the basement is often one floor removed from other apartments and the ground floor may have added insulation between levels. If there are no other apartments on the basement level, the ground itself will serve to muffle your sounds (so you can rock out more) and reduce any sounds you hear of your neighbors daily activities. This means that basement and garden apartments can provide more privacy and peace.
6) Separate Building Access to Your Apartment
Some basement apartments have their own access to the building. Instead of sharing the common entryway with those on upper floors, there may be a separate set of stairs or a private elevator down to the basement apartment level. This, once again, gives you an opportunity for greater privacy and home decor when accessing your basement apartment.
7) Direct Access to Bike or Vehicle Parking
Like to come and go freely? A basement apartment is often closer to the parking infrastructure than apartments above. You might have a parking space right next to your front door, or have the perfect location to chain your bike right outside for quick jaunts to and from the store. A basement apartment can shorten your walk between your front door and the parking or even make it easier to keep an eye on your vehicle and parking spot.
8) A Different Heating and Cooling Profile
Basement and garden apartments are also typically closer to the building's HVAC and may have a different insulation profile than buildings in the upper part of the house. Depending on the city and architecture, your basement apartment might be cooler or warmer than the rest of the building, and you might prefer that arrangement. Ask your property manager to give you the skinny on how hot or cold the apartment will be. Everyone has preferences, and you might just find the perfect basement unit for your temperature ideals.
9) Trading a Balcony for a Private Garden or Patio
Garden apartments often have a private patio or garden exit instead of a balcony. This can be a delightful trade-off for those who enjoy gardens or who have a green thumb for planter gardening. With permission or terms in your lease, you can colonize your patio, entryway, or garden courtyard for personal use, outdoor gardening, and patio decorations.
10) Every Basement or Garden Apartment is Unique
Finally, garden and basement apartments are unique. Each one tends to be different from the apartments above and often, the garden apartment was a unit of opportunity or renovated after the original structure was built. This means that many basement apartments have a unique design, unique history, and may have features you are unlikely to find in the cookie-cutter units of apartment towers above.
If you love unique apartments and buildings with history, consider garden and basement apartments during your next house-hunt in Baltimore, Chicago, or Indianapolis with Pangea. Contact us to find out more.
If you're still deciding on what to look for in an apartment, check out our other blogs in this series for the pros and cons of first-floor, middle-floor, and top-floor apartments, too!