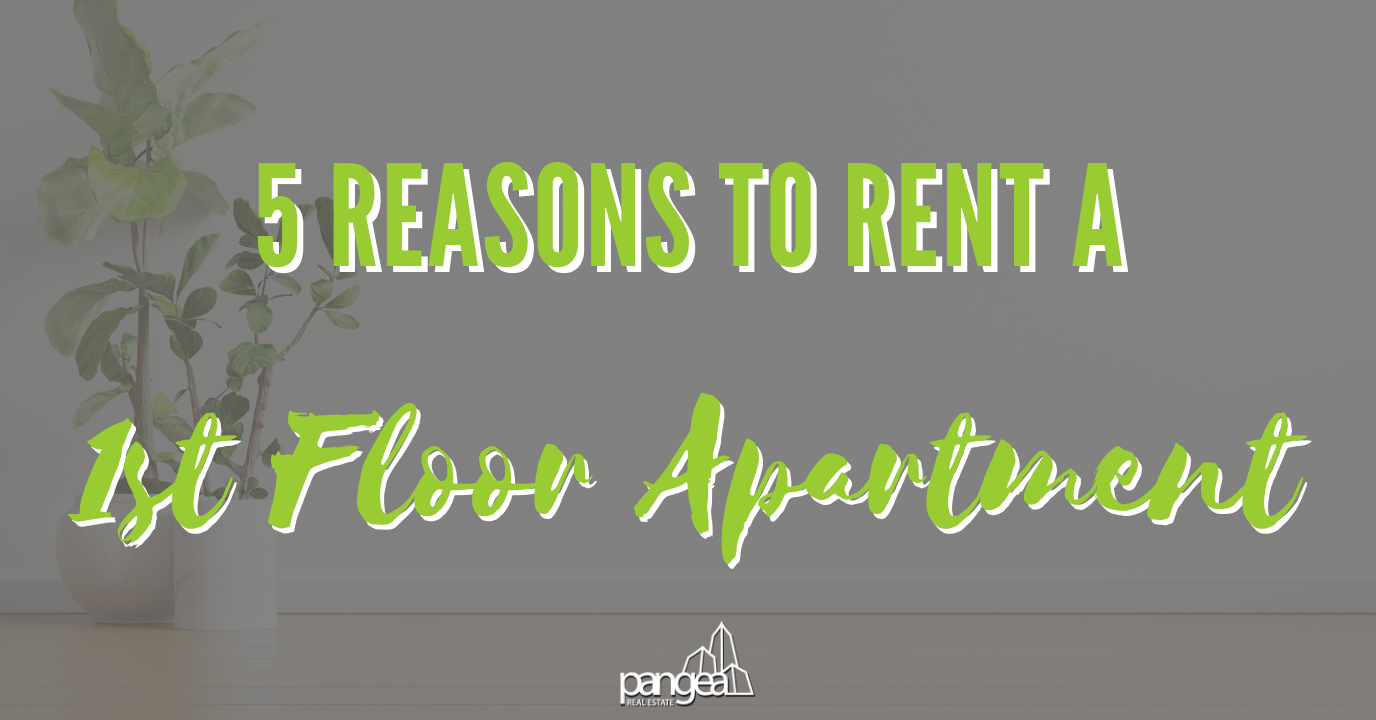 By Aaron Colerick
When searching for a new apartment, you likely have a lot of things on your wish list such as price, location, and style, yet you may not have given much thought to what floor you want to live on. While this may sound like a question that doesn't need debating, as a lot of people assume an apartment on a high floor with a great view is the ideal option, you may want to take a moment to consider the benefits of choosing a first-floor unit. While ground-floor apartments often get a bad reputation as they are seen as having less privacy, the fact is that there are many advantages renters can gain by choosing a first-floor unit. Keep reading for a look at just a few of the reasons you should consider renting a first-floor apartment.
It Makes Moving Easier
If you've ever lived in an apartment before, then you likely already know that one of the biggest pains of living on a higher floor is that this can make moving in (and out) of your apartment a hassle. Spending all day carrying boxes up and down multiple flights of stairs can quickly wear you out, and trying to move large furniture up tight stairways can often feel impossible. Even if you are lucky enough to move into a building with an elevator, you may have a hard time fitting larger pieces of furniture into such a cramped space, making the elevator not as useful during your move-in as you had thought.
Alternatively, when you choose to rent a first-floor apartment moving is a breeze, as you can easily carry things off of the moving truck and right through your front door. Depending on your building, you may even have a second entrance such as a sliding patio door that can make it simple to move large furniture and appliances in/out of your building. Whether you plan on staying in your new apartment for a few months or a few years, choosing a first-floor apartment will significantly speed up the move-in process.
Easy Access
Perhaps the greatest advantage of living on the ground-floor is that you won't have to deal with stairs on a daily basis. Not only do stairs make moving a hassle, but they can also cause struggles on a day-to-day basis as you will have to lug heavy bags of groceries up multiple flights of stairs every day. Living on a high floor can be a particular challenge for parents and pet owners, as you may find yourself having to carry a stroller up a few flights of stairs every day, and you may find yourself running down multiple flights of stairs in the middle of the night if your dog needs out. For busy families, a first-floor apartment makes life simpler as you can simply walk your stroller out the door in the morning, and you may even have a private garden where your dog can use the bathroom and play.
You'll Be Cooler in The Summer
If you live in a warmer climate, summers can not only be miserable, but they can also result in extreme electricity bills if you find yourself running your air conditioner nonstop in an effort to keep cool. If this is the case, you may want to consider choosing a first-floor apartment for this reason alone, as ground-floor apartments tend to be cooler year-round than upper floors. This is due to the fact that heat rises, so it is only natural that people on upper floors will have to run their air conditioners more frequently in the summer months. Of course, the trade-off is that this means your apartment will also be colder in the winter months than upper units, which is something to consider depending on where you live.
First-Floor Apartments Can Be Cheaper
What often comes as a surprise to people comparing units within the same apartment building is that ground-floor apartments are often cheaper. Since apartments on higher floors often have better views and are seen as being more prestigious, first-floor units often have lower demand and are harder to fill, which translates to lower rent. This is particularly true in big cities, as people often want to live on a higher floor to avoid noise from the street. However, if you don't mind putting up with traffic sounds, choosing a first-floor apartment could help you to save money on your rent, and it could actually help you to afford a unit in a nicer building than you thought would be in your budget.
More Outdoor Space
Another benefit of choosing a ground-floor apartment is that they often come with additional outdoor space. While apartments on higher floors are generally restricted to a small balcony, first-floor units often come with a large patio or even a small garden. You may even have immediate access from your patio to a communal outdoor space. Having more outdoor space can be a great perk that would allow you to grow a garden, host dinner parties, or even have a barbeque (if your community allows it). Having extra outdoor space and easy access to community gardens and playgrounds can be particularly helpful if you have children or pets, as they will be able to easily get outside and play whenever they want.
When it comes time to choose a new apartment, you will have to weigh the pros and cons of each floor when deciding which unit you want to live in. Each option will come with its own benefits and challenges, and which one will work best for you will depend on your family's needs. Feel free to contact us for additional apartment hunting and lifestyle tips.
If you're still uncertain about what kind of apartment to choose, we have a series of blog posts that can help you out. Take a look at them and you'll get a better idea of the benefits and drawbacks of garden/basement, middle-floor, and top-floor apartments. We hope you find them useful!