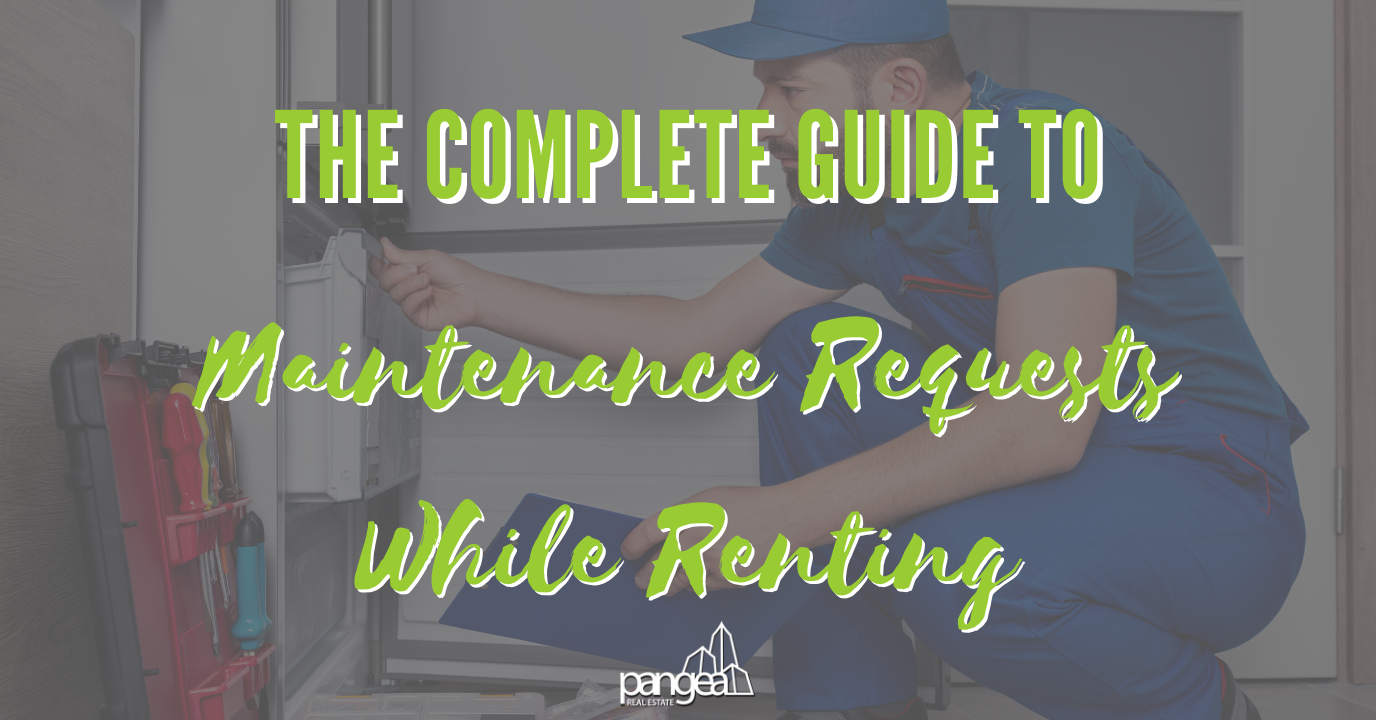 Putting in maintenance requests – especially for more urgent issues – is always stressful. In this blog, we're detailing what tenants and landlords in Chicago can expect from each other. The primary concern for both parties should be the safety of the tenant and the habitability of the apartment or home.
At Pangea, we're committed to providing a safe, enjoyable experience to our tenants. We believe in providing them access to the most informative resources. If you're considering an apartment in Chicago or simply wondering how tenant-landlord relations work regarding maintenance fixes, continue reading. You'll thank yourself later.
What Are Landlords Required to Fix?
Under the law, your landlord should repair any conditions that affect ordinary tenants' physical health and safety. These issues include roaches, rats, sewage leaks, roof leaks, faulty electrical wiring, and the normal wear and tear that units experience.
However, landlords are not required to provide security guards and depending on where you live, local housing laws might hold landlords to higher standards. People with disabilities might also have more rights to specific rights.
Additionally, landlords must repair damage from emergencies such as fires, floods, hailstorms, and hurricanes. However, in the case of natural disasters, landlords can wait until insurance companies pay the property damage claim. If your unit becomes uninhabitable because of a natural disaster, you are likely entitled to terminate it if you do so in writing. But this right is subject to what is spelled out in your lease and the state in which you live.
Can My Landlord Refuse to Make Repairs?
Your landlord will not have to pay for repairs in a few cases. The most notable case is that you are behind on your payments. Depending on the state law, this can affect your right to repairs. Also, if your roommates, family members, or guests create a condition that needs repair, your landlord might not have to pay for repairs.
Your landlord is not required to fix minor issues. Minor issues depend on what's covered in the lease but generally pertain to smaller things such as dripping faucets, running toilets, small holes in the carpet, etc. These issues might be annoying, but your landlord isn't required to repair them.
However, there are a few minor issues your landlord might be required to respond to. They are as follows:
If the terms of the lease agreement state landlords will fix certain issues, they are legally bound to do so.

If landlords provide written or verbal promises they would repair, you can likely hold them responsible.

State and building codes might require minor repairs to be responded to promptly. They will otherwise be left to the landlord's discretion.
How Do I Get My Landlord to Repair Something Minor?
Tenants with uninhabitable living conditions might be able to fix the problem themselves and deduct it from the rent. They might also be able to withhold the rent from the landlord. However, following these same actions if minor issues can prove dangerous.
If you need your landlord to make minor adjustments. You should try the following steps:
Put the minor fixes in writing. Landlords are much more likely to respond to maintenance requests when they are issued in writing. Putting your maintenance request in writing gives your landlord time to consider the request. It also gives you a chance to articulate your argument.

Report your landlord: Situations where a minor problem violates a building or housing code require immediate attention. You might want to contact your housing authority in these cases. The housing agency can inspect your problem and they might contact the landlord. However, this should be used as a last resort in most cases because it can damage the tenant-landlord relationship. If you only plan to stay in the unit for a few months more, that might not be an issue. However, if you plan to stay long-term, you should consider other avenues.
Can My Landlord Evict Me for Asking for Repairs?
Your landlord cannot retaliate against you for requesting repairs affecting your health and safety. If you comply with all of your lease terms, your landlord can't evict you, terminate your lease, or increase your rent.
How Do I Ask My Landlord for Repairs?
When considering asking your landlord for repairs, you should always ensure you abide by your lease tenets to avoid them being able to evict you. You can also take pictures of the conditions of your place, give written notice to your landlord about the repairs, and give your landlord reasonable time to make repairs.
Depending on the severity of the request, you should expect 7-14 days for your request depending on where you live and the severity of the damage. This can change if the damages are more severe.
Chicago Tenant Protocol
Tenants who need repairs in their units should always notify their landlord first. If the lease requires the landlord to repair, they have 14 days. They will have fewer days if it is an emergency repair. If they do not make the changes, the tenants have the ability to repair and deduct, which means they can pay for the repair and then pay less for the rent.
The tenant can only refuse a proposed eviction by the landlord if they have followed the rules set in the lease.
The tenant must issue notice before they hire someone for the repair. The tenant must also send the landlord a letter demanding they fix the issue within 14 days. It should be signed, copied, and sent via certified mail.
Tenants must also send a notice after the repair with a copy of the repair bill. Repairs must be $500 or half the monthly rent, whichever is larger. Lastly, the tenant must hire a professional for the repair.
Tenants who live in the following types of housing cannot repair and deduct:
Public housing

Condominiums

Residential cooperative housing

Commercial tenants

Residences with six units or less, with the owner living in the property

Mobile homes located in a mobile home park
Tenants can also not repair and deduct if they caused the damage deliberately or through negligence.
Major Components
Landlords much ensure the unit is inhabitable. If it is not, the tenant might be able to break the lease. There might also be local laws that allow for other legal actions tenants can take. For Chicago tenants, if the area is inhabitable, the tenant can move out with 14 days' notice. They must then move out within 30 days.
Emergencies
Issues so severe they require emergency responses include heat, electricity, and other elements that might threaten safety. In Chicago, tenants can find other housing and be excused from their rent or withhold rent due to the decreased value of the property with 24 hours' notice. They might also be able to terminate the lease within 72 hours' notice.
What Should I Do If My Requests Were Ignored?
If your landlord ignores your request or continues to put off the repairs, you can make a second request to them asking for a written explanation about why the repairs weren't made. If your landlord still doesn't respond to your requests, you can try one of the following options:
Terminate the Lease: If your landlord continues to ignore your requests, you can terminate the lease. You should give written notice about why you are determining the lease and the date you plan to vacate the unit. You have the right to a refund of your security deposit for the days you won't be there.

Go to Court: If things get very out of hand and your landlord refuses to respond to your requests, you can threaten to sue them. This should be considered a last resort and a court can order your landlord to make repairs, reduce your rent from the date you requested repairs or award you damages caused by the failure to repair.
Things Landlords Are Not Required to Fix
Dead Batteries
Landlords are typically not required to fix what they didn't break. While tenants might not directly cause smoke detectors to break or die, you shouldn't rely on your landlord to replace batteries. It is within the tenant's power to replace batteries and as such, it's not worth diluting the potency of your maintenance requests over this.
Burnt Out Light Bulbs
It is no surprise that you are responsible for replacing your dead light bulbs. It's important to note that if you replaced your light bulbs with a particular type of bulb, you should take the remaining of those bulbs when you move out. If so, just replace all your bulbs to avoid security deposit losses.
Broken Appliances
Broken appliances depend on a few factors. First, the landlord will likely assume responsibility for major appliances. But not all are required to fix them. Some landlords might include a clause in the lease stating appliances are there for the tenant's use. This means if something breaks, the tenant is financially responsible.
Broken Faucets
While dripping faucets are never enjoyable, they aren't something you should call your landlord for. If they aren't causing mold or structural damage, you should either learn to live with them or tinker with them to see if you can stop the leak. YouTube is always a great place to begin.
Running Toilets
You shouldn't call your landlord if you flush the toilet and the water doesn't stop running. You can simply toggle the handle or the pump and if that doesn't work, you should turn off the water with the valve next to the toilet. Again, you can look to YouTube for further instructions. However, if the problem persists or worsens, you should call your landlord.
Bathroom Caulking
Caulking isn't in your landlord's jurisdiction unless water leaks and causes damage. Take care of your shower and clean it regularly and if the caulking peels or starts to get slimy, you should contact your landlord.
Broken Windows
If something breaks your window, the landlord is likely not liable to replace it. Give your landlord a call and let them know the issue. See how they want to approach replacing it. They will likely coordinate the repair and either let you pay for it or have you reimburse them.
Drywall Holes
Drywall holes are fairly common. Because of their commonality, you shouldn't bother your landlord to fix them. Be upfront and honest with the landlord about the hole when it comes time for your walkthrough and there likely won't be any issue.
Dinged Baseboards
Scratches and dings in the baseboards are another common mishaps that occur as a result of wear and tear. There are numerous reasons for them but they are likely an inexpensive fix. Instead of trying to replace them, you should be able to repair the occasional ding with some epoxy putty.
Pest Infestations
Pest infestations are murky regarding whether your landlord is responsible. If the pests were not an issue when you arrived and your living habits caused them, the landlord could likely refuse to pay. If you didn't directly cause the infestation, and it's a result of your landlord's negligence, that's a different story. You should always call your landlord to tell them about any major issues. You should also be familiar with your state's laws and lease terms.
Illinois Attorney General Rights and Responsibilities
The following rights and responsibilities have been taken directly from the Illinois Attorney General's Rights and Responsibilities. This set of rules and regulations is by no means a comprehensive one and you should consult your lease or local municipality to gain further clarity. These rules and regulations also don't necessarily apply to those in federally-subsidized housing. Tenants in these homes have rights under federal law that are not covered in this document.
Tenant's Rights and Responsibilities
You should demand a written lease to avoid future misunderstandings with your landlord.

You must pay your rent on time.

You must keep the rental unit clean and undamaged.

You are responsible for any damages beyond normal wear and tear.

You must pay the utility bill if the lease makes you responsible.

You may not alter the rental unit without your landlord's approval.

You must give written notice when you intend to move if you don't want to lose your security deposit.

Normally, a 30-day notice is sufficient, unless your lease requires a longer period.

The Illinois Retaliatory Eviction Act prohibits your landlord from evicting you for complaining to any governmental authority (housing inspector, human rights commission, etc.).
Landlord's Rights and Responsibilities
Must keep the rental unit fit to live in.

Must make all necessary repairs.

Must keep the rental unit compliant with state and local health and housing codes.

May set the amount of rent and security deposit.

May charge you a reasonable fee for late rent payments.

May make reasonable rules and regulations.
Bottom Line- What Maintenance Issues Should Your Landlord Address Immediately?
Maintenance issues are never fun to deal with but it helps to know your landlord will respond accordingly.
At Pangea, our residents' safety always comes first. That's why we provide lists of resources such as this. We believe the more educated our residents are about various housing concerns, the happier they are.
For us, it's all about the communities we serve. If you're in Chicago, Indianapolis, or Baltimore, check out our affordable listings for your next new home!