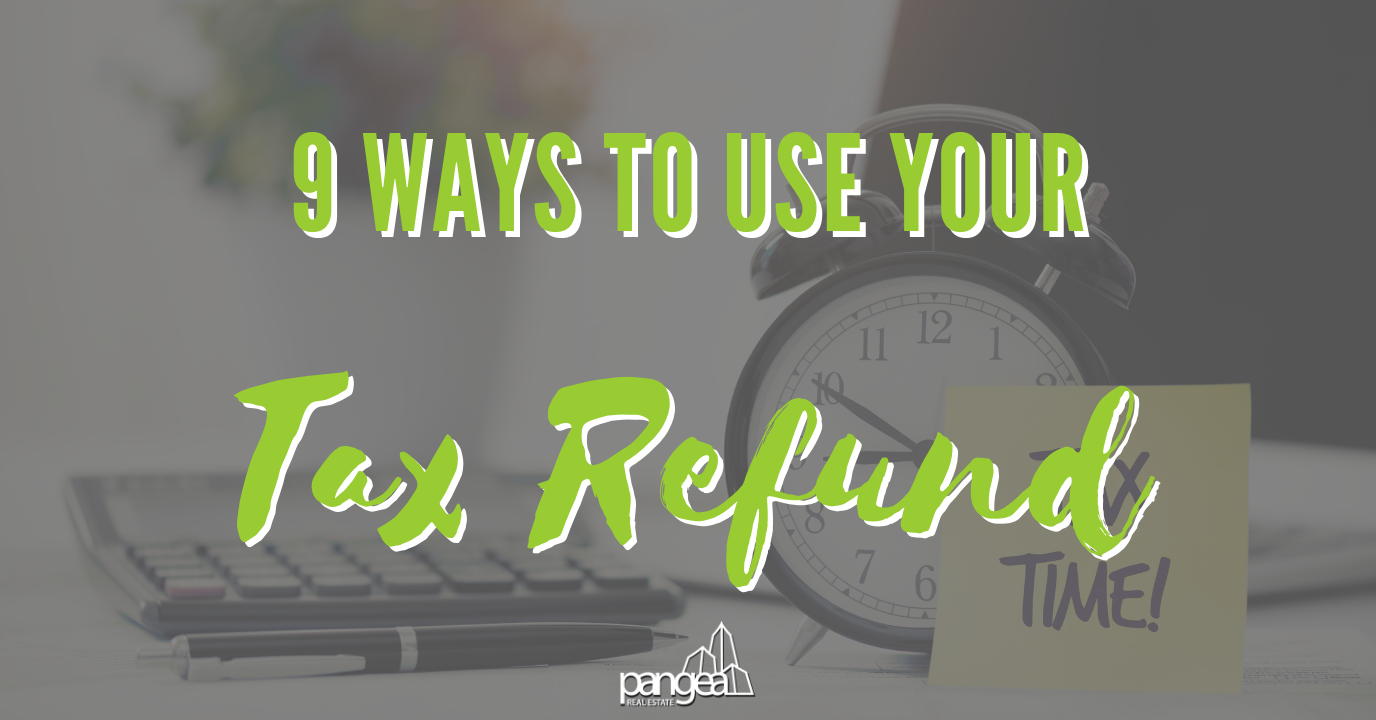 By Matt Mitchum
Your tax return is your reward for working hard and paying your taxes all year. Most employers take a little more than necessary for your taxes, just to be safe, and you can often get a little extra back by filing your taxes and using all the right tax refunds to get a little extra back. When that check shows up in the mail, however, it can feel like Christmas comes early – especially in times like these.
No doubt, you've already heard of all the typical ways to use your tax refund for fun and profit. You've heard that you should put it in savings, pay off debts, invest it in secure stocks, or put it into home improvements. Of course, if you live in a nice apartment or townhome, reinvesting the money in housing isn't really an option. But you can reinvest it in yourself. Pangea encourages you to explore nine of our favorite innovative ways to enjoy your tax return this year.
1) Take a Road Trip and See the Countryside
If it's been a while since you broke up your routine, consider taking yourself and your best people on a road trip. Pack up the car, stock up on snacks, and hit the open road for some distant, exciting destination with plenty of beautiful roads in between. You don't have to blow big bucks on a vacation when adventure is the goal.
Sing along to the radio at the top of your lungs, and bring some car-compatible tunes for those no-radio in-between miles. Stop for a picnic at the most scenic places, read every historical plaque, and tour every little museum or cool cave or petting zoo on the way. Just get out and enjoy yoruself.
2) Learn Something New and Further Your Career
Invest in yourself and your career by using your tax refund for professional development. Sign up for online lessons or a class at your local community college that will put you in line for a promotion (or a better job somewhere else) when you update your skills and credentials. Or learn everything you need to know off YouTube videos and use your tax refund to pay for the certification test alone.
Everyone can benefit from a little career training, just by making themselves better and more cutting-edge at what you do. Or learn a language and broaden your horizons both socially and professionally.
3) Refresh Your Professional Wardrobe
When was the last time you updated your business casual / formal look? In a tight economy, it usually seems extravagant to spend on truly nice clothing. But this tax refund is like your hard work coming back to you, and you're worth a few new pieces of nice clothing that mix-and-match for business casual and fancy formal attire. Get a few nice silk shirts, flattering slacks, and accessories that make the outfit. This will not only increase your closet's higher-end versatility, it may be the key to your next up-the-ladder interview.
4) Take Up a Handicrafts Hobby
If you don't have a soothing hobby yet, your tax return might be the perfect opportunity to start one by stocking up on the right supplies. Want to paint? Get yourself a set of acrylic colors, brushes, and a stack of beginner "canvases" (usually papered cardboard to start). Want to build birdhouses? Buy a few kits to help you get started. Want to make yarn crafts or hand-make cool jewelry? The supplies is waiting at your local craft store and it doesn't take much to make your first few pieces.
This could be the enjoyable hobby you've been waiting for, plus a great way to hand-make lovely gifts on a budget for many holidays to come.
5) Cook Something New and Creative
If you love to cook, use some of your tax return to splurge on fresh ingredients to try a few new recipes. It's tough to take a risk on food prices today, but home-chefs deserve to be inspired every now and then. If you've been dreaming of a day of joyful baking up a storm or trying that new pot roast recipe that's sure to be a hit, now is the time.
6) Plant a Money Tree (Invest It)
Of course, it's always a good idea to plant your extra cash where it will grow into more extra cash. While nurturing a literal "money tree" can be enriching and enjoyable, investing your money in safe stocks or a high-interest savings account is an even better idea. Turn this surplus into more surplus later and resolve to spend some of that money on something nice for yourself when the first returns on your tax returns start to come back.
7) Join a Gym, A Club, or A Weekly Activity
Have you been feeling cooped up? Want to get out and get active on a regular basis? Chances are that your tax return can pay for a year's membership to a local gym, a cool club related to your hobbies, or a weekly activity group for an all-year return on that extra tax cash. And if you don't feel like going out, invest in a giant box of microwave popcorn sleeves and a year's worth of Netflix. Then invite your friends over for weekly movie nights, awesome introvert style. You might be able to find the perfect group through your apartment community's resident programs and resources, as well.
8) Decorate Your Home
Another innovative way to use your tax refund when living in a townhome or apartment is to invest in decor. Hang canvas paintings or framed prints. A few sculptures to spice up your tables and shelves. You can use mounting tape instead of nails if you're being careful about the walls, or invest in smart home stuff like light bulbs and light ropes that are entirely plug-and-play.
You can make your home much more "you" in beautiful and welcoming ways with just a few clever purchases of home decor. Pro tip: Get your artwork from the local colleges and art festivals where up-and-coming artists are glad to sell a few of their inspired masterpieces at a good price.
9) Save It For Something Special Later On
Not sure what you want to do with the money? There's no harm in saving it. Put away your tax refund for a rainy day and promise to treat yourself a little when the moment is right. It might become the perfect fund for a holiday later, an opportunistic spa day, a hobby you suddenly realize you want to start, or a concert you really want to go to, even if you're not sure about the best way to spend your tax refund right now.
Explore the Possibilities with Pangea
Pangea Real Estate is the proud home for apartments in Chicago, Baltimore, and Indianapolis, with thousands of tenants who deserve something nice this tax season. Don't hesitate to reach out if you have questions about your apartment or townhome community and the opportunities in each location t enjoy yourself this year. Those looking for an apartment in one of these three cities are also welcome to submit an online application after exploring our pre-recorded video tours.